Astell&Kern KANN Alpha Portable Player/Headphone Amp Page 2
Finally, there is the matter of the KANN Alpha's size. It is actually smaller than the KANN Cube and, at 68x117mm, the frontal area isn't terribly large either. The depth of 25mm is more of an issue though. My clothes feature fairly large pockets but this player is still a challenging device to carry around. I do like the styling, though, which is less ornate than some of the company's more expensive models and all the better for it. The build quality is also extremely good, with the metalwork being finished to a very high standard and the volume control and small selection of hard buttons also feeling very solid.
Out Of The Gate
Whatever my reservations about some aspects of the KANN Alpha's features and functions, its sound was a different matter. Beyond its basic ability to go loud, the player leverages its power to deliver a muscular and potent presentation that feels effortlessly dynamic. With Peter Gabriel's third eponymous solo studio album [Charisma PGLP3X; 96kHz/24-bit WAV], the KANN Alpha succeeded in handling the gated drumming on 'No Self Control' without any sense of congestion. Each drum strike had a weight and presence that captured the attention without overpowering the upper registers or upsetting the overall tonal balance. No matter how quickly the scale of a piece of music changed, the KANN Alpha always seemed to have its measure.
Within this responsive and expansive presentation, the player also demonstrated a commendable balance between tonal accuracy and sweetness. A FLAC rip of Depeche Mode's Violator [Mute CD Stumm 64] demonstrated this to excellent effect as the slightly glossy production was handled unobtrusively to ensure 'Waiting For The Night' sounded appropriately intimate and rich. Dave Gahan's vocals are the centre of attention here, but this wasn't achieved at the expense of the supporting instrumentation. In particular, the pared-back synths behind him enjoyed an effortless presence.
Drop Point
In keeping with a number of Astell&Kern products I've reviewed in recent years, the KANN Alpha consistently benefits from the use of its balanced headphone connection. Sennheiser's IE900 in-ear headphones were used for a chunk of the listening and, as these come supplied with 2.5mm, 3.5mm and 4.4mm detachable cables, this allowed for fairly simple testing across the player's three outputs. I wouldn't be so bold as to make any performance call between the 2.5mm and 4.4mm options, but the latter certainly inspires more confidence as a connection to use day to day. However, both sounded more spacious and three-dimensional than via the 3.5mm socket.
The sensitive IE900 showed the benefits of the player's lower gain modes too. It's perfectly possible to use these headphones in the higher gain setting, but switching to the lowest mode brings an appreciable drop to the perceived noise at idle.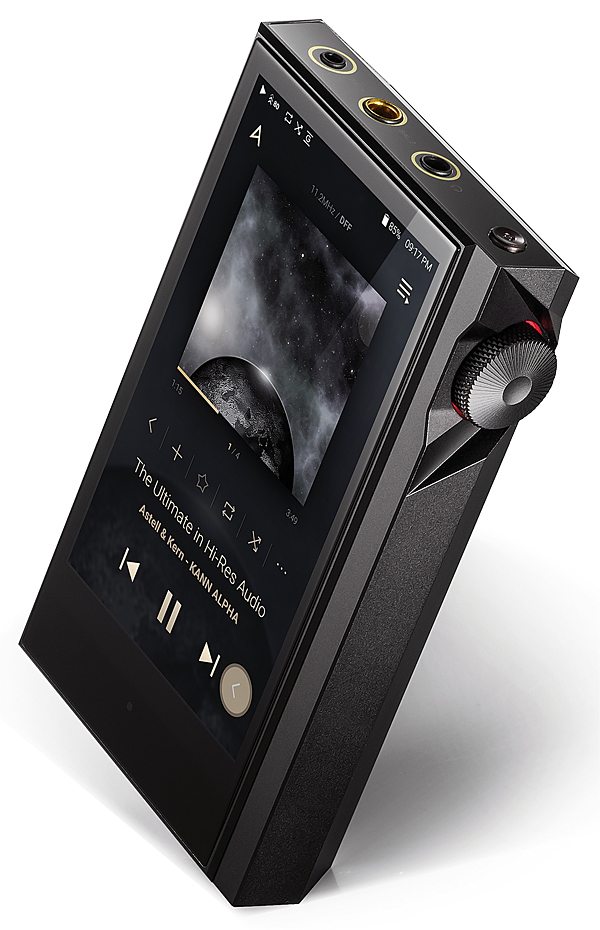 Simply Joyous
With an SACD rip of Dead Can Dance's Toward The Within [4AD SAD 2712], in this case as 88.2kHz PCM, the lower gain setting resulted in the opening of 'Rakim' rising imperiously from total silence where, with the higher gain modes, there was a slight but perceivable level of background hiss. Beyond the technical attributes, the combination of KANN Alpha and IE900 is simply joyous. When Lisa Gerrard's spine-tingling performance begins, she is utterly captivating in her presence and immediacy.
None of these qualities are lost using the Kann Alpha via its line out. Using a 4.4mm-to-XLR interconnect and running the KANN Alpha into a Chord Electronics CPM2800 MkII integrated amp showed it to be a capable source in its own right.
A saving grace of the Astell&Kern software is the Connect option that allows the players to access external UPnP libraries and be controlled as renderers via third-party apps such as MConnect. This permits control at a distance and simpler access to both Tidal and Qobuz.
Used in this fashion, the gorgeous Blue Heron Suite [Rounder Records 1166101275] by Sarah Jarosz plays to the KANN Alpha's effortless mix of scale, realism and sweetness. For simplicity of control alone, I'd hesitate to recommend using the Astell&Kern player permanently in this fashion but its performance will certainly keep similarly-priced full-sized rivals on their toes.
Finally, that new Bluetooth implementation is a good one too. You might question its utility on a device where so much effort has gone into the wired output, but the performance via a pair of Bowers & Wilkins PI7 True Wireless earphones wasn't simply 'good for wireless', but proved to be a genuinely enjoyable listen in its own right.
Listening to the same Jarosz piece used with the line outs, the slow-building 'Interlude 1' saw the KANN Alpha ensure that the PI7 was sent a stable and high quality signal with which to work its magic, ensuring the partnered acoustic and electric guitars had a relationship with one another that was easy to define. While the presentation was not as spacious as via the line outs, it never felt congested or compressed.
Hi-Fi News Verdict
Being a portable player that isn't that portable, the KANN Alpha is truly a niche product. Additionally, some aspects of the control interface and app support are a little complex to use. Viewed as a compact, mobile headphone amplifier though, the excellent sonic performance, impressive connectivity and superb build quality will make it a very compelling choice for many headphone users.