Astell&Kern ACRO CA1000 Digital Audio Player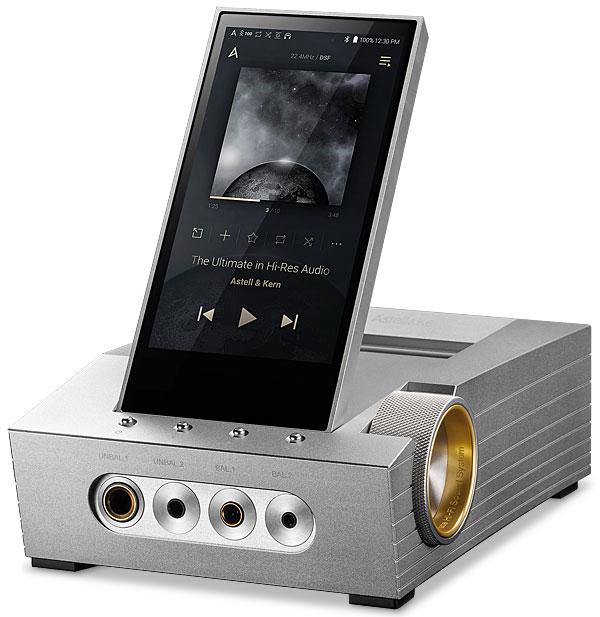 With powerful battery pack and styling inspired by the Mars rover, the CA1000 aims to squeeze the performance of a full-sized 'digital' headphone amp into a portable player
The new Astell&Kern ACRO CA1000 desktop player/DAC/headphone amplifier, selling for £1999, has a raft of functionality built-in – and yet I'm still not quite sure who it's for… Of course, this is far from the first step beyond its core expertise in high-quality pocket music players taken by the company. After all, it's already given us the extraordinary AK500 stack system [HFN Apr '15], active speakers and the chunky ACRO L1000, its first desktop headphone amp/DAC.
The pictures in this review tell their own story, but first impressions here are of one of the company's DAPs (digital audio players) hinged onto a high-quality base unit – you can have it laid flat or angled up. The solid alloy chassis carries just four pinhead controls, a roller-style volume control to one side, and an array of four headphone sockets: balanced 2.5mm and 4.4mm, and unbalanced in both 6.3mm and 3.5mm flavours.
Otherworldly
The base and smooth-running volume control have apparently been 'inspired by rugged space-age exploration vehicles that power across planetary terrain', and the whole thing is powered by an internal battery good for 10.5 hours' use between charges. That makes the ACRO CA1000 if not a portable device, then at least a 'carriable' one (it weighs 919g) but there's no mains power option available: instead, the buyer will have to supply a USB charger device to keep it juiced up. There are separate USB-C ports for DAC/data functionality and charging, so you must either rely on the battery for power or run two cables to the unit for both constant power and listening.
The ACRO CA1000 is also designed to be loaded with music, with 256GB of internal storage upgradable by up to 1TB using a microSD slot on the rear of the 'base station'. It also has built-in Wi-Fi networking to allow it to access streaming services including Tidal as standard, while its Android-based OS allows it to download other services as required, including Amazon Music, Apple Music, Qobuz and Spotify (all subject to relevant subscriptions, of course).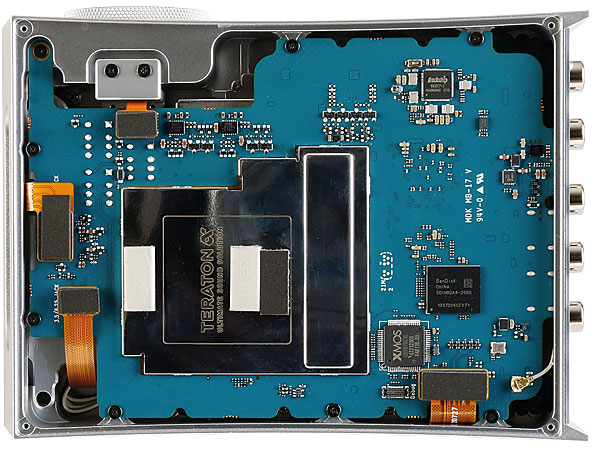 In addition, it will stream music stored elsewhere on the network to which it's connected, such as shared libraries on computers or NAS devices. Alternatively, you can simply stream from a smartphone or any other device using Bluetooth 5.0, which allows compressed aptX HD and LDAC 24-bit playback where supported by the connected device.
Files at up to 384kHz/32-bit and DSD512 are supported, whether from the internal storage, streaming or when the CA1000 is used as a USB DAC, although incoming DSD files are converted to PCM or DoP via USB, and the 'player' part of the unit is disabled when it's being used as a USB DAC. Content can be uploaded to the device via USB or wireless connectivity using the AK File Drop app, though I must admit I did it the old-fashioned way from my Mac, using the readily available Android File Transfer program.
Another neat trick here is that the device is able to be used with a USB CD-ROM or DVD-ROM drive to rip content to its internal or microSD storage, which may prove handy if you're planning to run the CA1000 'computerless'.
Digital-to-analogue conversion is in the hands of a 'quad-DAC' system based around the ESS Quad ES9068AS chip, configured to support both balanced and single-ended operation, and switchable digital filters are provided for non-DSD content. The default linear phase filter seems perfectly fine for all music listening, but if you want to experiment, there are also minimum phase/slow roll-off and hybrid/fast roll-off options. Replay gain levelling is also available to save the user from constantly having to adjust the volume level, but this facility is only enabled with music content up to 192kHz/24-bit resolution.
Custom Engine
The CA1000's audio electronics are based around the company's 'patented Teraton Alpha technology', said to be 'the result of extensive R&D … [with] effective power noise removal, efficient power management and amplification with minimal distortion'. There's also a set of unbalanced analogue outputs to feed the unit into a preamp or integrated amplifier, plus analogue inputs (though these are digitised for handling by the device) and coaxial and optical digital inputs, too.