Astell&Kern ACRO CA1000 Digital Audio Player Page 2
The unit will automatically detect output devices that are connected – headphones or line out – but these extra inputs need to be selected manually in the menu system. An optical digital output is concealed within the 3.5mm unbalanced headphone output, and digital datastreams can be downsampled to suit the limits of any external DAC that's connected. There's also adjustable equalisation and headphone crossfeed – again only for files up to 192kHz/24-bit – and switchable output level for the analogue outputs, with 'Low', 'Mid', 'High' and 'Super High' settings to enable the CA1000 to be used with a wide variety of headphones. I'll admit that it took a while to get to grips with all the features on offer, but the reward was a sound with real conviction and power.
Take Me To The Stars
Whichever of headphones I chose, from the balanced Oppo PM-1 [HFN Jul '14] to the unbalanced B&W P9 Signature [HFN Mar '17], the CA1000 proved capable of convincing drive, grip and detail, with well extended bass, a smooth yet informative midband and crisp, clean treble. It's an act it replicated when playing out through its analogue outputs into my main system, the only reservation being the lack of balanced analogue outs, though I was able to do some cobbling via adapter cables from the balanced headphone outs, even if this does seem somewhat at odds with the elegance intended here.
With the multi-layered mix tape-style production of Caprisongs, the latest album from FKA Twigs [Atlantic download], the CA1000 does a fine job with the deceptive complexity of some of the mixes, with its lush 'choral' backing and occasionally deep bass, while keeping Ms Barnett's vocals in clear focus. It pulls off a similar trick with the lusher, bolder, even more extended sound of The Weeknd's Dawn FM set [XO/Republic Records download] which isn't lacking in bass able to overtake all else through some lesser systems.
Here, however, it's possible to appreciate the production as much as the remarkable vocal quality on offer, thanks to the sheer resolution of the CA1000's unequalised, un-crossfed sound: none of the tricks on offer are required to show how good this little desktop box can sound.
Switch to Elvis Costello & The Imposters' The Boy Named If set [EMI EMICD2047] and the CA1000 transports you back to the rawness of those first albums of the late '70s and early '80s. Despite the lockdown 'cut and paste' production here, the album sounds brash and fresh, with Pete Thomas's drumming propelling the music and Steve Nieve's often whirling keyboards as effective as ever – and yes, it slams splendidly through the headphones from the off, with Costello as always seemingly trying to cram in twice as many lyrics as the music will allow. His style is fresh, invigorating and still fascinating after all these years.
Changing Gear
Would the CA1000 handle a total change of pace? Of course! Playing Ennio Morricone in the form of the lovely recent Cinema Suites For Violin And Orchestra, with the composer's favoured violinist Marco Serino and the Orchestra Haydn di Bolzano e Trento conducted by Andrea Morricone [Arcana A495, 96kHz/24-bit], and it sounded just gorgeously lush, while open and expressive all at the same time.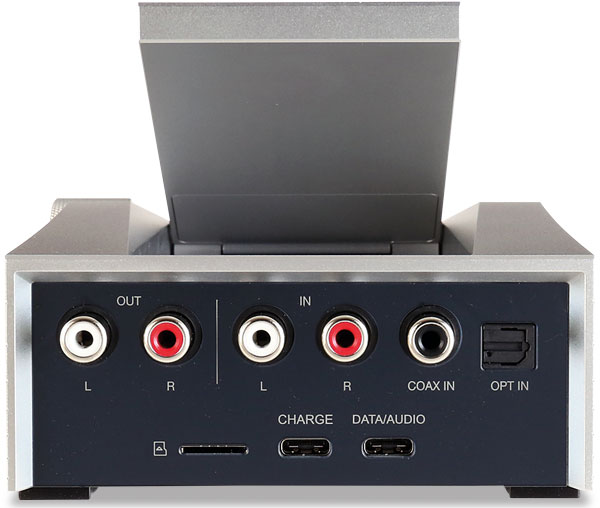 The orchestral basses have wonderful weight and resonance and Serino's violin just takes flight above the big, understandably cinematic musical forces in the opening suite of themes for the films of Sergio Leone. Meanwhile 'Gabriel's Oboe' and 'The Falls' from The Mission are simply spine-tingling. Close your eyes and it's almost possible to forget you're listening to headphones, so well does this set-up immerse you in the music.
Next Level
Just as A&K's DAPs take the listener beyond the sound possible from smartphones, so the CA1000 is capable of lifting desktop listening to a level much higher than just plugging some 'phones into an amp. Yes, there are many ways to achieve a similar sound with various other DAC/amps, some available for less – not least A&K's own £799 L1000.
However, listen to the ACRO CA1000 playing a superbly-detailed jazz recording such as Geoffrey Fiorese's Terpsichore set [Outnote Records OTN647; 88.2kHz/24-bit], and it's hard not to be grabbed by the close-focus presentation of skilled musicians at work, whether playing from the unit's internal storage, via USB from a computer or network-streamed from a NAS.
So, while I'm still not entirely sure whether this comprehensive box of tricks would be for me, I am convinced that if you like all that it offers, then you'll be delighted.
Hi-Fi News Verdict
There's an element of 'because we can' here, taking us a long way from the Korean company's entry-level pocket music players. But the ACRO CA1000 is almost as impressive for this combination of sound and flexibility as it is for its sheer overall performance. It'd be an elegant addition to many a desktop, and – provided you can cope with controlling your music using its small screen – an attractive luxury buy.