Aqua LinQ Network Bridge


Packed with proprietary technology, this network bridge is the obvious partner for Aqua's own DACs. But does its appeal extend beyond a one-brand digital set-up?
Never let it be said that AQ Technologies is either a follower of fashion or a taker of the easy route: the Milan-based company behind the Aqua range always does things its own way. And while that might sometimes seem like an exercise in making life difficult for itself, the policy typically pays off in the performance, as we discovered when reviewing the Aqua Formula xHD Optologic DAC [HFN Apr '20]. Under the Nextel-finished anti-resonant aluminium casework of that model – one of three DACs in a total Aqua lineup of five products – is a galvanically-isolated resistor-ladder converter of novel design.
Now, for a network source to feed the DACs – there's also a CD transport in the lineup – the company has developed its own network streaming solution, which is at the heart of the £4982 LinQ we have here. Add the DAC and this network 'transport' together, and you have a complete streaming player with a tag around the £16,000 mark, or you could start at a lower level with the LinQ and Aqua's La Voce S3 DAC, and do the job for a little over £9000.

On The Cards
So what actually is the LinQ? Well, the connections to the rear tell the story better than the front panels. There's just an Ethernet port for network connection here, and a range of digital outputs, so this is effectively a network bridge, designed to bring streaming capability to the company's DACs. But intrinsic to the design is its modularity, with the LinQ's chassis able to accept up to four cards designed to add functionality.
As standard for your £4982, the LinQ will come equipped with either a Roon-ready card or one for UPnP/DLNA streaming, but include both Roon and UPnP and you increase the bill to £5990. At the moment those are the only two cards available for the LinQ, but we are promised more, the module in use being selected by simple front-panel toggle switches.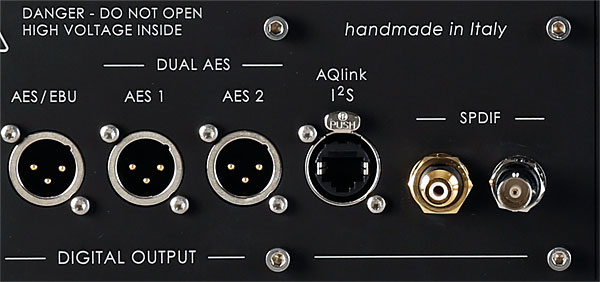 It's worth noting here that this modular architecture allows each board to be optimised for its function, rather than squeezing all the functionality through a single one-size-fits-all board. In addition to the LinQ itself having separate C-Core transformers for its network and digital decoder sections, each board has its own PSU regulation. There's also a bespoke LAN switch module included, increasing isolation from the user's network.
And that, almost, is your lot when it comes to things to play with on the LinQ, as the only other controls are a power switch and one to turn off the display. There's no remote (though an RC5 handset is available as an option), and neither does this player have a dedicated control app.
Roon To The Rescue
Now I get the whole 'no need to reinvent the wheel' thing when there's a good range of third party UPnP control/player apps available, from PlugPlayer and Bubble UPnP to mConnect and Kinsky, but I can't help feeling an app 'skinned' with the Aqua aesthetic wouldn't go amiss here, reflecting the company's idiosyncratic approach.
Oh well, I suppose there's always Roon, which renders the whole subject moot, coming as it does with its own ultra-slick and intuitive app interface, which is quite unlike that of any conventional UPnP software. You can even 'drive' the LinQ from a laptop or desktop computer using Roon, as well as from your phone or tablet – but bear in mind that you're also going to need a means of running the Roon Core software (which could be on that computer) and of course a Roon licence.
So is the LinQ only for owners of Aqua's DACs, or does it have wider appeal than that? Well, that sort of depends what you want from your network bridge, for unlike just about every device of this kind, the LinQ's output of choice isn't a USB port to match up with virtually every aftermarket DAC. Instead, the principal digital output here is something called 'AQLink Pro', on an RJ45 'Ethernet type' socket – just don't be fooled into thinking this is some kind of network connection.
Stripped Down
Of course, Aqua's DACs have this connection, which is a proprietary spin on I2S, and able to carry audio formats up to 384kHz/32-bit LPCM and DSD128, as is the dual AES/EBU connection, should your DAC support that. The remaining single AES/EBU and two S/PDIFs – one apiece on BNC and RCA – are capable of delivering up to 192kHz/24-bit and DSD64. Why no USB audio output? Simply, Aqua says it has chosen to leave it out to avoid the conversions needed to implement it, which it feels are detrimental to sound quality.
The same goes for other elements of the somewhat stripped-down network interface found here, so you'll search in vain for any sign of wireless connectivity, whether that be Wi-Fi or any flavour of Bluetooth. The LinQ is optimised for wired networking, and nothing else – although if your controller app supports it, you can play music from your smartphone, for example, via UPnP to the LinQ.