Aqua LinQ Network Bridge Page 2
So, the use of the LinQ with one of the Aqua DACs could be seen as something of a no-brainer, so closely are they designed to work together. Use them with a UPnP control app such as the mConnect Player and you can access your own files stored elsewhere on your home network, as well as online services such as Qobuz and Tidal, along with Internet radio. And you can also enjoy files up to dual DSD and DXD.
For those of us without recourse to an Aqua DAC, things are a little more limited – but that's where Roon comes in, with its ability to convert files before sending them to the LinQ, not to mention a much more enjoyable and flexible interface than any of the commercially available UPnP apps.
Clear To Hear
For much of the testing here, I used the LinQ alongside the Simaudio MOON 780D v2, switching between MOON's onboard MiND2 streaming implementation and the LinQ connected via an AES/EBU connection, and between UPnP operation and Roon RAAT connectivity, before coming to a couple of conclusions after only a day or so of listening.
The first was that there was nothing in it between the sound with the 780D v2 fed by its internal MiND2 module and the LinQ/780D v2 path. The second was that switching between the LinQ's UPnP module and its Roon board made not a jot of difference to the sound.
So for the rest of the listening period I mainly stuck to controlling the LinQ via Roon and using the 780D v2 as just a DAC. I also tried a few experiments such as feeding the Aqua's inputs into my Naim ND555 [HFN Apr '19] via digital in, and drawing comparisons between the two 'network transports', as well as trying the LinQ with various other DACs and 'digital input' amps I had to hand [NAD M33, HFN Aug '20].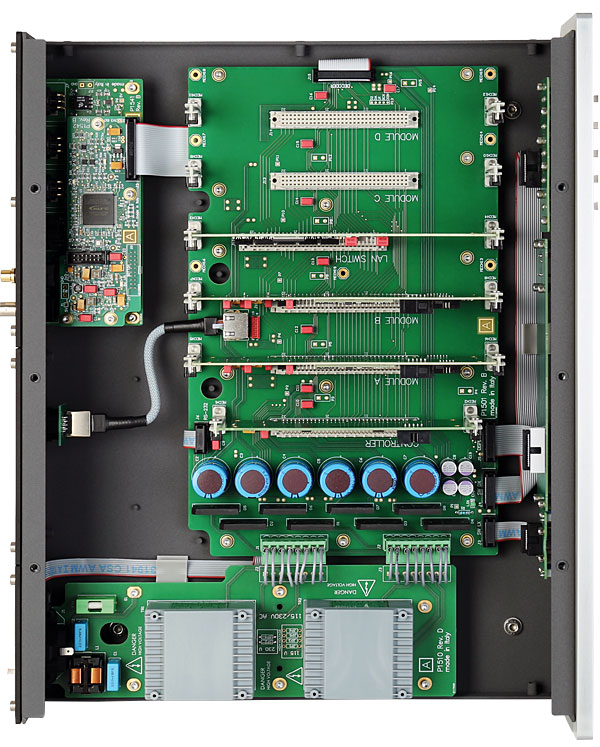 The upshot of all this fiddling about? Well, the Aqua LinQ does absolutely nothing – but in a good way! I rapidly became aware that I was listening not to anything being added or removed by Aqua's 'network interface', but to the sound of the digital converters to which it was connected being fed with a clean S/PDIF or AES/EBU stream.
Soaring Riffs
So, when thundering out the live version of 'Telegraph Road' from Mark Knopfler and Emmylou Harris's collaborative Real Live Roadrunning set from 2006 [Nonesuch/Warner Bros 44417-2], the sound was both open and unmistakably live, with a real sense of event and a fine insight into Knopfler's ringing guitar work and his husky voice.
Meanwhile in the duets with Harris the two voices play off each other in a delightful fashion, while at the same time being totally distinct, the backing band, all accordion, pedal steel and organ, creating a warm, lush backdrop. And then on 'Speedway At Nazareth' Knopfler lets loose with stabs of guitar and soaring riffs, the transparency of the LinQ really taking the listener into the heart of the band.
With an entirely different genre, it's something it also does with the precision and reverberant ambience of Anna Prohaska's Bach: Redemption collection [Alpha Classics ALPHA658; 192kHz/24-bit], both bringing out the detail of the small musical forces involved and allowing Prohaska's lovely soprano voice to fill the church acoustic in which the album was recorded.
The open clarity also suits well the effortlessly natural-sounding production of Bob Dylan's Rough And Rowdy Ways [Columbia; 96kHz/24-bit download], whether with the darkness of the track 'Black Rider' or the chugging blues of 'Crossing The Rubicon'. Here the whole set has a 'stick a microphone in front of the band' feel, and the crisp rendition of the unforced sound – if one can have such a thing with an album so obviously produced to within an inch of its life – even makes the convoluted closer, 'Murder Most Foul', compelling. Yes, all 17 minutes of it!
Every single detail of the mix is delivered through the Aqua LinQ into whichever DAC you choose to use with it, and it's a sound you'll find yourself listening to repeatedly, just to hear those little nuances in Dylan's near-spoken vocals.
And it's affecting musically, too, more than which one really can't ask. Yes, it's arguable there are less expensive ways of achieving the same effect when networking an existing DAC, but Aqua's following of its own ways certainly pays dividends here.
Hi-Fi News Verdict
Any sound quality score here is somewhat arbitrary, simply because the Aqua LinQ brings nothing of itself to the sound, and merely lets the DAC to which it's connected perform at its best. Arguably still better connected to one of the company's own DACs via the proprietary AQLink connection, it certainly offers a very clear path twixt network and digital conversion, and it's hard to argue with that.