AKG K371 Headphones Page 2
Actually, it doesn't quite, but it does get close. The shelved-down treble exacerbates the effect but if the K371 lacks ultimate crispness and clarity, as it does, mostly its slight treble reticence is something you can adapt to, whereas the marginally insistent bass and the occasional thickening it brings I have difficulty tuning out. But you may be different, of course. Indeed, if Harman's research is to be believed, a lot of you are.
Like many, but not all closed-back headphones, the K371 delivers less spacious imaging than open-back equivalents. If you listen to a good open-back model (the long discontinued and much missed Sony MDR-MA900 performed that duty in my case) and immediately thereafter play the same track using the K371, you hear this in the form of both distinctly narrowed image width and less spaciousness and 'air'.
But the longer you listen, the less of an issue this can seem. Given some adaptation time, the K371 – while never sounding as ethereal as a good open-back – no longer seems as parsimonious with image space as it initially does. I noticed this particularly with Frank Sinatra's 'It Was A Very Good Year', from Sinatra At The Sands [96kHz/24-bit rip from Reprise 8122 73777-9]. This track may not seem to promise spaciousness like, say, choral music recorded in a church but actually relies in large part for its impact on natural imaging that places Sinatra centre-stage and lets the Count Basie Orchestra weave its magical contributions around him.
As you'd also expect from the K371's measured response, there is no shirking of bass responsibilities. Its bass output is too prominent for my liking but there's no gainsaying its extension. It sailed through my bass test tracks, generating interesting observations along the way. For instance, there's ample evidence that, by postponing its bass shelf to lower frequencies than typical, the AKG K371 avoids some of the most obvious symptoms of bass bloat.
Nice 'N' Nimble
Planar magnetic headphones are often held up to be the ultimate bass performers but with their power and extension can come a loss of agility, with bass transients sounding a bit leaden – not because of extended or emphasised bass per se, but because the lower midrange is caught up in the act and causes the blurring effect.
There was no sign of this from the K371 when I played tracks that demand nimble as well as extended bass. The manic electric bass runs of Chris Jones' 'Fender Bender' [44.1kHz/16-bit rip from the Stockfisch CD Roadhouses & Automobiles; SFR 357.6027.2] were as delightfully clear as they were weighty, and the same was true of Brian Bromberg's acoustic bass in 'The Saga Of Harrison Crabfeathers' [44.1kHz/16-bit rip from Brian Bromberg's Wood; A440 Records 4001]. The K371 also lapped up Robbie Shakespeare's bass in Grace Jones' 'Well Well Well' [44.1kHz/16-bit rip from Hurricane; Wall of Sound WOS050CD] while at the same time its polite treble smoothed away some of the graininess but also a little of the pizzazz.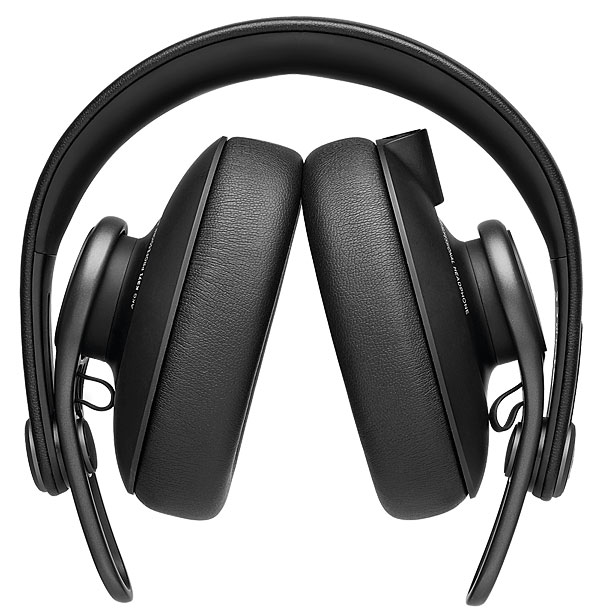 Raw Emotion
What also became clear from my collection of standard 'bass test tracks' is that my perception of the K371's bass excess was critically dependent on the source material. 'Way Down Deep' and 'Somewhere Somebody', both ripped from Jennifer Warnes' The Hunter [Private Music 01005-82089-2], elicited quite different reactions. The low bass of the former I found way OTT, whereas with the latter the bass was, yes, too prominent for my taste but not ridiculously so.
Solo male voice suited the K371, in every variety from James Griffett's impassioned rendition of 'The Turtle Dove' [44.1kHz/16-bit rip from Regis RRC1112] to Todd Rundgren's 'For Lack Of Honest Work' [44.1kHz/16-bit rip from A Cappella; Rhino R2 75761]. Yes, the latter track isn't strictly solo voice but as Rundgren sings the harmonies too I'm bending the definition here.
The big acoustic of Boxgrove Priory near Chichester was a little generalised and a little shrunken in the former but Griffett's voice was in fine fettle and there was no undue emphasis of the annoying print-through that plagues Tony Faulkner's fine analogue recording of yesteryear. Some of the studio manipulation – principally artificial reverb – in the Rundgren song was played down but the raw emotion of the song, so different in its subject matter to the first piece of music, was well conveyed.
I suspected before I played it that another, much more recent Faulkner recording would not fare as well, and I was right. Beethoven's Op.18 String Quartet in A, played by the Allegri String Quartet [192kHz/24-bit download from www.vivatmusic.com], I count as one of the best chamber music recordings I own but it relies for its full mesmeric effect on generous imaging and unashamed presence band output that turns the sound of a violin from something vague into rosined bow on string vitality. Neither is in the gift of the K371, which is better suited to other musical forms.
Hi-Fi News Verdict
Let's not forget that the K371 costs under £140. It has more bass and less treble than I prefer, but Harman's research shows that this is a tonal balance that many listeners like – maybe you're one. It's lightweight, provides excellent isolation from external sound, is readily portable, and supplied with connecting leads for every likely use. All told it's impressively good value, if not quite the star I'd hoped for.