Aesthetix Mimas Integrated Amplifier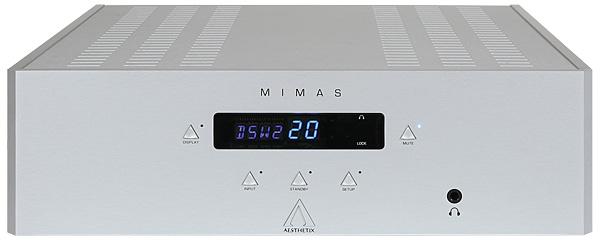 A high-end, high-power, configurable tube/transistor hybrid integrated amplifier – tightly targeted but the Aesthetix Mimas could easily seduce the separates purist
Aaah, downsizing: if it keeps the high-end healthy, I'm all for it. US boutique brand Aesthetix's Mimas integrated amp joins a sector that's increasing in numbers if not dimensions, set to satisfy the modern affliction of space shortages, especially for city dwellers. Along with Wilson's TuneTot monitor [HFN Nov '18], the all-in-one SME Synergy turntable/phono stage package, TechDAS's Air Force V [HFN Jan '19], and other ultra-compact-yet-truly-high-end items, the Mimas demands little room.
Even its £8750 ticket is in the lower reaches of high-end pricing. While the sample here is entry-level and line-only – the optional modules are a few months away – it's a powerhouse that easily accomplishes in its 434x140x449mm (whd) volume what is achieved by separate pre/power combinations. To put that into context, it's no larger than a circa-1979 AM/FM receiver from Yamaha or Trio.
Compact Hybrid
What you get in this compact box, offered in silver or black, is music to a purist's ears, especially when you discover that all of its five inputs are available on both balanced XLR and single-ended RCAs. Also addressing those who are either indecisive or prefer to have their options left open, the Mimas is a tube/solid-state hybrid like the McIntosh MA252 [HFN Jan '19] and Unison Research Due [HFN Feb '19], hybrids satisfying those who want a taste of tubes and transistors.
Aesthetix has created a merged version of its Calypso/Atlas pre/power amplifiers. It uses the same volume control as the Calypso, with 88 steps in 1dB increments, employing individual switched 1% metal film resistors. The Mimas's precision and 'quietness' are admirable, especially for listeners sensitive to precise level setting. The preamp section also injects warmth and 'holography', thanks to a pair of 6DJ8/6922 valves, one per channel, in a fully differential, balanced configuration.

For the power amp, which PM shows exceeds its stated specs, the company looked to its Atlas amplifier. Thus the amp section is a fully-discrete, fully-differential, zero (global) feedback, DC-coupled, balanced bridge output design operating in Class AB mode, fed from a massive power supply. With noise and distortion-cancelling advantages comes a caution over its connectivity.
The amp's cryptic front panel (like the heavyweight remote, which is simple but vital) forces the owner to read the instruction manual because the Mimas is firmly part of the current wave of totally configurable control units, with enough options and settings to challenge the unwary or unprepared.
Meet The Panel
I cannot overstate how fully-equipped this amplifier is, even without the optional boards. The ¼in socket headphone output – rated at 0.3W/32ohm – drove various Audezes with ease, but there is also an optional 1W/32ohm, fully discrete, Class A amp. The unit automatically mutes the speakers when you insert the jack, and the display informs you that you're in headphone mode. You can also select between them via the remote if you choose to leave the 'phones in situ.
It was pointed out to me that many might miss this trick: the display panel is actually a rocker switch. To increase the volume, you press the right-hand side of the display panel, while to lower the volume, you press the left-hand side of the display. Most of the menus also use this method for up/down adjustment.
Meanwhile, home theatre bypass allows every input to be defined as a bypass input, and the preamp output can be used for a subwoofer. The LED display has adjustable brightness and Aesthetix's room light sensing, and it displays the selected input name, and the current level. Each input can be given a four-letter name, have its level match other sources, or be set completely to 'off'. Other commands include headphones turned on or off in software, balance, switch-on level, maximum level, display settings and the restoration of the amp to its factory presets.
Although I didn't get to try them, those tempted by the Mimas should know that the upcoming options include an MM/MC phono card with variable gain and loading, and a DAC with pairs of coax and optical ins, and one USB, handling files to 192kHz/ 24-bit only. Gratifyingly, Aesthetix has just confirmed that its 'Upgraded Remote Control' with illuminated keys is now included as standard.
Mimastonishing
Once I'd acknowledged that our review sample was line-only and decided not to tamper with the settings as tested by PM, I fed it from my Marantz DV8300 SACD/CD player and analogue front-ends including an Otari MX5050 reel-to-reel deck and SME 30/12 turntable with DS Audio Master cartridge [HFN Dec '17]. Connecting everything is a joy as the back is so orderly, accessible and comprehensive, while the multi-way binding posts readily accepted the Crystal Cable feeding my Wilson Yvette loudspeakers [HFN Feb '17].