Aesthetix Mimas Integrated Amplifier Page 2
Admittedly, the opening blast came from a disc that seems to make everything sound great – a Reprise DVD-A of Donald Fagen's Kamakiriad – but that didn't stop me from relishing anew such an open, airy presentation of what is by any measure a truly great album. Fagen is known to be a sound quality obsessive and the opening notes of
'Trans-Island Skyway', a masterpiece of funk, treated me to some of the richest bass I've ever heard from a hybrid. With ears used to all-valve sound, one tends to anticipate a certain sacrifice when solid-state stages interfere, but Aesthetix has found a near perfect balance, even if its tuning is slightly on the dry side.
Where the solid-state aspect showed its command was in the crispness of the percussion, such as the backing in 'Tomorrow's Girls', which was taut, fast and punchy. Even better were the moments in the song when the backing vocalists spread out across the room.

Without Walls
This highlighted another aspect of the sound that ensured I wasn't going to be distracted by the superlative bass during the listening sessions. This unit conveys air and space, even the artificial layout of a studio-sourced recording, with so much grace, such aplomb, that I began musing about how it's not just the Mimas's conventional, wholly-acceptable-in-domestic-conditions 434mm girth that deals with literal space concerns. Its soundstage is one that ignores walls.
Currently on a female vocalist jag, I have been wallowing in dirt-cheap multi-disc sets from the likes of Doris Day and Connie Francis – stuff now out of reach of copyright lawyers in certain territories, hence the £11 price tag on the 10CD set, Connie Francis: 19 Original Albums & Bonus Tracks [Intense Media 600261]. Yes, 19 albums on ten CDs.
Being in a maudlin, soppy mood on my late mother's birthday, I subjected myself to 'My Yiddische Momma' and 'Mom-E-Le' to see how long it took me to well up and reach for the Kleenex. Two seconds – that's all. Thank goodness I wasn't listening while writing or I'd have shorted my computer keyboard.
Piano so far stage left that it was in another room. Connie just to the left of centre. Slight echo filling the area of this voice-and-piano-only intro. Then the strings… oy-oy-oy, such rich, cholesterol-laden schmaltz like you've never heard.
Mournful, dark, so poignant that the sense of loss and love caused me to blaspheme (in musical terms): here was a singer who could wrench as much angst and aching longing from a lyric as, yes, Aretha Franklin. 'Mom-E-Le' proved to be just too much, as I am not prone to weeping uncontrollably at 11am.
For those of you not in touch with your inner Oedipus, the texture of the strings – even via a cheapo CD – was reminiscent of the finest RCAs, which led me to my trusty Otari reel-to-reel. But instead of some silky soul challenger, I turned instead to the rousing masterpiece that is Hail, Sousa! [Vanguard Stereolab VTC1650 [7½ips/¼-track] which boasts 'The Largest Band On Records – 100 Men Strong'.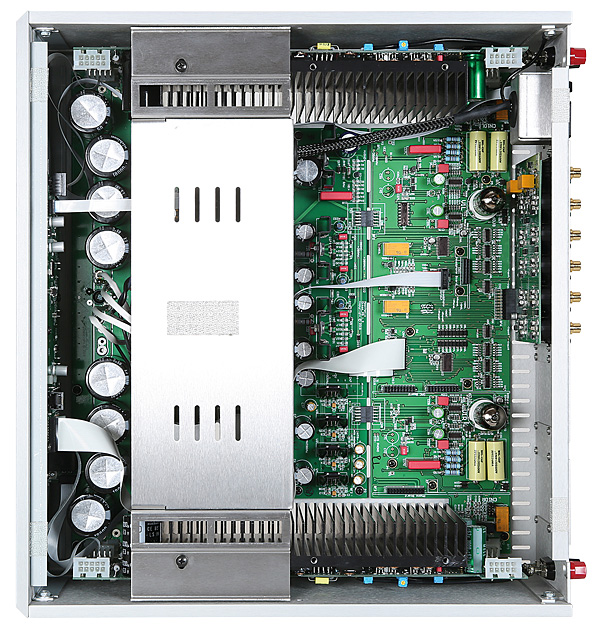 OK, OK, so Sousa is another of my guilty pleasures. But then I'm old enough to remember when the USA hosted parades for any and every occasion, and it was the sound of marching drums and Sousaphones that long preceded my love for music based on The Beatles. With this tape comes crescendos and bursts and explosions to embarrass the Telarc 1812 Overture and other legendary woofer busters.
Rock The Rafters
With the smiling spirit of Wilson Audio's late Dave Wilson looking over my shoulder, me recalling his delight when I told him I was a Sousafan, we revelled in the handiwork of his son Daryl, the Yvettes handling whatever the Mimas fed them. Rocking the rafters and rattling the roof tiles, all I could come up with was a very un-PC sentiment, as this unit conveyed all of the majesty of 100 musicians.
In light of what just happened to a famous tissue product, I am loath to call an amplifier 'virile'. But that's what this is.
Hi-Fi News Verdict
It's not an uncommon recipe – integrated, hybrid, with loads of options – but the execution of this fabulous-sounding amplifier means that the Mimas is a triumph, and must be added to any shortlist of sub-£10k all-singing/all-dancing amps. Yes, the utterly non-intuitive, inspired-by-Klingon iconography is frustrating, but that's a bonus: your headphone-attired kids won't be able to tamper with it.