Wilson Pickett The Exciting... Page 2
Hence his arrival at FAME in Muscle Shoals – the only real rival to Stax when it comes to creating hot, sweet, sweaty soul. Says Hall: 'He reminded me of a black leopard, you know: look but don't touch, he might bite your hand'. On the drive to the studio, Hall says, 'I'd look at him and he'd look at me and I could see in his eyes he was thinking, "Now what am I doing with this cracker down here in Alabama?".'
Playing Loose
What he was doing – or was about to do – was to cut some of the finest sides of soul music that have ever been recorded. Ten in all, on this first of several visits, playing loose but tight with the group of famous sessioneers known as The Swampers – Jimmy Johnson on guitar, drummer Roger Hawkins, Spooner Oldham on keyboards, bass player Albert Lowe, plus Chips Moman and Tommy Cogbill on additional guitars.
To Pickett's amazement, all these guys are white, the only other brothers of Pickett's colour to join the session being a couple of brass players who were on the lam from Stax. Under the aegis of Wexler the group set to recording a number called 'Land Of 1000 Dances' which had originally been written and recorded by Chris Kenner.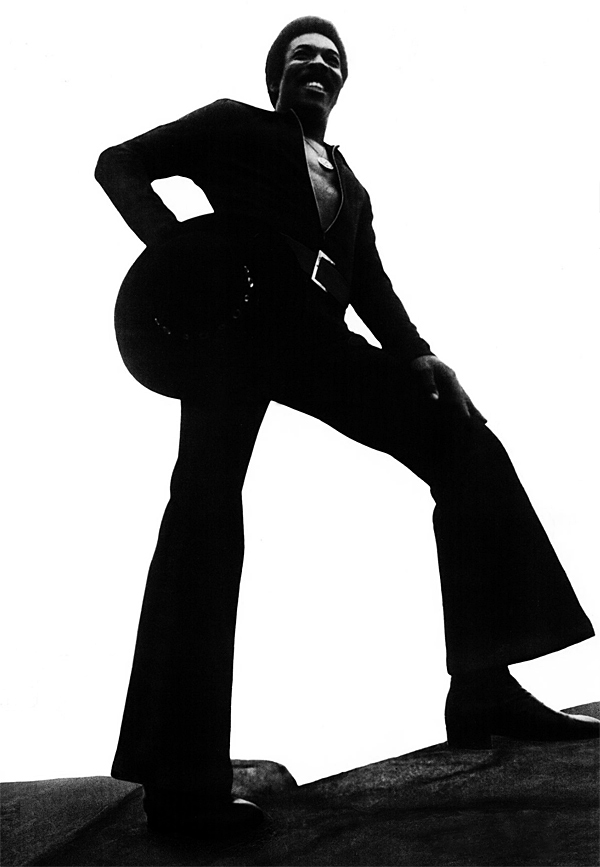 Produced by the great American musician Allen Toussaint and mentioning no fewer than 16 contemporary dances by name in the lyric, this version flew into the US charts in 1963. By the time Pickett gets a go at it, the song had been revamped and improved considerably by a Mexican-American group from East LA called Cannibal & The Headhunters who introduced the 'Na-na-na-na-na' bit when they forgot the words one night at a live gig but so liked the effect they recorded it that way, making the Top 30 in early '65.
The Swampers simplify the already simple groove, and blast it out in one inspired take, with Pickett riotously over the top. 'He had the magic,' as Jimmy Johnson put it – a fact born out in July 1966 when it rose to No 6 on the Billboard charts.
The next FAME visit follows hot foot in October, and the cream of the crop from these sessions plus the one from Stax coalesce on the LP we're here to venerate: 1966's The Exciting Wilson Pickett. Sporting an appropriately snazzy cover, with Pickett looking literally red-hot in the coolest crimson duds you'll ever clap eyes upon, Exciting delivers exactly what it says on the sleeve: unbridled, one take, on-the-money excitement. It's something not lost on the legions of record buyers around the world who willingly shell out to make sure it achieves the sales Pickett deserves.
Aside from the classics – 'Midnight Hour' and 'Land Of 1000 Dances' – there are ten other beauties on Exciting, maybe not so well known but top-notch nonetheless. These include Don Covay's 'Mercy Mercy', Robert Parker's 'Barefootin'', Eddie Floyd and Steve Cropper's '634-5789 (Soulsville, USA)' and 'Ninety-Nine And A Half (Won't Do)' – which is based on a gospel number Pickett used to perform – and Bobby Womack's 'She's So Good To Me'. Each and every one an absolute gem.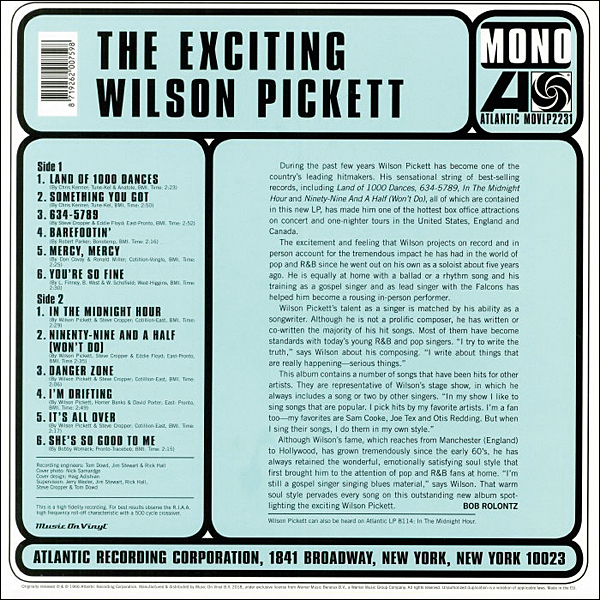 One year later, Pickett will release another LP. It will be called The Wicked Pickett and his reputation as Bad-Ass Soul Brother Number One will be established forever, only ever seriously challenged by one other mighty individual: a chap by the name of James Brown.
Re-Release Verdict
The Exciting Wilson Pickett was issued on the Atlantic label in August 1966 [SD 8129], reaching No 3 in the (US) Billboard R&B charts. CDs followed on Rhino, Collectables and Warner, and then 12 years ago an LP reissue appeared on 4 Men With Beards. The new 180g LP from Music On Vinyl [MOVLP2231] reviewed here comes in a 3mm-thick card sleeve bearing the original artwork and, if purchased from Amazon, includes a token for a free MP3 download. As we've come to expect from MOV, our copy was free of noise and ruler-flat. HFN