Transparent Ultra loudspeaker cable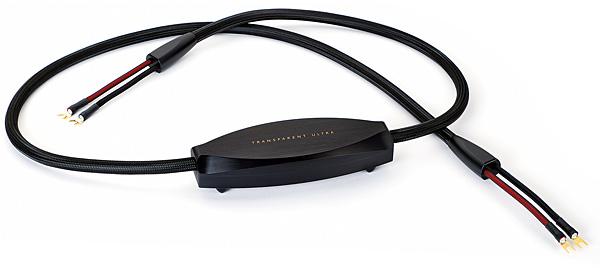 Top of the trio in Transparent's Premium series, and now in fifth generation guise, the (upgradable) Ultra combines a cable and filter network.
There's a very clear philosophy at work in all Transparent's cables: that 'wires' are unavoidable, so their bandwidth should be constrained to an appropriate range, banishing the egress of RF noise, and their lumped parameters – inductance, capacitance and resistance – be 'managed' to maintain a consistent and predictable performance regardless of the cable length. This, in a nutshell, is the rationale behind the in-line filter network that's part-and-parcel of every Transparent cable.
The Ultra speaker cable featured here sits at the top of its Premium Series – its materials, geometry and filter design necessarily more sophisticated than the 'Super' and 'Plus' ranges below. The signal and return cores within the Ultra are twisted together and held tightly in place, their geometry fixed, by fillers (rods of high density polymer). Each core is comprised of a trio of conductors, these composed of six copper strands wound, in helical fashion, around an extruded polymer 'spine'. The low-pass filter network, operating at about 1MHz, is positioned near the speaker end of the cable; your choice of spade or plug terminations soldered into place.
On our lab bench these conductor, dielectric and geometric features had rather less influence on the cable's lumped parameters than the in-line filter network which was surely the cause of its high 307pF/m parallel capacitance and medium/high 0.84µH/m loop inductance. The conductor gauge, however, is sufficient to maintain a very low 9.1mohm/m series resistance (equivalent to a trivial 0.01dB/m loss).
Transparent By Name...
Auditioned with my B&W 800 D3s [HFN Oct '16] and both Devialet and Constellation Taurus amps [HFN Dec '17], the Ultra cable steps right out of the way. It serves up a light, bright, vivid rendition of the music with acres of space and span. There's a great agility to the way it handles the rhythmic flow, and is seemingly able to get right into the spaces between the notes, letting them start and stop with great poise.
Even with a relatively sedate, 'cocktail jazz' track like Al Jarreau's 'My Favourite Things' [Tenderness; Reprise Records 9 45422-2], which is often as bland as bread, things jumped to life. Instead of a louche, laid-back amble through the song, the performance seemingly took on new life and urgency. A layer of 'dirt' was wiped from the midband – sax and cymbals had added sparkle, the piano gained lustre and shimmering harmonics while the female vocal had greater purity and power. Simultaneously, the backing instrumentation hung further back, lending greater space and proportion.
Annie Lennox's cover of Neil Young's 'Don't Let it Bring You Down' [Medusa; K2 HD] is a dense '90s work, yet this cable brought new subtlety, plus a sense of scale I'd not heard before. It scythed through the complex tiers of electronics – all heavily compressed and packed up close – separating them out before stringing them back together again in naturally coherent way. At the same time, the way her beautiful phrasing was carried was a joy, suddenly making her voice one of the most important percussive instruments in the mix.
Hi-Fi News Verdict
High-end cables are often all show and no go, but that's certainly not the case here. The Ultra, by Transparent, is precisely that – revealing the music's inherent liveliness while retaining the butter smoothness of good recordings. Things assume greater scale and depth, a shinier and more extended treble and a natural translucency to the midband. On the basis of our tests, there's clearly much merit in Transparent's concept of cables acting as RF filters.
Price: £4105/£4720/£5180 (8ft/12ft/15ft terminated stereo set)