TCI King Cobra Bi-Wire Loudspeaker Cable


A prime example of why audiophiles should never dismiss the unassuming, TCI is the epitome of a no-nonsense cable company.
As the sovereign serpent in TCI's (True Colours Industries) longstanding range of loudspeaker cables, King Cobra is not new but it has 'evolved' since we last tested the Stereo version [HFN Jan '13]. Seen here is the 'Bi-Wire' version of King Cobra, ostensibly comprising a pair of the same conductor cores used in the Stereo iteration but with the two signal and two return paths combined at the source (amplifier) end. So this version of TCI's flagship cable supports bi-wiring but not bi-amping.
Prices range from £900 (2m pair), £1300 (3m), £1700 (4m) to £2100 for a 5m pair, all pre-terminated with hollow, gold-plated beryllium/copper banana plugs. Each of the two bi-wire cores has a pair of conductors comprising 37x0.3mm silver-plated 'aero-grade copper alloy' strands insulated with a PTFE tape. The signal/return conductors are gently twisted and screened with two floating, plated-copper braids and clamped by a black PVC outer insulation.
With a pair of these 'Stereo' cores employed in the 'Bi-Wire' version, loop resistance is halved to a low 5.5mohm/m if the bi-wire ends are joined in 'stereo' mode. The same is true of the series loop inductance – 0.48µH/m in bi-wire guise falling to a very low 0.24µH/m when the speaker ends are joined for single-terminal use. However, and despite TCL reducing the capacitance of each core by improving the specification of its dielectrics, the parallel wiring of these cores pushes capacitance up to 377pF/m in bi-wire guise. So, in this instance, supporting bi-wire use with a conveniently 'packaged' single cable makes it slightly less compatible for very long runs than King Cobra Stereo.
Snakebite
Deployed in the intended bi-wire mode between my resident B&W 800 D3s [HFN Oct '16] and both Devialet and Constellation Taurus amps [HFN Dec '17], TCI's King Cobra put me stage front with a rip from the Japanese 'XRCD' re-master of the classic 'Limehouse Blues' [Jazz At The Pawnshop; First Impression Music 012 013]. HFN's listeners had reported a similar reaction back in 2013, and with that original Stereo cable retained in the HFN storeroom, the latest bi-wire version revealed itself to be the slightly more vital-sounding of the pair.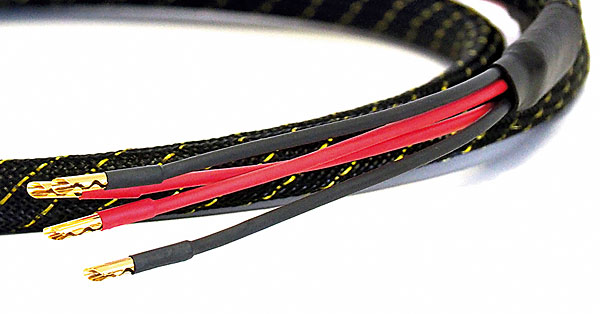 Not only did it shine more light on the ambient noises that embrace the quartet but the percussive brushes possessed a little extra edge, and the 'reedy' clarinet the suggestion of more energy, vibrancy and enthusiasm.
This same luminance was evident with much more complex performances without it precipitating any confusion or harshness. So the massed musical forces of the Hallé Orchestra under Sir Mark Elder playing Holst's The Planets [Hyperion SACDA67270] retained its scale and power while also affording a clear understanding of the timbre, the dynamic shading and the physical positioning of the strings, woodwind and brass within this large orchestra.
Powerful bass is typically rendered with clarity and impact too: Gov't Mule's 'Have A Cigar' [Dark Side Of The Mule; Provogue/Mascot PRD 7446 5] boasting a big slam, and not a little boogie, via the B&W 800 D3s and King Cobra Bi-Wire.
Hi-Fi News Verdict
Offering the convenience of bi-wire connection without recourse to two separate cables per channel, this compact and physically flexible solution from TCI should win many friends. Based on the tried-and-tested King Cobra Stereo it offers a slightly more 'brightly lit' sound combined with a cleaner and subjectively more powerful bass register. If you're looking for a ~£2k cable upgrade for a system requiring lengths of 5m or less, it's a great choice.
Price: £2100 (5m stereo set, terminated in 4mm plugs)