Transistors Versus Tubes Also In HFN This Month In 1992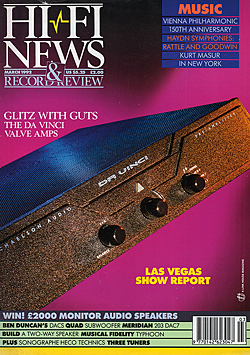 Also In HFN This Month In 1992
LAS VEGAS
Ken Kessler on the Winter Consumer Electronics Show.
MADE TO MEASURE
Dave Berriman explains how to build his DBS6 loudspeakers.
HOW LONG FOR LASERDISC?
Will the 12in LD be overtaken?
DUNCAN'S DACS
Martin Colloms hears the Duncan-Freer designed Audio Synthesis D/A converters.
TUNERS FOR TODAY
Trevor Butler tests the Luxman T-92L, Pioneer F-550RDS and Rotel RT-950BX.
BASS BOOST FOR QUAD
Martin Colloms spends time with the Gradient SW63 sub.
SURROUNDED BY TECHNICS
Ken Kessler tries Technics' SA-GX505 AV stereo receiver.
SONOGRAPHE SD22
Martin Colloms hears a Philips-based CD from Conrad Johnson.
MERIDIAN RESPONSE
The company adds the DAC7 to its 203 D/A – Alvin Gold listens.
HECO REFLEX 20
Martin Colloms gives his verdict on a promising German speaker.