Tim Buckley: Tim Buckley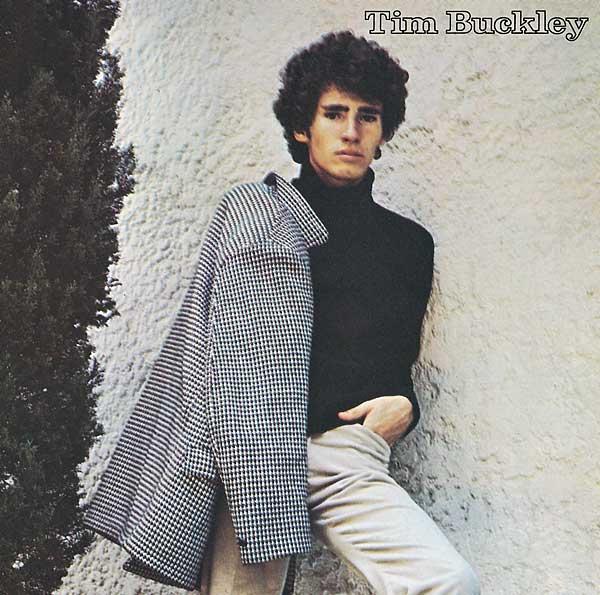 This month's 180g album reissue takes Steve Sutherland back to the '70s when, after a Knebworth concert, he'd become a Buckley fan and was passing the message on
Who else had a halcyon summer? Mine was in 1974. I'd just left school and was waiting to go to Uni. A few mates clubbed together and bought an old banger and we were off – three months of hi-jinx down to Cornwall and back bookended by a couple of legendary gigs: The Grateful Dead at Alexandra Palace in September; and the first Knebworth Festival, the Bucolic Frolic, in July. For a bunch of lads raised in Wilts in total awe of West Coast Rock, these were not mere gigs, they were pilgrimages, the Knebworth lineup akin to finding the holy grail.
Headliners were The Allman Brothers, over here on the back of their lovely post-tragic-Duane album Brothers And Sisters. Support came from The Doobie Brothers featuring sometime Steely Dan guitar hero, the handsomely moustachioed Jeff 'Skunk' Baxter. Then there was John McLaughlin and his Mahavishnu Orchestra, somewhat up his own astral arse, Van Morrison in surprisingly crowd-pleasing form, and The Sensational Alex Harvey Band, a bunch of glamrock hooligans who gatecrashed the party with their thug theatrical Vambo Rools. Unobtrusively footing the bill was a soulful troubadour called Tim Buckley on a rare visit here from his native California.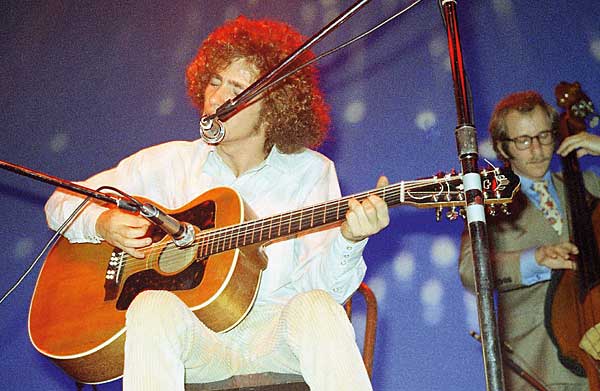 Soaring Vocals
Buckley was one of those 'for those in the know' artists, not by any means universally famous, nowhere near a household name, but a sacred talent for the few of us who'd joined and stuck with him on his singular journey from fresh-faced folky to simmering ladies' man, via several excursions into outer space. For anyone not yet turned on to his amazing LPs, we disciples would initiate newbies with such wonders as the acoustic tour de force 'I Never Asked To Be Your Mountain' from Goodbye And Hello, the dreamy 'Strange Feelin'' from Happy Sad, or the brooding 'I Had A Talk With My Woman' from Lorca. Once smitten, we'd reveal the true gems: 'Song To The Siren', his most famous song, from the experimental once-in-a-lifetime Starsailor, and his swooning version of Fred Neil's 'Dolphins Off Sefronia'. His catalogue was wayward and varied, always a quest for new means of expression, the nearest match to his soaring, swooping vocals – one second falsetto, the next a deep tenor rumble – was Miles Davis at his wonderful wildest, On The Corner or Bitches Brew.
Nowadays it's for his far-out, voice-as-an-instrument avant-garde stuff that Buckley is most revered, but the way this all began was somewhat more sedate. Tim Buckley, the singer's self-titled debut album, was recorded and released in 1966 by Elektra, home to both The Doors and Love, and pretty much the coolest label in the world back then.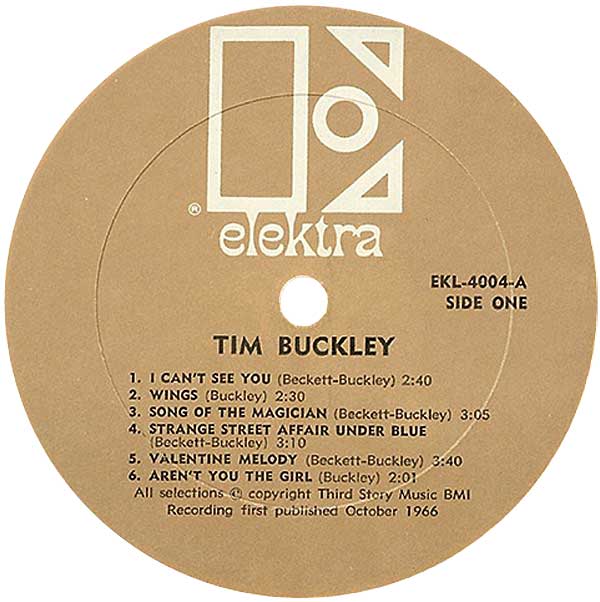 Big Guns Roll Out
Buckley was signed to Elektra courtesy of Herb Cohen who was managing Frank Zappa And The Mothers Of Invention at the time. Here's how it came about: Buckley was singer in a group called The Bohemians, with bass player Jim Fielder, high-school pal and drummer Larry Beckett and guitarist Brian Hartzler. The gang would drive up from Orange County to the Sunset Strip in Hollywood to chat up girls and hang out with all the hippies, and on one such occasion they caught The Mothers playing at a club called The Trip.
The Mothers' drummer (and self-proclaimed 'Indian of the group') Jimmy Carl Black had worked alongside Fielder in an Anaheim music store, so the two bands hung out and Black introduced The Bohemians to Cohen, who immediately took a shine to Buckley and negotiated a solo deal for him with Elektra.
The subsequent album was recorded at LA's Sunset Sound, and it's a measure of Elektra's high hopes for the 19-year-old prodigy that it rolled out its big guns for the sessions. Label owner Jac Holzman produced the session, alongside in-house producer Paul Rothchild and ace engineer Bruce Botnick who'd already done legendary work with the aforementioned Doors and Love. String arrangements were by Jack Nitzsche, famed for his association with Phil Spector, Neil Young and The Rolling Stones. Van Dyke Parks, fresh from working with Brian Wilson and The Beach Boys on the doomed Smile sessions, was hired to add keyboards.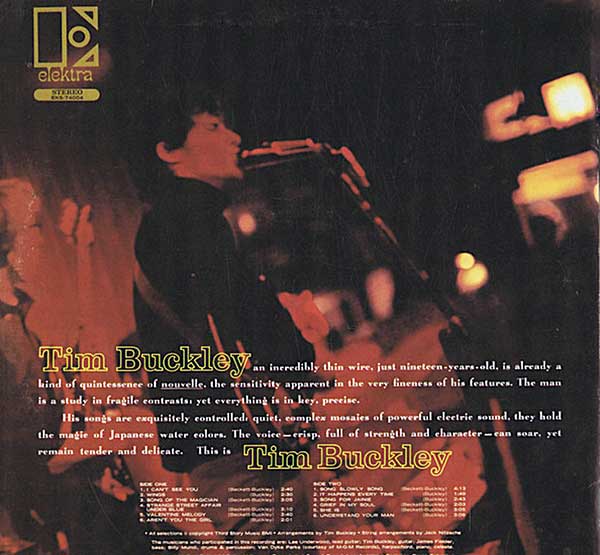 Fielder remained with his Bohemian pal to play bass while Lee Underwood joined the crew on lead guitar and stuck around with Buckley thereafter. Billy Mundi of The Mothers was borrowed to play drums for Tim Buckley.
This is a singer-songwriter album first and foremost, Buckley just starting to unfurl his vocal wings. It's a little mannered, truth be told, and some of the songs (eight of the 12 were co-written with Larry Beckett back in high school) are lyrically somewhat gauche with maidens playing on the flute of early morn, that kind of thing. Nonetheless, there's an endearingly melancholy, romantic vibe to the album that hints at the deeper, more sensual stuff to come. Highlights are 'Wings' which features strings reminiscent of the ones Robert Kirby embroidered onto Nick Drake's 'Five Leave Left'. 'Aren't You That Girl' is blissed-out and pleasingly Byrds-y; 'Grief In My Soul' is the first hint of a Gospel influence, with Buckley sounding not unlike Mickey Dolenz of The Monkees – which is perhaps weird because a few years later, Buckley guested on the Pre-Fab Four's TV show. 'Song Slowly Song' is a meditative piece that reveals Buckley's impulse to lob all the rules out the window and groove.
Macho Funk
'Song Of The Magician' and 'I Can't See You' are pretty good too, fragile and reminiscent of Jefferson Airplane when Marty Balin was still boss, while 'Understand Your Man' is a sweaty blueprint for the swaggering macho funk to come. The oompahing 'Strange Street Affair Under Blue', though, is a clumsy misstep, and Buckley sounds like nothing so much as an embarrassed choirboy on the poppy 'It Happens Every Time'.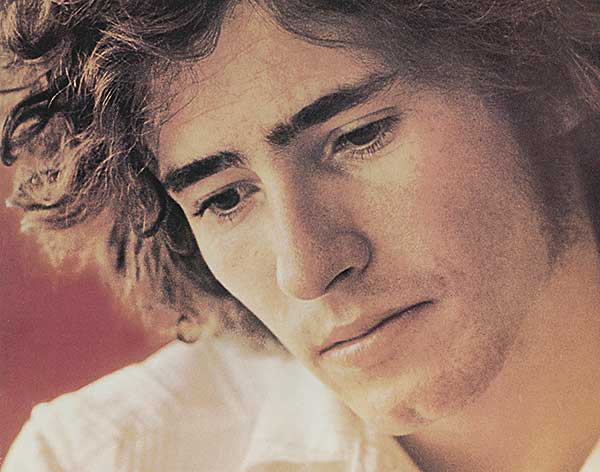 Tim Buckley didn't exactly set the world on fire upon its release but these days, with the benefit of hindsight and knowledge of the riches to come, the album is largely lauded as the launchpad to Buckley's jazzier, more stellar adventures. 'Haunting, poetic pieces suffused with both youthful romanticism and melancholy philosophical musings…' – this is the sort of stuff that gets written today.
Back in '74 at Knebworth, Buckley performed a stunning seven-song set mostly drawn from his Greetings From LA and Sefronia albums, along with some snazzy improvisation. Then he returned home and recorded a brilliant, soulful LP called Look At The Fool, the title track and 'Tijuana Moon' like nothing else ever recorded before or since.
Re-Release Verdict
This 12-track debut album came out here and in most other territories on the Elektra label in 1966 [EKS 74004], but Music On Vinyl has just reissued it on gold vinyl in 180g pressings, as a numbered, limited edition [MOVLP676] with only 1000 copies available. Aged just 28 when he died from a drugs overdose, Buckley later ventured from this folk-oriented beginning into jazz, soul, psychedelia and the avant-garde, eventually going on to complete eight more studio albums. HFN