Spirit: Twelve Dreams... Page 2
Jimi signed up, our Randy was too young (only 15) so he rocked off to form his own band: first The Red Roosters, then Spirits Rebellious (after a book by Kahlil Gibran) then Spirit – the lineup augmented by his stepfather, Ed Cassidy, a veteran jazz drummer who'd put in an impressive stint with Taj Mahal's blues fusion group The Rising Sons. Other members were vocalist/ percussionist Jay Ferguson, bassist Mark Andes and keyboard player John Locke.
Spirit's golden era saw them release four albums in quick succession: the aforementioned debut and its follow-up The Family That Plays Together in 1968, Clear in 1969 and in 1970 my personal favourite and the one we're here to big-up, Twelve Dreams Of Dr Sardonicus. It was produced by David Briggs – most famous for working with Neil Young on his classics Everyone Knows This Is Nowhere and After The Goldrush – and came in a very trippy gatefold sleeve featuring all manner of freaky photos like the images you'd glance at in those halls of warped mirrors you used to get in end-of-pier amusement arcades. In other words, awesome.
Eco Anthem
The album concerns itself with many topics that were uppermost in the enlightened minds of the youth of the day and which, much to our shame, are still nagging at us nearly 50 years on. The most famous track, ie, the one that came closest to making any minimal impact on the charts or the radio, was 'Nature's Way', as acute and heartfelt an ecological anthem as ever there was. It's a thing of true beauty, gentle, folky and acoustic but seething with fury at the way we humans go about our business in utter disregard for the planet which nurtures us.
The album begins with the gentle 'Prelude' ('You've got the world at your fingertips/No-one can make it better than you…') which segues into 'Nothin' To Hide', a slide-driven cruiser that morphs into a funky freak-out. Next 'Nature's Way', then 'Animal Zoo', another ecology-based hoe-down rocker with an irresistibly nagging chorus ('Oh no, something went wrong/You're much too fat and a little too long…'). 'Love Has Found A Way' is an effects-tinged psychedelic ballad with gentle Beefheartian flourishes, 'Why Can't I Be Free' a slither of Orwellian paranoia, and 'Mr Skin' a brass-driven rollercoaster of carnival funk. 'Space Child' is an instrumental waltz into future galaxies, 'Street Worm' a sassy jazz rock strut on the theme of personal liberty. 'Life Has Just Begun' eases in like waves to the shore of Eden; 'Morning Will Come' is a big, brassy dance floor frug, and 'Soldier' the final orchestral lament, sad yet deeply joyous.
Twelve Dreams kind of presents itself as a concept album but it's not really. There's no overall thematic thrust but it is of a piece, as it were, vibe-wise – like, say, The Beatles' Sgt Pepper or Love's Forever Changes. In fact, with the perspective of hindsight, you can feel there's tension there between the groovy, funky, sexy freaky stuff ('Animal Zoo', 'Mr Skin', 'When I Touch You', 'Street Worm') written by Jay Ferguson, and the hippier, jazzier stuff which was California's. Indeed, the album release was held up, much to everyone's frustration, by California falling from a horse and spending a month in hospital with a fractured skull.
Once Twelve Dreams came out and it didn't sell as well as hoped, Ferguson and Andes jumped ship and formed their own band, Jo Jo Gunne, whose 'Run Run Run' was a decent, sizeable boogie of a hit, leaving California to wander on with various lineups and an erratic body of work which occasionally touched on Sardonicus's peak – the double Spirit Of '76 is ace.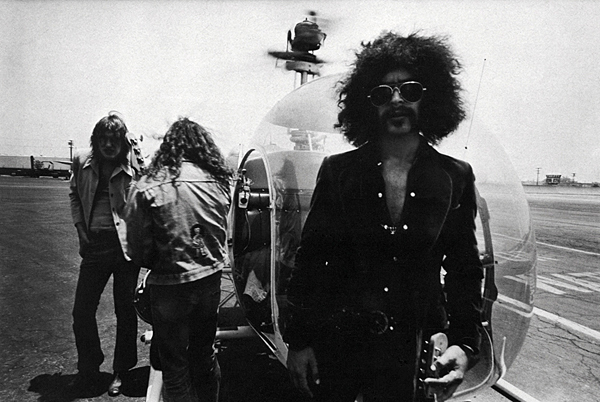 On January the 2nd, 1997, California was swimming with his family off the coast of Molokai, Hawaii, when he and his 12-year-old son Quinn were caught in a riptide. California managed to push his son to shore, but he was swept out to sea, never to be recovered. His ghost, though, may be appearing in a courtroom soon.
Re-Release Verdict
Widely regarded as Spirit's best album, Twelve Dreams Of Dr Sardonicus first appeared on the Epic label [40-64191] in 1970, with its first CD transfer, by Mobile Fidelity, not appearing until 1988. The limited edition LP reissue here, pressed on 180g white vinyl with the original track listing and issued in a gatefold sleeve bearing original artwork is from Music On Vinyl – catalogue number MOVLP555. Our copy was a fine quality pressing, ruler flat and free from surface noise. Packaging is admirably handsome too. HFN