Small Faces: Small Faces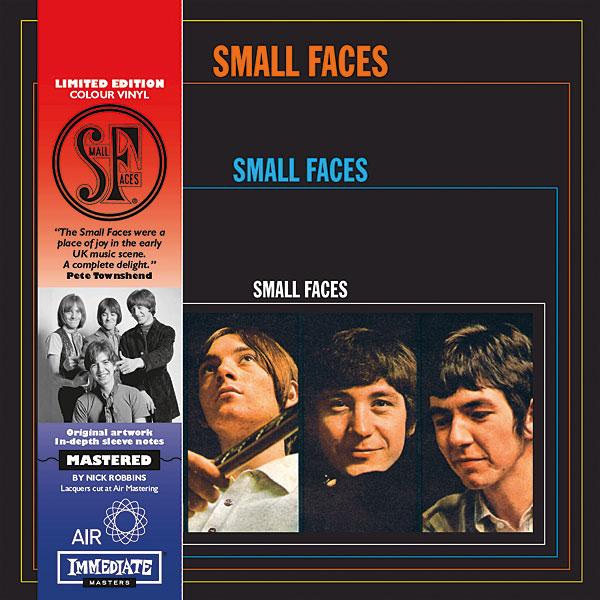 Under new management, the mod quartet got creative on an album of three-minute pop gems, but struggled when it came to the title. Steve Sutherland listens...
Considering we currently find him being dangled by his ankles off a balcony four floors above the pavement, you could say, without too much exaggeration, that Robert Stigwood is having a bit of a bad day. The bloke dangling him – with the aid of four fierce-looking heavies – is Don Arden, a gentleman who, shall we say, has a bone or two to pick with our Stig.
Singular Focus
Arden has heard on the grapevine that Stigwood is trying to woo one of his bands away from his management company, hence all the dramatics. Strangely, with all his blood rushing to his head, Stigwood takes a sudden aversion to said band. He lives to fight another day while all in Arden's world returns to business as usual. Except... the band in question happen to be on tour up North when they hear their new single playing on the radio. That would be all fine and dandy but for the fact that it's a single the group know next to nothing about!
Arden, it seems, has taken a demo track called 'My Mind's Eye', which the band had roughly recorded for prospective inclusion on a forthcoming album and, deciding he needs a little something to service the Christmas market, has had Decca press it and release it. The band, it must be said, are none too happy about this. Nor are they exactly ecstatic about Arden's management style. They're cool with the plush Pimlico house which they've been given to live in, and the limo hired to be at their constant disposal. They have no real beef about the accounts set up so they can kit themselves out in the grooviest threads from Carnaby Street, and they've turned a blind eye and deaf ear to Arden fixing it so their early records charted via neat little back-handers here and there in the shops and on the radio. The 20 quid each per week salary is not too shabby either but, crucially, they have come to realise that they aren't actually getting paid the royalties and performance fees they're due. In short, the deal is starting to smell a bit fishy.
So the band whines, their manager blusters and issues threats, the band's parents get involved and Arden tells them their sons are all on drugs. This is not strictly untrue, as the story going round is that The Beatles' manager Brian Epstein dosed them with LSD via laced segments of orange at a party earlier in the year, and that they've now taken to acid like ducks to water.
Eventually the whole affair is settled when Andrew Loog Oldham, The Rolling Stones' manager who's in the painful process of being sacked by Jagger and co, buys out the band's contract for £25,000, allegedly delivering the severance fee in cash to Arden in a brown paper bag. He then sets up the band on his new label, Immediate, and suddenly the world is indeed their oyster.
Here They Come
The band, by the way, is the Small Faces, a quartet of precociously talented mods just out of their teens who have the looks and the chops to rival The Kinks, The Who and Pink Floyd as the ace-face scene-makers in swinging '60s London. Off the leash, as it were, and free to follow their creative instincts, band members Steve Marriott and Ronnie Lane muck about with an old Lord Buckley monologue, 'Here Comes Da Nazz', and come up with 'Here Come The Nice', a fabulous paean to a drug-dealer which miraculously hoodwinks the BBC to the extent it doesn't think to ban it. The psychedelic masterpiece 'Itchycoo Park' follows suit, and sandwiched between the two comes the LP celebrated here.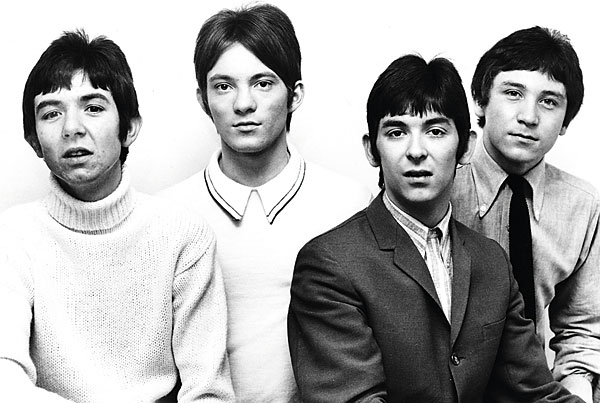 Laughter Tracks
Recording began at IBC Studios while the band were still working for Decca, before switching to Olympic where Marriott and Lane produced, and Glyn Johns engineered. It's a total what's-not-to-like affair, 14 self-penned songs, all well under three minutes, succinct and pleasingly to the point. Stylistically it's a gas, as they'd say, encompassing all their roots and enthusiasms. It's enormous fun, a right giggle, nothing taken too seriously and yet rendered with verve and panache.
Marriott is a sensationally characterful and energetic singer, soulful without being clichéd. His 'Talk To You' and 'Get Yourself Together' are the album's highlights, full-on, riff-driven, and with a freshened-up trad beat. 'Green Circles' is the psychedelic one, very Piper At The Gates Of Dawn-era Pink Floyd but with a frothy pop sensibility. 'Happy Boys Happy' is like a Stax tribute, a joyous instrumental nod to Booker T & The M.G.'s showcasing Ian McLagan's considerable keyboard nous. 'Up The Wooden Hills To Bedfordshire' is a nifty Britpop blueprint too, as is the sunshiny cod-Calypso closer, 'Eddie's Dreaming'.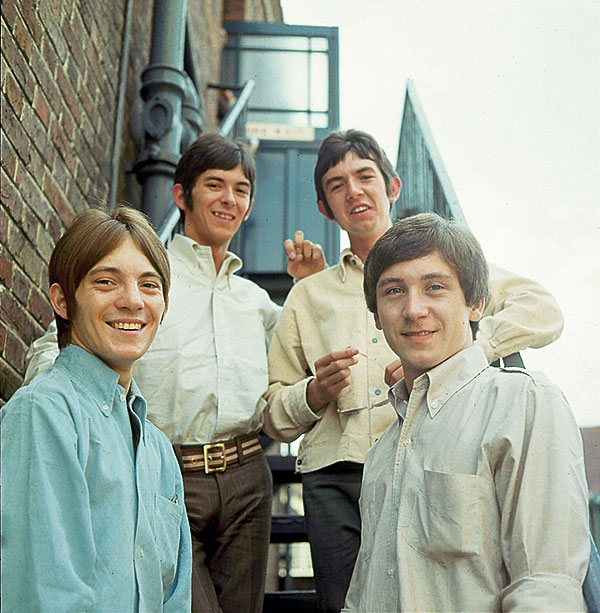 'Become Like You' is a punky, daft-as-a-brush, stick-it-to-the-man track – no wonder The Sex Pistols did Small Faces covers – and 'All Our Yesterdays' is a juicy vaudeville romp, taking the mickey out of itself à la The Bonzo Dog Band. The overall impression is of a group as much in love with the recording process as with the songs that emerge – one big musical smile; an artistic triumph which hints at the wonders to come in the shape of Ogdens' Nut Gone Flake, the Small Faces' genre-defining psychedelic pop follow-up.
Feeling Of Déjà Vu
But, typically, when the album was released on 23 June 1967, in both mono and stereo, all was not plain sailing. For one thing, for all their surfeit of imagination, they ended up calling it Small Faces, which was exactly the same title as their Decca debut from the year before. This, unsurprisingly, served to confuse the public somewhat. Secondly, former manager Don Arden, never one to let sleeping dogs lie, did his best to scupper its release by assembling a compilation of tracks the band had done just before they left Decca. He called it From The Beginning and released it to coincide with the band's new offering. Both albums featured 'My Way Of Giving' and '(Tell Me) Have You Ever Seen Me'. The versions on Arden's LP were earlier takes but that did nothing to staunch further confusion amongst the fan base.
Undeservedly overshadowed by the mighty Ogdens'... and the spiffing singles that proceeded and surrounded it, Small Faces really is a luverly little gem.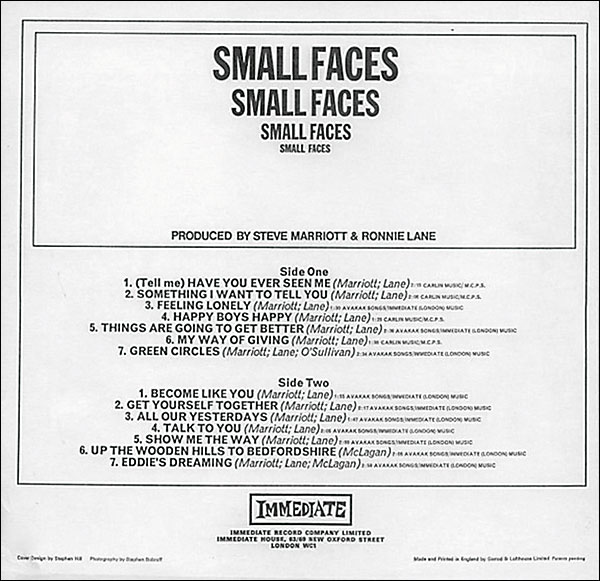 Re-Release Verdict
The 1967 Small Faces album was re-issued in late February 2023 on limited edition 180g 'solid white' vinyl [Immediate/BMG/Charly Records IMLP008C], with lacquer cutting at London's Air Mastering and the original mono presentations of its 14 tracks. The release features the original sleeve artwork, plus an obi strip with a quote from Pete Townshend. A previous Immediate Records release in 2018, which arrived on blue 180g vinyl, was exclusive to Sainsbury's. HFN