Simaudio MOON 780D v2 Network Attached DAC Page 2
The rest of the 780D v2 is all about Simaudio's customary build quality, which could be described as 'truck-like' only if the truck in question ran on tracks and had a big gun in a swivelly bit on top. Everything here has a reassuring sense of solidity and durability, and is finished to an exceptional standard. And that's about it, beyond the ability to go into the menu and re-label the digital inputs, or disable unused inputs to make flicking through them faster. It's also possible to alter the information shown on the display when music is playing, dim the display (which is rather startling at full brightness) or turn it off completely, so it only lights when something is changed and then goes dark again.
Open Source
Big and magnificent the 780D v2 may look, but its sound is something of a slow burn: this isn't a unit to rock you back on your heels with the first few notes, but what you do get is complete confidence and a beautifully open and superbly focused soundstage. And that holds true whether you're playing music via the digital inputs or making use of this network player's streaming functionality.

That was made clear with the recent Bach: Redemption set by soprano Anna Prohaska [Alpha Classics ALPHA658; 192kHz/24-bit], recorded with a small ensemble in the quest for period accuracy. So whether with the spare musical forces of most of the album, or the jazzy bonus arrangement with which it concludes, the effect is of very real performers at work in a well-resolved church acoustic. Prohaska's remarkable voice is handled with delicacy and care, and the instrumentation and small chorale on a few of the tracks have not a smidge of artifice about them.
That this is a component to seduce rather than stun becomes ever clearer as you delve deeper into its capabilities and your music collection, whether playing files over the network, directly from a computer using USB, or streaming via Tidal or Qobuz in hi-res. Even with comparatively low-resolution streams – such as the odd Radio 3 live jazz session in 320kbps via the 780D v2's TuneIn feature – the sense of 'rightness' in the sound is maintained.
Real Snap
However, it's really with uncompressed music that this player/DAC shines. With Bob Dylan's latest album Rough And Rowdy Ways [Columbia; 96kHz/24-bit download], the 780D v2 gets right into the character of the voice from the off, and makes clear the world-weary lyrics, while at the same time chugging out the blues of 'Goodbye Jimmy Reed' in toe-tapping style. Again, it's a sound all about realistic-sounding instruments and confident music-making, with not a hint of hi-fi histrionics about. Sounding this good without making a huge fuss about it is a clever trick, and it's a sleight of hand carried off with considerable style here.
Move back to the less dense – and more audiophile – sound of the 15th anniversary reissue of Yuko Mabuchi Plays Miles Davis [Yarlung Records YAR78690-15 DSD; DSD256], and the gloriously crisp live recording sparkles. Mabuchi's Steinway is perfectly weighted, and planted solidly in the soundstage, surrounded by the accompanying bass, drums and trumpet.
There's a real snap and drive to the quartet's take on 'Milestones', while 'So What' has an easygoing swing, the 780D v2 making clear the doubling of the bass line by Mabuchi's left hand and the bass of Del Atkins, while Bobby Breton's drums patter and shimmer and JJ Kirkpatrick's trumpet soars. It's a delicious, and very live, sound.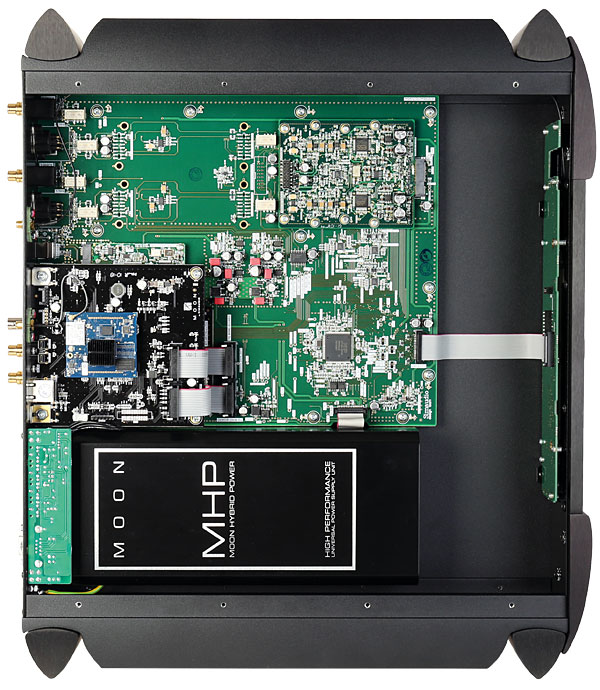 Truly Thrilling
But don't be fooled into thinking this is one of those hi-fi components only really suited to hyper-clean recordings of the kind used for hi-fi demonstrations which, after all, just about any decent system can play well. Push it harder with the full-on attack of parts of Arabella Steinbacher's Four Seasons [Pentatone PTC 5186746; DXD], combining Vivaldi's familiar warhorse with Piazzolla's less-known work on the same theme, and it does a fabulous job with the tango rhythms of the Piazzolla, both with the stabs of strings and the rumble of the basses of the Munich Chamber Orchestra. Then it goes on to drive hard with Steinbacher's 'take no prisoners' charge through the Winter section of the Vivaldi, delivering it in truly thrilling fashion as those snowflakes seem to blizzard out of the loudspeakers!
Up the scale of the musical forces to a full symphony orchestra – in this case the Oslo Philharmonic under Petrenko playing Rimsky-Korsakov's Russian Easter Festival Overture [Lawo Classics LWC1198; DXD] – or some charging rock, and the ability of the 780D v2 to deliver low-end power and grip while laying open all that's going above, however complex, is never in doubt.
Possessing all the grunt needed for even larger orchestral forces while having the ability to rock hard and fast, and yet do all this while delivering glorious finesse and detail, and without any sign of work going on behind the scenes, makes the 780D v2 very much a class act.
Hi-Fi News Verdict
The grand illusion here is that while the 780D v2 doesn't seem to be doing much, and its sound won't shake you to the core on first exposure, extended listening reveals its true maturity, resolution and power. With its wide-ranging capability, superb build and one of the best apps in the business, it makes an extremely strong case for itself. Understated, yes, but it's one of the best network players around.