Ry Cooder: Paradise And Lunch Alternate Format Discography
Alternate Format Discography
From its first vinyl issue in 1974, Paradise And Lunch has been a terrific-sounding piece of work. With the dynamic duo of Lanny Waronker and Russ Titelman behind the desk, that's hardly surprising. Happily, every successive incarnation seems to have maintained and, in some cases, enhanced that original high standard.
ORIGINAL VINYL (1974)
Cooder famously was the first rock artist to record a digital album with 1979's Bop Til You Drop, which was laid down on a 3M digital machine, but he was equally famously not a fan of digital recording, which he felt lacked warmth. Happily, the original vinyl Paradise And Lunch [Reprise MS 2179] displays warmth aplenty, as well as admirable sonic clarity, definition and stereo placement. It was also released on cassette [M5 2179].
FIRST CD (1987)
The album first popped up on CD in Japan, in 1987 on the Reprise imprint [32XD-792]. It was considered by some to have been just a shade on the 'dull' side. The first US CD edition [Reprise 2179-2], pressed by the Specialty Records Corp, Pennsylvania, was not significantly better in terms of sonic quality. Subsequent reissues have been better received however.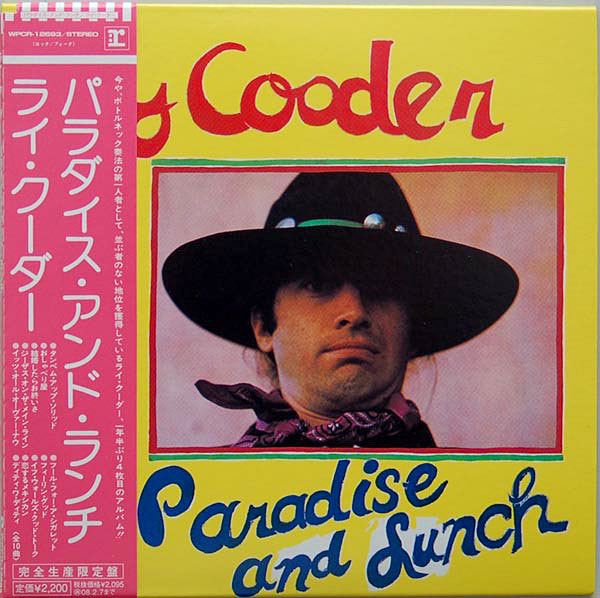 REMASTERED CD (2007)
Once again the land of the rising sun stole a march on the US, with this paper-sleeved mini album replica, remastered by Warner-Pioneer's widely respected Isao Kikuchi [Reprise WPCR-12693]. Coming a full 20 years after the first Japanese CD edition, it does represent a noticeable improvement in the sound, particularly in bass response and soundstaging.
SPEAKERS CORNER LP (2016)
Remastered by Kevin Gray at Pallas in Germany, this 180g reissue on Speakers Corner [Reprise MS 2179] was enthusiastically received by reviewers who praised it as a superb job with crisp, warm and realistic instrumental sounds without any noticeable technological interference.
MOFI LP (2017)
In 2017, hot on the heels of the Speakers Corner LP came this much anticipated MoFi limited edition remaster [MFSL 1-449]. This was remastered from the original master tapes by Krieg Wunderlich and came in a special static and dust free inner and heavy duty sleeve. It too garnered ecstatic reviews with fulsome praise for its 'dead-quiet surfaces, superb transient response, front-to-back soundstaging', etc.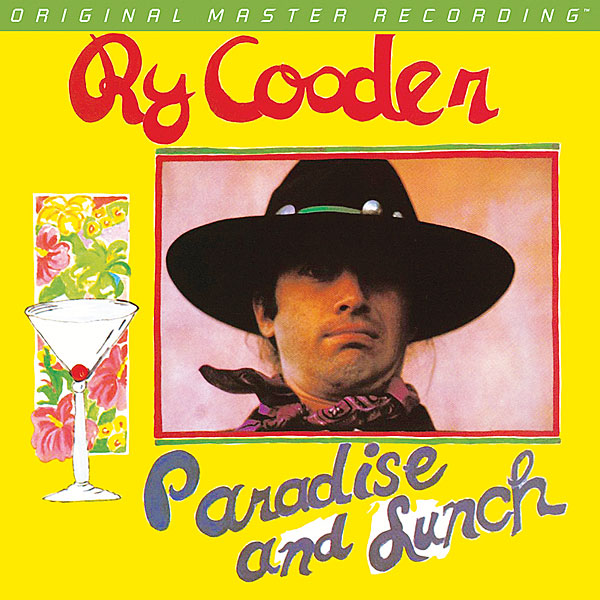 MOFI SACD (2017)
Simultaneous with the MFSL 180g vinyl came the label's SACD version [UDSACD 2159], which has been hailed as 'vibrant' by Cooder fans.