The Ruts: The Crack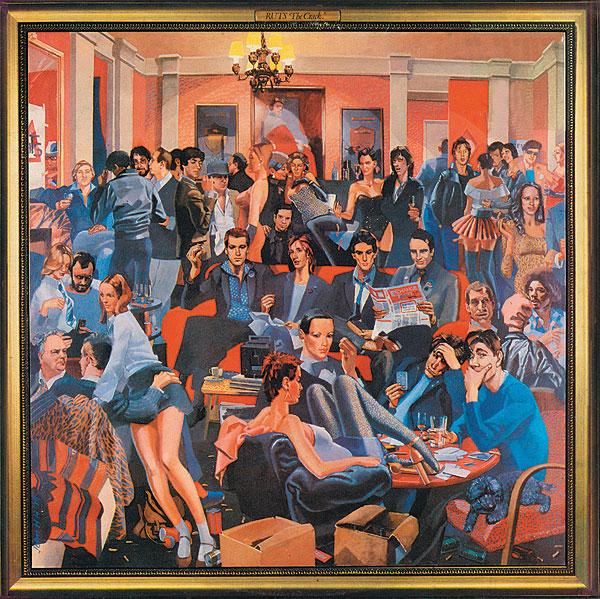 The anger-filled debut from the English punk/reggae group sparked fans far and wide, and a near 30-year search for the original cover art, says Steve Sutherland
Occasionally I get asked who was the most unpleasant rock star I encountered during my decades writing for the music press. That's a toughie, although Robert Palmer and Phil Lynott hover near the top of the pile. Far easier to say who was the scariest. Answer, without doubt: Henry Rollins.
I met him back in 1991 when I'd set up a signing tent at Reading Festival so that fans could meet their heroes. Rollins was one of those heroes and it was my job to escort him on the long walk through the crowd from the backstage area to the tent. All the way he glowered, head bowed, a seething mass of body-builder muscle, and when we got there he strode over to his press officer and roared: 'What is this sh**?!'.
There was a crowd of kids assembled to meet him and get his signature so he sat himself down in the tent and started to sign stuff, without making any eye contact. One kid gave him a cassette of his band and asked him to listen to it. Rollins took the cassette and smashed it to smithereens.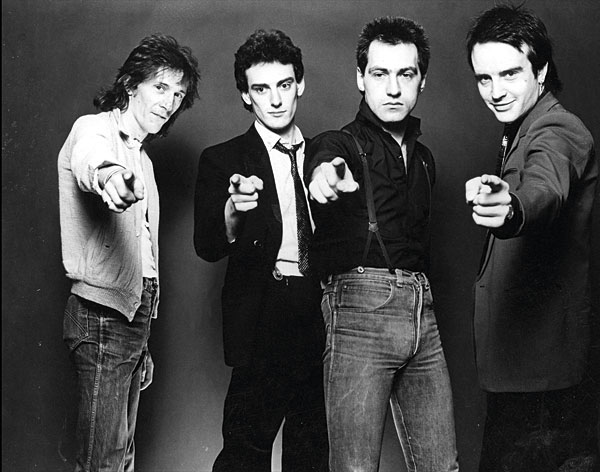 Rockin' And Rollins
I mention this because, in the years since, Rollins has become a gifted professional conversationalist, generous and eloquent. And one of the subjects that brings out the fanboy in him is English band The Ruts. He's spoken at length about how punk rock 'hit me like a train', and the day in 1979 when, as a teenager, he walked into a record store in Washington DC and heard The Ruts' first single, 'In A Rut'. He was, he says, instantly addicted and sought out the band's debut album, The Crack, which he adores to this day.
'The Ruts stood out on so many levels', Rollins says. 'As a kid, I think it was more instinct that told me The Crack was an important record, but as an adult, I can dig the individual components far more. I can completely understand that Segs and Ruffy were a phenomenal rhythm section and that Paul Fox was a guitarist's guitarist. Then there was Malcolm Owen – and there's still nothing like that voice.'
Cheers for the intro, Henry! The Ruts were one of those bands that emerged seemingly fully-formed into the UK's post-punk wasteland. Like many of their contemporaries, the group's individual members started out as hippy types, busking around Europe for loose change until The Sex Pistols et al changed their lives and (out)looks.
Burning Ambition
They quickly became involved in the Anti Nazi League and Rock Against Racism movements that were gathering steam at the time, and aligned themselves with such kindred spirits as the Misty In Roots collective based in Southall, West London. The Ruts' signature sound was an apocalyptic merger of rock and reggae, their most famous song being the Top 10 hit 'Babylon's Burning', taken from the album we're here to celebrate.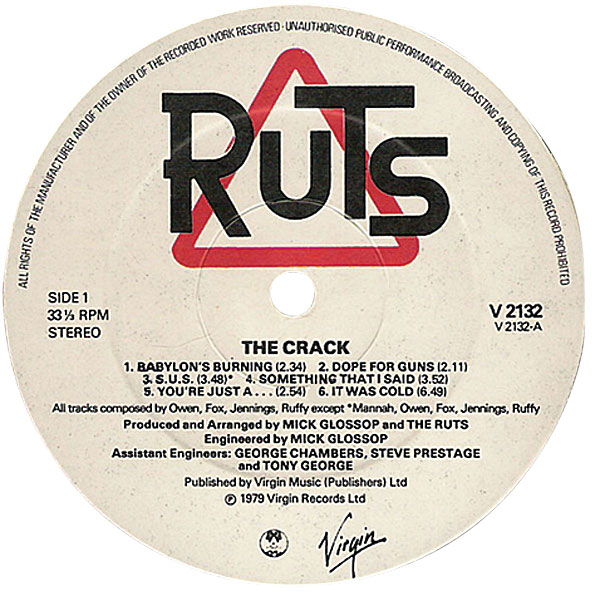 Released by Virgin and produced by Mick Glossop, the go-to new-wave studio guy, The Crack was as angry and righteous as they come, punky but not yet Oi. Stand-out tracks include 'Jah War', inspired by a 1979 riot in Southall where Anti Nazi League protesters clashed with the Metropolitan Police, leading to the death of Blair Peach, a protesting teacher from New Zealand, and a total breakdown in relations between the cops and the local Asian community.
Other rabble-rousing beauties are 'S.U.S.', a comment on the controversial law which allowed police officers to stop and search anyone they considered suspicious; and 'Dope For Guns', a passionate evisceration of the drug trade. The latter was to prove tragically ironic as singer and lyricist Malcolm Owen became hooked on heroin, was fired by the band in a tough-love bid to straighten him out, then rehabilitated only to die from an overdose in 1980, aged 26.
Pete And Dud And Jimi
On its release, The Crack's cover artwork was much admired as a punk version of The Beatles' Sgt Pepper's. Created by artist John H Howard, it depicted the members of the group surrounded by contemporaries including Rat Scabies of The Damned and Jimmy Pursey of Sham 69, plus band favourites such as Jimi Hendrix, comedians Peter Cook and Dudley Moore, and TV astronomer Patrick Moore.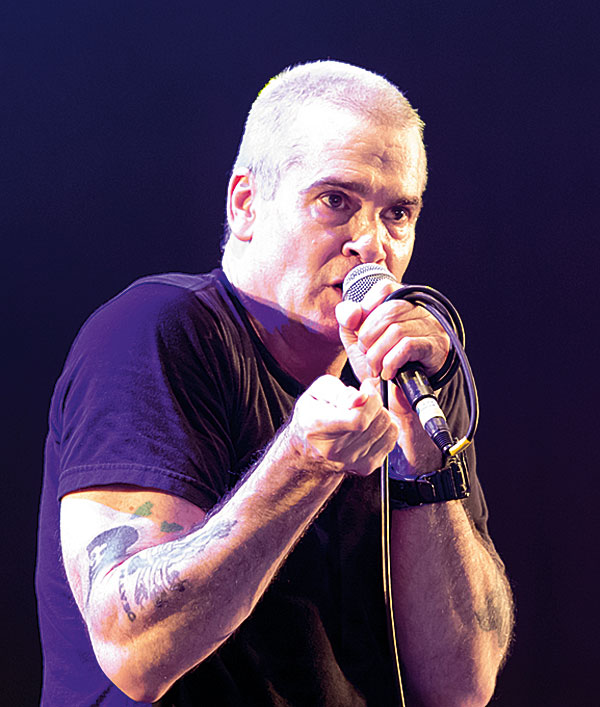 Re-enter Mr Rollins. He and his mates had become fixated on the sleeve. 'We were fascinated by that cover', he says. 'We'd be trying to pick out everyone in the painting and we'd be arguing for ages, saying, "Hey, that's Keith Moon; no, that's Malcolm McDowell", and so on. I became obsessed and really wanted to find out more about the cover art. But we figured it would most likely be hanging on the office wall of the record company's main guy, so I was never going to get to see it.'
Bargain Hunt
What actually happened was that The Ruts had agreed to share it and guitarist Paul Fox left it at his parents' London pub, only for artist John Howard to take it back and, without their knowledge, sell it to an American dealer. Its whereabouts remained a mystery until Henry Rollins flew to London as a substitute frontman for the late, lamented Malcolm Owen at The Ruts' reunion gig in Islington, on 16 July 2007.
'When I met the guys I had a million questions waiting to leap like a cobra from a basket', Rollins explains. 'One of those questions was about The Crack's artwork. Segs told me it was this amazing four-feet canvas and that John Howard basically rolled it up and took it from England.'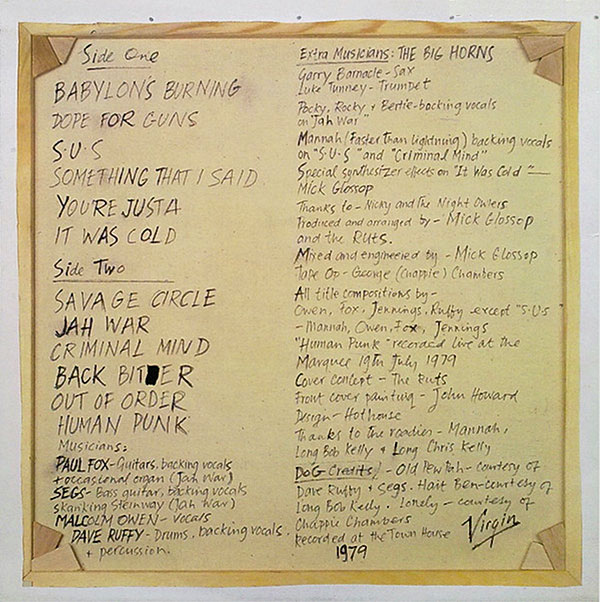 Sometime later, Segs visited Rollins in Los Angeles, Rollins showed the bassist his collection of Ruts memorabilia, and the pair agreed he should seek out the original artwork. Via the wonders of the Internet, Rollins tracked down the owner – an art collector who liked the painting but simply called it 'The Party' and had no knowledge of The Ruts' music. Rollins brokered a deal and acquired the painting, 'for a fraction of what I was prepared to pay for it'.
Back to the 2007 gig. It was the last time Fox, Ruffy, and Segs played live together. It was a benefit for Fox, who had cancer and played with only one functioning lung. It was a truly triumphant performance, which you can witness on YouTube. After the gig, Fox collapsed backstage, exhausted but happy. He died aged 56 three months later.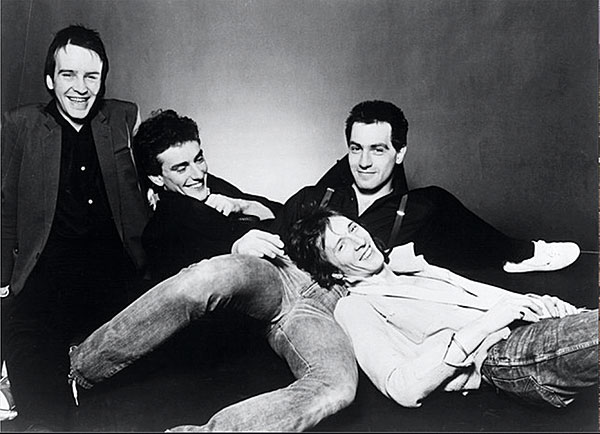 Re-Release Verdict
The Ruts' debut album The Crack was reissued in February 2023 on 180g vinyl by Proper Records under license from Virgin/UMC [UMCLP031], with the stated aim of 'faithfully' replicating the original 1979 Virgin Records release – hence the original cover art, single-disc presentation and simple inner sleeve. Proper Records' parent company Proper Music claims to be the largest independent distributor in the UK, with a focus on 'anything a little bit different'. HFN