Rotel Michi X5 Integrated Amplifier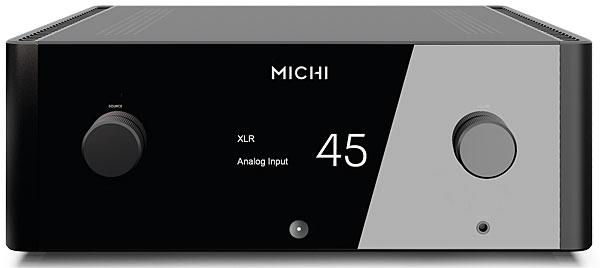 Top integrated in Rotel's flagship Michi series leverages much of the P5 preamp and S5 power amp technology to realise a taller, heavier amp that aims to upstage the X3
Expect the unexpected: it will be the first lesson in the book if I ever get round to writing Hi-Fi Reviewing For Dummies. You see, just because something seems like something else, it doesn't follow that it is... Too many times I've stumbled across a speaker sitting in the middle of a range, and apparently using the same recipe of drive-units, that turns out to be a complete outlier – for good or bad – in the way it plays music. The same happens with amplifiers, too. So, just because one model seems little more than a bigger version of another, don't expect it to have the same kind of balance of qualities, only 'more so'.
Take, for example, the Michi X5 we have here. It's the £6300 'big brother' of Rotel's £2000-more-affordable X3 model [HFN Apr '21], and outwardly seems to be the same amplifier literally writ large. It occupies the same 485x452mm footprint, but is 45mm more imposing, at 195mm tall, while the weight is up a hefty 14.9kg, from the substantial 28.9kg of the lesser model to a full 43.8kg. In every respect, this is a big and impressive-looking integrated amplifier, even by the standards set by the imposing but svelte X3.
Power On Tap
In return for all this you get some added facilities, which we'll come to shortly, and even more impressive power output specifications: the X3 claims 200W/8ohm and 350W/4ohm and the X5 promises 350W/8ohm, rising to a whopping 600W/4ohm, all comfortably exceeded in practice. The X5 has an additional unbalanced analogue line-in, bringing the total to four, plus one set of balanced inputs. The extra input is labelled 'Aux 2' though, as before, all inputs can be relabelled for the front panel display via the extensive menu system. There's also MC phono capability as well as the MM included on the junior amp.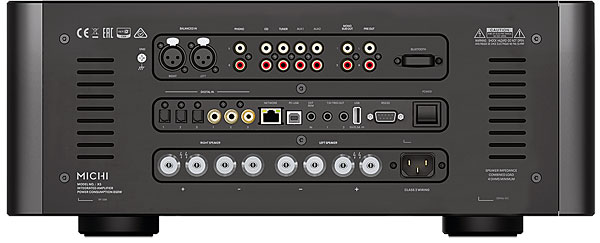 Again, this switching is carried out deep in the menus, along with the ability to skip unused inputs when scrolling through them, to decide whether or not tone controls will be applied to a specific input, and set a fixed level for a particular input. In the old days we would have said this was useful when using the amplifier with the front left/right pre outs of an AV receiver or processor to integrate it into a surround system. These days it's just as relevant if the amp is paired with a component that has its own volume control, such as a smartphone or tablet used to stream music. Yes, the Michi X5 may be aimed high, as that price-tag suggests, but it's also designed with all the flexibility required of modern audio systems.
Full Moody
So, along with a raft of digital inputs, including USB-B for computer connection plus three optical and three coaxial, there's also a little slab-shaped antenna on the rear panel offering Bluetooth wireless connectivity, with AAC and aptX compatibility.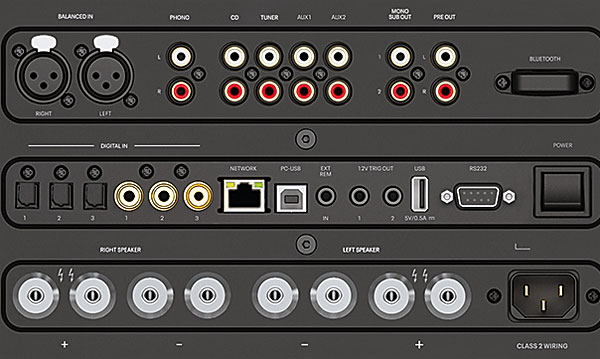 In fact, the only disappointment – for some – will be the thwarted promise of its USB-A and Ethernet ports. These update the X5's firmware, the USB-A also offering 5V power for external devices and the Ethernet control of the amp over a network, but neither supports music playback.
An external IR receiver is also supported, should you wish to hide away all the amp's black gloss loveliness, while 12V trigger ports can switch external devices, and there's also an RS232 port for more custom-installation control.
As on the X3 the two sets of speaker terminals are paralleled and designed to bi-wire a single pair of suitable speakers. A pair of pre-outs are provided should you wish to add an external amplifier for bi-amping your speakers, and there are two mono subwoofer outputs, plus a headphone socket on the front panel.
Also retained from the X3 is that simple fascia, with little more than source and volume controls, and a big, ultra-clear display complete with fripperies – all defeatable – such as VU meters and spectrum analyser readouts. Should you want to go for the full moody black look, the display can be dimmed or turned off from the excellent remote common to all Michi integrateds and the P5 preamp [HFN May '20]. It's a solid little device, and a masterpiece of clarity – you can even temporarily adjust tone and balance without leaving your listening seat.
Dark Star
As the X3 had proved so impressive, I'll admit to approaching the X5 with both anticipation and some trepidation. PM lays out the key differences but the nagging thought remained in my mind that the X3 may be so good that any notional gains offered by the X5 might be merely incremental, rather than revelatory.