Rotel Michi X3 Integrated Amplifier
The 'entry-level' model in a range of two new, fully-featured Michi integrateds, the X3 is a distillation of Rotel's award-winning pre/power design with astonishing power on tap
This amplifier is substantial, beautifully designed and finished, powerful (rated at 350W/4ohm) and hefty, at getting on for 30kg – and yet it's the base model of two integrated amplifiers recently added to Rotel's revived Michi range. Following on the heels of the EISA Award-winning P5/S5 pre/power amplifiers [HFN May '20] and the M8 monoblocks [HFN Oct '20], the X3 and bigger X5 all-in-one amplifiers are the next stage in the expansion of this lineup. The £6300 X5 claims 600W/4ohm and while the £4300 X3 model may be 'lower powered' it's still able to deliver quite a wallop when required, offering a very impressive bang for your buck.
Of course, sheer power isn't everything, but combining plenty of Watts with a space-efficient design and sensible pricing does seem to be something of a trend at the moment. Indeed, there are more than a few 'big integrateds' offering the kind of performance that would once have been the preserve of more conventional preamp/power amp combinations. And while the X3 is slightly wider than the hi-fi norm at 485mm, and getting on for square in plan view, it's also clearly been designed to slot into most equipment racks, standing just 150mm – that's 6in in old money – tall.

Extra Specs
For an amplifier with so appealing a combination of flexibility and sheer grunt, it could almost be called svelte, an impression heightened by the mixture of matt and gloss black in its styling, which also ensures it looks 'all the money'. The styling of these reborn Michi components may be very different from the brushed metal and lacquered wood of the originals from the early 1990s, but it's remarkably successful, being both understated and clearly able to be scaled elegantly from the big M8 monoblocks down to this rather more compact integrated model.
What's more, while the minimalism of the Michis of decades back may have given way to a more comprehensive specification, the P5, S5 and demonstrate that this has been achieved without performance having been compromised – and that has clearly carried through to the X3, too. For while this integrated comes with a 'fully populated' rear panel that wouldn't seem amiss on a mainstream AV receiver, only lacking a few sets of speaker outputs and the odd HDMI socket, as well as offering that 'your move, creep' ability to grip and drive just about any speaker your throw at it, it also delivers levels of musical involvement entirely in line with its pre/power stablemates.
Big Hitter
Michi parent company Rotel has form in this respect. The RA-1592 [HFN Sep '16] was another big-hitter and, like the X3, plenty powerful enough for enthusiasts looking to 'downsize' from a pre/power combo. The newer X3 will also handle complex multi-source systems if required: in addition to four sets of line inputs, one of which is on balanced XLRs, it also has a rather good MM phono stage and a comprehensive lineup of digital inputs to feed its onboard 768kHz/32-bit AKM DAC. Along with three optical and three coaxial digital ins, there's also aptX Bluetooth, and a USB-B port to enable the X3 to be fed audio from a computer. With this last connection the amp can accept audio at up to 384kHz/24-bit and DSD128 while, via coax and optical, the limit is the usual 192kHz/24-bit.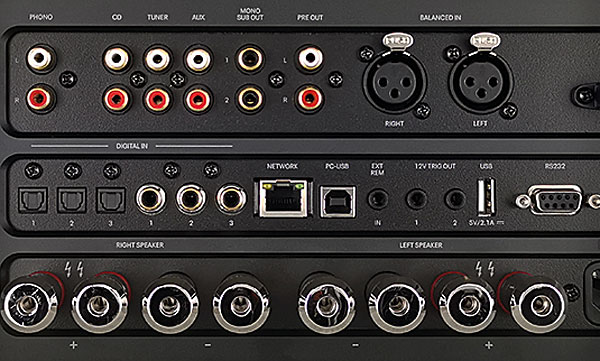 Ethernet networking and a USB-A port are also provided, but these are there for IP control of the amp, and to support firmware updates – either 'over the air' or via a computer download onto a thumb-drive. That's all par for the course these days, as is the provision for RS232 control, 12V triggering and an external remote control receiver – all of which enables the X3 to be hidden away in a cupboard and driven via a custom-install set-up.
Outputs are provided for two sets of speakers and headphones, and there are also two mono subwoofer outs, and a pair of pre-outs. The last of these should best be considered as a means of adding a second power amplifier (such as the S5) to bi-amp suitable loudspeakers. In practice the X3 is not configured to be used purely as a preamp as there's no way to disengage the power amp section which, as PM discovered during lab testing, can clip if the pre out is wound up too far.
Charging Hard
Naturally, no such problems occur when using the amplifier as intended – hooked up to a pair of loudspeakers and playing music as long and as loud as most of us could ever want. And you don't need to be using 'problem' speakers to justify the inclusion of this amplifier in your system.