Rogers Returns Also This Month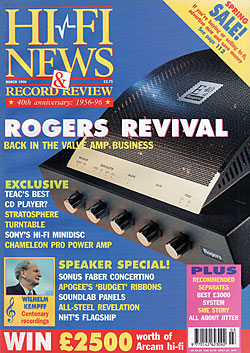 Also in HFN this month in 1996
MINI TO THE MAX
Can MiniDisc qualify as a serious domestic hi-fi medium? We hear Sony's MDS-JA3ES player.

QUANTUM LEAP
A new electrostatic hybrid loudspeaker from American company Sound Lab Quantum.

SOLID STEEL REVELATION
The RMS Revelation II is a British floorstander that defies convention with its use of steel speaker cabinets.

CONCERTINO GRAND
Italy's famed speaker maker Sonus faber has created an affordable new bookshelf model.

MOTH EXPLOSION
Moth adds 60W stereo and 100W monoblock power amps to its slimline Thirty series.

GLOWING REPORT
We test the new MV-55 – an affordable all-tube power amp from Conrad-Johnson.

RUBY POWER
Exclusive review of the Chameleon Ruby, a pro power amp with audiophile aspirations.

THROUGH THE STRATOSPHERE
Reference International has launched a new British high-end turntable, the Stratosphere ST1.