Quad Artera Solus all-in-one solution Page 2
As to be expected, the Artera Solus's pre and power amp sections are minimalist in design and use high-quality components linked by short, direct signal paths. Volume is digitally controlled in the analogue domain, outputting directly to the dual-mono Class AB power amp section. But if the claimed 75W/8ohm power output looks a little modest on paper, Quad avows that its generous reserves of current mean awkward speaker loads simply aren't a problem. It even says that the Solus will drive the company's demanding electrostatic speakers without breaking sweat [see
PM's Lab Report
].
Shine On
As one of Quad's aims with the Artera Solus is to appeal to as broad an audience as possible – from hardcore audiophiles to those who shop at Habitat – I spent time with it hooked up to a pair of Audiovector QR 1 standmount speakers, which were previously being driven by my reference electronics. These comprise a Cambridge Audio CXC CD transport, Chord Hugo 2 DAC and ATC CA-2/P1 pre/power amp [HFN Mar '10]. A FiiO X3 Mk 2 DAP was also on hand to inject a little hi-res file goodness to the respective DACs in both set-ups.
Even by Quad's high standards, the Artera Solus proved to be remarkably talented, in many ways producing the best sound I've heard from the Audiovector QR 1 loudspeakers. In fact, soundstage width and out-and-out loudness aside, the overall presentation even outshone that of KEF's EISA Award-winning LS50 Wireless speakers [HFN Oct, '17] which I had used with my reference electronics in the past. To put this into perspective, the £1500 Artera Solus costs £350 less than the Chord DAC. And even when teamed with the classy Audiovector QR 1s, the £2250 total outlay is only £250 more than the price of the active KEF LS50 Wireless speakers, for which you'd have to buy a transport if you wanted to play CDs.
For the acid test, Dynaudio's cracking £2500 Special Forty standmount speakers were pressed into service with both the Artera Solus and reference electronics. On the face of it, the Special Forty seems to be an easy loudspeaker to drive and one that is capable of great bass that really comes alive when it's used together with a quality front end.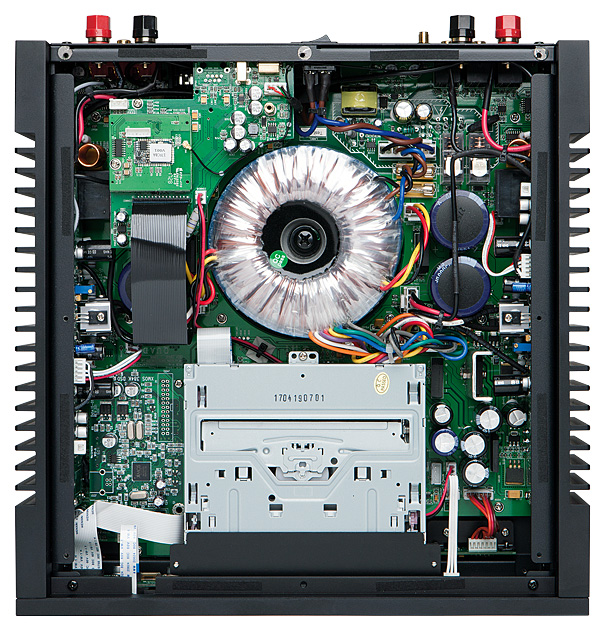 The opening scribbles on my notepad for the Artera Solus read thus: 'immediacy and presence, weight and body, scale and authority'. And this after long-term familiarity with a system toting a state-of-the-art DAC and a famously fast and grippy power amp with twice the Artera Solus's power.
Hardest Trick
Moreover, and spookily apt given the lyric of the first CD into the slot, the player's portrayal of Bruno Mars' terrifically bouncy 'Finesse' [Atlantic] really was dripping in finesse, the Artera Solus pulling off the hardest trick of successfully separating the high-energy impetus of the track with its ballooning bass and staccato drum pattern from the fine inner detail and complex, layered textures.
Hooking up the Dynaudio Special Forty speakers to the reference electronics proved to be revealing. The sense of discrimination between instruments was now subtly stronger, the drum strikes fractionally crisper and there was a little more air and dimensionality to the soundstage. Yet power and bass quality seemed no different to when the speakers were being driven by the Artera Solus while tonally it made for a slightly sweeter and warmer presentation.
With the slow-burning beauty of the adagio movement from the Vladimir Ashkenazy/Concertgebouw recording of Rachmaninov's Symphony No 2 in E minor [Decca 455 7982], the Artera Solus's richer balance really paid off. It gave the opening section's gently sighing violins and melody-weaving clarinet a delicacy and depth that left the reference electronics sounding slightly analytical. They were certainly less swoony and romantic-sounding, despite the greater acuity and resolution on offer.
It was much the same story with hi-res files. Barb Jungr's recording of Bruce Springsteen's 'Long Walk Home' [AKD 530D; 96kHz/24-bit] sounded fluent and full bodied with a warm, natural balance, although not quite able to match the reference system's forensic levels of resolution, alacrity, and finely graded dynamic shading.
As for Bluetooth streaming, this was about as good as it gets. The sound was certainly listenable and stable, even if it was softer and less dynamic than when playing a CD or listening to a hi-res file.
The Artera Solus is one of the most desirable one-box systems we've encountered. Compact, sturdy and boasting a rich and powerful sound, it makes a compelling case for itself at the price.
Hi-Fi News Verdict
While the market is not exactly short of 'just-add-speakers' solutions, the Artera Solus is a tremendous one-box system and an absolute steal for the money. It may lack Wi-Fi streaming at present, but this is being developed. In all other respects it not only looks and feels far more expensive than it is, it sounds it too. Just make sure you partner it with a fine pair of speakers to show what it's really capable of.