Quad Artera Solus all-in-one solution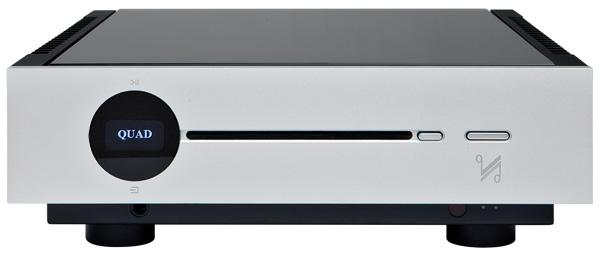 The company ups the ante by adding a 'just-add-speakers' solution to its Artera series, managing to squeeze streaming alongside CD replay into casework of pert proportions
So far, Quad's Artera family has comprised the Play (a combined CD transport, DAC and preamp) and the Stereo [HFN Nov '15], which is a power amp using the company's Current Dumping topology. Both solid-state components, not only are they compact and dapper but high functioning and lifestyle literate too – a feat that's trickier than it might seem. But not as tricky as folding all of the above (plus streaming) into a chassis with the same proportions as the other components in the Artera range.
Actually, there are two parts to this. Part one is what we have here, the £1500 Solus equipped with aptX Bluetooth providing basic streaming to sit alongside its CD transport, DAC and amplification (not Current Dumping in this case). This will be joined in the autumn by a premium version expected to cost £2000 that will add app-controlled Wi-Fi network streaming.
To some extent, this seems the wrong way round but it's something of an industry-given that implementing Wi-Fi streaming in a one-box product isn't the work of an afternoon.
Separates Sound
Quad freely admits that designing the Artera Solus proved to be a great test of ingenuity for its engineers.
'It was a real challenge to make the individual parts – the CD transport, the DAC, the digital streaming, the analogue preamp and power amp – perform to the level of a full separates system in keeping with Quad's high standards,' said Jan Ertner, who led the development team.
'Placement of components has been especially critical, together with the careful routing of the four-layer printed circuit board, use of balanced circuitry to minimise interference and extensive power supply isolation.'
Encouragingly for Quad, this initial edition of the Artera Solus looks so ownable you might not want to wait, especially as it will be possible to retro-fit full-fat network capability once the second one-box Artera model goes on sale.
Components promoted as fine examples of industrial design can often seem astringently stark and cold and the Solus certainly flirts with the idea (especially if you forgo the contrasting silver fascia in favour of chassis-matching black). But it also imbues a clean, sharp and chunky form factor with just enough character to charm rather than chill. It was no accident. Quad enlisted the help of Rodney Mead, the man responsible for the styling of many classic Quad products in the '70s, '80s and '90s, to brainstorm design concepts.
The structure is weighty and feels reassuringly rugged – exactly as intended for resisting resonance and vibration. Face-on, the main features are the loading slot for CDs and, to its left, a circular OLED display that doubles as a touch-sensitive pad for activating play/pause and scrolling through the input options. That's about it save for a 6.35mm headphone jack (fed from a dedicated headphone amp circuit), standby button and a large remote with annoyingly small buttons and labels.

Heart Of The Matter
The digital heart of the Artera Solus beats to the tune of a tried-and-tested ESS ES9018 DAC (the ES9038 is the latest variant). It provides support for PCM data up to 384kHz/32-bit and DSD64/128/256. Connectivity is comprehensive, with doubled-up optical and coaxial digital inputs plus another two line-level analogue ins and a single USB-B for linking to a PC or Mac. The USB-A port is on hand for firmware updates.
Outputs comprise balanced (XLR) and single-ended (RCA) pre-outs for harnessing a more muscular power amplifier (most obviously Quad's own Artera Stereo), and there's a choice of coaxial or optical digital outs should you want to use the Artera Solus with an external DAC.
If so, it would need to be pretty special, for the chosen ESS chip has already proven itself in a number of fine-sounding products. Furthermore Quad has accessed four of the chip's inbuilt filter settings: 'Fast', 'Smooth', 'Narrow' and 'Wide' [see PM's Sidebar].
The slot-loading CD transport mechanism and attendant electronics play their part in allowing the DAC to do its best work, buffering the data being read from the disc before feeding it asynchronously – in an effort to minimise jitter – to the DAC board. Given a higher price ceiling, greater casework space and an ideal world, Quad would probably have liked to use its Current Dumping technology for the power amp section of the Artera Solus. That wasn't to be, but the company's engineers certainly don't appear to have stinted on an alternative solution.