Pro-Ject MaiA DS3 Integrated Amplifier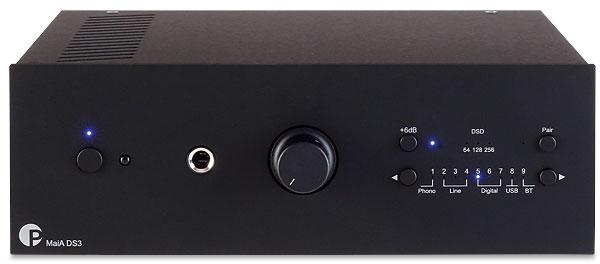 Nearly ten years on from its first 'My audiophile integrated Amplifier', or MaiA, Pro-Ject launches its latest compact, but feature-packed, phono/digital integrated amplifier
Mini hi-fi, very much 'a thing' in the 1980s, is still breathing today thanks to Heinz Lichtenegger's Pro-Ject brand. 'Small is better', according to Pro-Ject's head honcho, stating that modern music lovers want great sound without bulky hi-fi gear. Surprisingly, the MaiA DS3 integrated amplifier tested here is one of the larger of Pro-Ject's 'Boxes', being part of its DS line which, together with the RS line, trades some compactness for improved electronics. The company's budget E and more accomplished S series are the home of truly diminutive devices.
But make no mistake, the MaiA DS3 – 'MaiA' stands for 'My audiophile integrated Amplifier' – might only be the size of a fat George R.R. Martin novel, but it has a lot going for it. There are genuinely few equals sporting such a small footprint and wide-ranging feature set while boasting a substantial 2x80W/8ohm power output.
The new amp is a third-generation DS product, launched alongside a cheaper MaiA S3 amplifier. The £1049 DS3 is the 'full ops' version, offering not only a new digital stage but also nine inputs, including a versatile MM/MC option – a rarity at this price point. Furthermore, while Bluetooth isn't unusual on today's amplifiers, a full aptX HD codec certainly is.
Not One Box, But Two...
You can hardly accuse the MaiA DS3 of being flamboyant. It's all very no-nonsense, with a sturdy aluminium chassis available in matt black or silver, but its restrained aesthetic doesn't exude an air of cheapness. There's a solid feel to the DS3, making it easy to imagine the unit discreetly parked on a vintage sideboard. Of course, you'll have to find a place behind the furniture to hide the oversized power supply. Relative to the MaiA DS3, it's gigantic.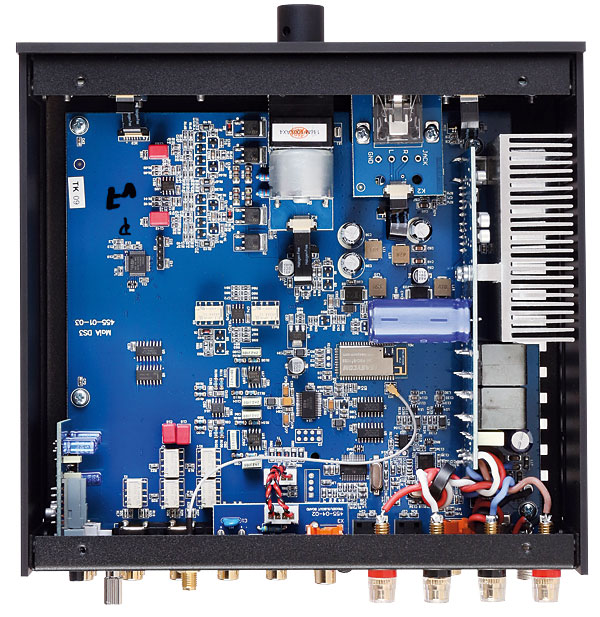 If you're feeling a bit more extravagant, Pro-Ject offers optional wooden panels that attach magnetically to the sides. There are three finishes, including a walnut that'll match nicely with the walnut versions of Pro-Ject turntables such as The Classic [HFN Aug '16] or the X2 B [HFN Sep '22].
Push The Button
The lack of a display, large buttons or backlit dials fits the minimalist concept, but a large motor-driven volume dial livens up the DS3's front panel. To the left is a headphone output, and to the right are four tiny push buttons. Two of these are used to advance through the inputs, the active input being indicated by a blue LED next to a barely legible label. Another selects +6dB preamp gain. More control comes via the supplied remote, which feels bloated as only five keys are relevant, but you can add other DS boxes, such as the CD Box DS3 CD player, and control them with the same remote.
For this update to the DS3 there's a slightly upgraded DAC stage, based around a Burr-Brown PCM1795, and more powerful Class D amplification. This allows the compact amp to project – pardon the pun – a lot of power, something immediately noted when hooking it up to a pair of DALI Rubicon 2 standmounts, playing the latest release from New Zealand singer-songwriter Kimbra, and receiving some potent bass in return.
The layout of the rear panel is neat, letting you connect sources easily, such as a TV via Toslink optical or a computer via USB-B. This last port should be utilised to feed the digital stage the highest quality hi-res files, up to 192kHz/24-bit LPCM or DSD256. Handily, when you start streaming to a connected network transport, such as the iFi Audio NEO Stream [HFN Mar '23], this will wake the MaiA DS3 out of standby. Finally, the 4mm loudspeaker cable connectors look small, but the banana plugs of my QED and Tellurium cables fitted without issue.
A Class D Act
You could say Pro-Ject's MaiA DS3 is a perfect example of the dangers of cognitive dissonance. It's small, says the brain, so it should sound small too. Or underpowered, at least. But the Flying Mole-sourced Class D modules provide the amplifier with ample reserves. It's very confident and authoritative at the low-end, driving both the Rubicon 2s and Canton's Reference 7K floorstanders [HFN May '22] with little apparent effort. And even if it doesn't exhibit extreme bass control or extreme definition, that doesn't spoil the general sense of fun, as the MaiA DS3 adds both a touch of warmth and just a little bit of sparkle to make it interesting. Hearing it next to NAD's retro-styled C 3050 LE integrated amp, with the same speakers, revealed similarities but also stark differences, the MaiA DS3 sounding warmer but also with more 'forwardness' in the upper midrange.