Pro-Ject Debut PRO Turntable Package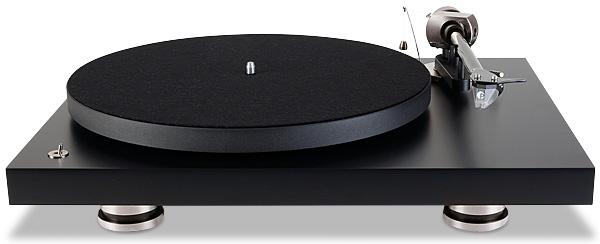 Dubbed the 'most audiophile' Debut turntable yet, this deck/arm/cartridge solution takes over from last year's Debut Carbon model with a host of detail refinements
Like the Land Rover and Ray-Ban sunglasses, the Pro-Ject Debut comes in many flavours. What started as a pure entry-level product has been joined by enough siblings over the last 20 years that the new Debut PRO reviewed here can be regarded as the range's flagship and crowning glory. The numerous improvements elevate the price to £699, but even that hasn't undermined this record deck's bargain status.
Pro-Ject CEO Heinz Lichtenegger maintains that the steps up the scale continue the mission statement of the most recent Debut, the Carbon EVO [HFN Dec '20]. Lichtenegger says, 'The Carbon EVO was designed to give people with a moderate budget a record deck with an "entry audiophile" attitude. The idea of the PRO is to further squeeze any compromises you'd expect in a budget turntable'.
On The Up
This even extends to the name, which is particularly evocative for any product in the domestic sector. '"PRO" was chosen', he explains, 'to motivate the people who may be considering digging deeper into real high-end turntable design, but who still do not want to spend crazy money'.
Accounting for the £250 uplift over the Debut Carbon EVO, Lichtenegger recites a list of features which starts with improved motor isolation, on to height adjustment achieved through TPE-damped metal feet, while VTA adjustment has been added to fettle cartridge upgrades.
This flexibility is almost a mantra for Lichtenegger, as he mentions MCs frequently. The aluminium platter is more heavily damped, and anti-magnetic, which he says is a boon for upgrades to MC cartridges, noting, 'You almost never see a 1.6kg platter at this price point – usually it's 300g, glass and prone to ringing'.

He takes a breath and continues. 'The tonearm is a sandwich of a central tube of aluminium surrounded by carbon fibre, for better damping and higher effective mass.' He stresses that this, too, is important for moving-coil upgrades. 'As you know, ultimately an MC is the heaven of analogue.' The new tonearm also utilises massive gimbals, and nickel coating, the latter said to provide improved damping and a longer-lasting finish. 'After the passage of time, painted or anodised black surfaces will turn greyish.'
Getting into his stride, Lichtenegger explains the importance of the positioning of the Debut PRO in the Pro-Ject turntable lineup. He emphatically wants it to top the Debut line, revealing that, 'Yes, the Debut PRO is the ultimate manifestation of the Debut line. It is our 30th anniversary product, so we put in all that we could think about improving a Debut, taking it beyond the Debut Carbon EVO'.
Body Language
'When you go to costlier high-end decks, if they're really better, you should experience greater quietness, less nervous behaviour, and more authority', he explains further. 'With the new Pick it PRO cartridge, the new heavy platter, the massive feet and, of course, the new tonearm design, it's all about more stability and greater subtlety, without sacrificing any retrieval of details.'
Pro-Ject co-designed the new MM cartridge with Ortofon's Leif Johanson, 'to give a more substantial, more full-bodied sound', says Lichtenegger. 'In Leif, we found a great partner who worked out exactly the sound balance we wanted for the Debut PRO. We intended to give it more body, very pleasant to hear, but still keep the refinement of the 2M cartridge line.'
Initial press pictures preceding the arrival of the deck showed a puck, but none was provided with the PRO. It turns out that this is an option, but I found the Debut PRO categorically benefits from a puck or clamp, so I used one throughout the listening sessions. Lichtenegger explained that they have designed a dedicated puck, as seen in the preliminary literature, 'which matches the Debut PRO perfectly, not too heavy for the type of bearing – for more weighty pucks, you also need bigger bearing assemblies'.
The new puck, a plated metal disc, will sell for around €49. Or you could use the £75 'Clamp it', which promises an even tighter grip and, at 120g, applies pressure to the record without stressing the bearing.
Pro-Fessional
There's no escaping it: the Debut PRO is easy to adore. I had it up and running in 15 minutes, and that's without a manual, as we were treated to the first production sample, before the user guide was ready. Then again, anyone who has set up a Debut will recognise every element, by now aware, too, that there is also a spare belt for 78rpm usage. I settled on 1.8g for the tracking force of the new cartridge, based on my experience with a 2M Red for some years.
Fighting Form
As the Pick it PRO is a straightforward Ortofon 2M in many ways – any differences to the cantilever, stylus, etc, being kept under wraps – it was an easy feed into the MM stages of four wildly differing phono stages I had to hand, ranging in price from under £400 to over £6000. This package will cause you no worries whatsoever, for it's as close to plug 'n' play as a turntable/arm/cartridge combo can be.