Pro-Ject Audio Automat A1 Turntable Package


Austria's vinyl juggernaut has leveraged German expertise to launch a series of fully-automatic turntables. The range starts spinning with the A1, inc. a built-in phono stage
Decades ago, along with tone controls, the automatic turntable was relegated to 'amateur' status because audiophiles revel in masochism. 'What? The arm lifts up at the end of the side?'. As lies were told about CD, so were falsehoods spread about how triggering the arm lift would snap your cantilever. It was a load of tosh, and as many new to LP want convenience, Pro-Ject has responded with the A1 at only £369.
Supplied with a cartridge and an MM phono stage, the A1's 'plug 'n' play' status is literal, not wishful thinking. Its fixed counterweight, to eliminate set-up challenges, limits the A1's upgradeability over the years, but we are talking 'entry level'. This is not a deck aimed at the hardcore who owned Syrinx or Hadcock tonearms in the '70s and '80s, early Oracle decks, or other great gear that nevertheless required the patience of a saint and the skills of a watchmaker.
Memory Lane
Appropriately, the A1 took me back to my own introduction to audio via a Dual 1019. In 1968 I didn't even know what a 'manual turntable' was, and the 1019 was idler drive (not my favourite technology) whereas the A1 is belt-drive. Pro-Ject CEO Heinz Lichtenegger revealed a Dual connection to me, reminding me that the name was in use elsewhere. Thus the 'Automat' range is being launched under the Pro-Ject banner.
Says Heinz, 'I want to keep this short as there is a lot of confusion out there, and why should I be concerned about the past? To clear the air, Alfred Fehrenbacher GmbH produced decks for Dual and Thorens for many years. In spring 2021, Audio Tuning Vertriebs GmbH (Pro-Ject's parent corporation) agreed with Fehrenbacher to take over 100% of the production capacity.'
Pro-Ject will also use Fehrenbacher to manufacture Rekkord. 'This', reveals Heinz, 'is a new brand, concentrating more on classic and automatic turntables, as well as lifestyle-oriented products designed by my daughter Nicole'.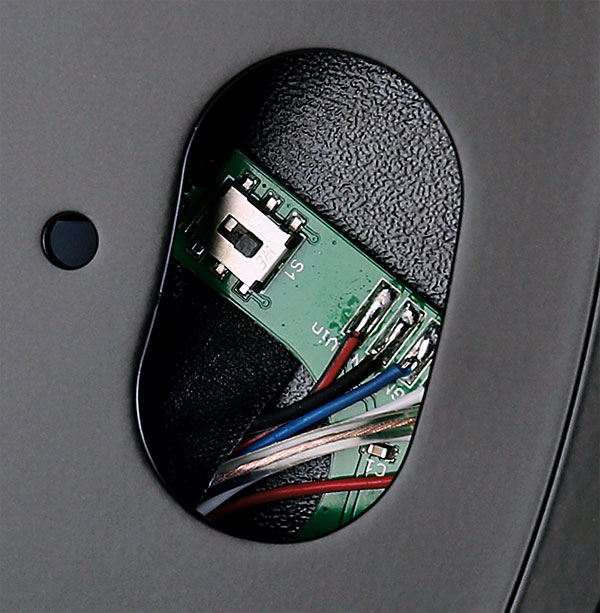 And the A1? It could pass for the results of a racy weekend involving a Pro-Ject Debut [HFN Jul 2000] and Dual CS-505 [HFN Feb '13]. It is, however, far more substantial than the latter, which used more plastic than a LEGO Millennium Falcon. Although that material is used for some of the A1's trim, its black 430x130x365mm (whd) plinth is made of resonance-damped wood, so it feels substantial enough.
Clearly designed to please tech novices, the A1 lacks nothing. It's not semi-automatic, with just auto-lift at the end of the side, but fully automatic with a 'start' position to set everything in motion. The only quirk occurs with 45rpm audiophile LPs or 12in singles – with the speed selector set to 45rpm, the A1 assumes the presence of 7in vinyl, so you must catch it first with the cueing lever.
Better Than 'Budget'
Beginner's deck or not, Pro-Ject has not scrimped. The aluminium platter is damped and topped by a decent felt mat. The 8.3in aluminium tonearm, pre-adjusted for the supplied Ortofon OM10 cartridge, has a carbon fibre-reinforced, anti-magnetic headshell. Accessible through the platter is the built-in switchable MM phono stage, which presents the only quick way to upgrade as you could feed the A1 into a costlier MM preamp. Blocking another potential upgrade are captive leads, but they are Pro-Ject's excellent Connect-It E cables, so why complain?
The A1 sits on damped feet, and it wasn't far off the Debut PRO [HFN Sep '21] for isolation and quietness when I sited it on a Pro-Ject Ground-It Carbon base. Also supplied is a dust cover with friction hinges, so there is nothing at all to add except, perhaps, for a lightweight grip like Pro-Ject's Clamp It.
If we take the 1980s best-selling Dual CS-505 as the benchmark – it did launch a generation of audio enthusiasts, after all – then the A1 ranks as very high value. A CS-505 cost £75 in 1981 (£306 today), minus pick-up, phono stage and with lower VAT, so the A1 actually costs less in real terms in 2022.
As an aside, there is a crude way to upgrade the OM10 if you can swap it out for a cartridge of the same ~5g weight. Install it with an overhang gauge (you need to be blasé about anti-skating), and add shims if necessary for VTA, and weight to the fixed counterbalance or headshell to achieve the ideal tracking force. For example, a London (Decca) weighs 6.7g, Ortofon 2Ms are 7.2g, Audio-Technica VMs are 6.4g, etc. But this should not be taken as a recommendation!