Primare A35.8 Multichannel Power Amp Page 2
Even with its Class D amp stages, the A35.8 is still weighty enough at 15kg thanks largely to the internal heatsinking and metal chassis. It sits on three feet, rather than the traditional four, with these arranged in a triangular pattern.
Stealing The Show
Connected via a Primare PRE35 preamp [HFN Dec '19] and initially driving Perlisten S7t SE floorstanders [HFN Apr '22] using just one stereo Class D module, the A35.8 impressed me from the get go. Even in this guise, it clearly has a lot under the bonnet, and this manifests in the way it digs down into the lowest octaves of music, giving basslines a big, thick sound. It stands to attention with transient details, but, even better, there's a feeling of loose-limbed energy all the time, not just when the explosive moments arrive. So the experience of listening to the A35.8 is of an amp that's never out of puff – even more so, as I discovered later, if you start bridging.
I dug up Opeth's prog rock/metal triumph Blackwater Park [Music For Nations CDMFN 264], skipping to the title track. Here the amp responded superbly to the low-slung guitar riffs with an overall sound that felt fit to burst my listening room. Steve Wilson's production places the guitar and bass parts across the soundstage as one single, full-range entity, with a fat metallic tone, and it's a stylistic trait that was ably conveyed by the A35.8.
'Blackwater Park' is one of the 'biggest' tracks I can think of, but the amplifier's delivery of musical swells was apparent in other places. For example, Etta James' mesmeric 'At Last' [Geffen Records; 192kHz/24-bit] begins with a mass of strings, quivering and melodic, that grows in both volume and size, before her pristine vocal sashays in centre-stage to steal the show. What I'd previously considered to be a sedate, easy-listening track now sounded close to operatic. Similarly, Danny Elfman's 'The Longest Walk', from the soundtrack album to Midnight Run [MCA; 44.1kHz/16-bit], was presented as a surging slab of bass and synth, with blues guitar dotted middle and left.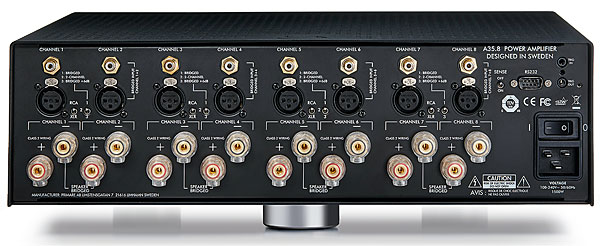 No Place To Hide
While this amplifier's driving power is immediately, thrillingly apparent, it doesn't take long to realise that – with a good-quality preamp in the system – it has a musical ear too. 'Mobocopter', on the Danny Elfman set, features ecstatic brass chords, fuzz-guitar, a major key piano motif, hard-hit snares and jangly percussion. It's a deceptive range of textures and tones, but all shone through, some subtle, others biting, as the A35.8 showed little desire to impose a flavour of its own. Transparency, that facet sought after by many, is obvious.
The soundstage created is wide and detailed, but a touch forward. Having intended to listen to Elmer Bernstein's 'Magnificent Seven' theme but accidentally calling up 'The Magnificent Seven' by The Clash [Sandinista!, Sony Music; 96kHz/24-bit], I was pinned to my seat by an eruption of funk percussion and reggaeish guitar chords. This element sounded fantastic, although I can imagine some might prefer a more laid-back flavour. It was also all-to-easy to discern how the proto 'rapping' of frontman Joe Strummer is disconnected from the music around him – this amp doesn't give any element of a track room to hide.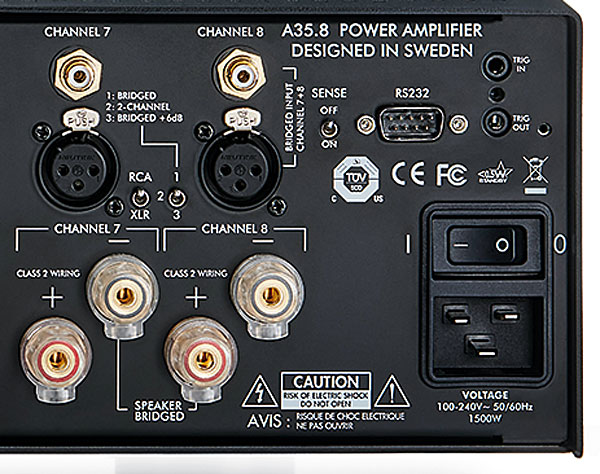 Using the PRE35's dual output, I bridged all four channel pairs, and then bi-amped both my regular B&W 705 S2s and Perlisten S7t SEs. The result was even more of a sense of fast-footed power, and my notes included the words 'beefier' and 'fuller'. These are just words, of course, but take it from me how utterly rich and inviting this configuration sounded with Dusty Springfield's 'Son Of A Preacher Man' [Dusty In Memphis, Rhino Atlantic R2 8214; 96kHz/24-bit], or how much sheer presence and dynamic attack it bought to the drum track of Joe Bonamassa's 'Sloe Gin' [eponymous; Provogue PRD 7218 2].
The million dollar question – okay, the £4500 question – is how much of the A35.8's output is really 'usable'. With the aforementioned speakers, I never got the chance to find out. I was listening happily at room-filling levels, worrying only about my neighbours and not distortion. 'My Demons', from Tears For Fears' The Tipping Point [Concord Records; 44.1kHz/24-bit],
was delivered as fully energetic electropop, all clean lines and pure fidelity, even while the rhythmic drums and percussion pounded away. On this evidence, any speaker that benefits from a kick up the proverbial will find Primare's latest power-pusher an able partner.
Hi-Fi News Verdict
Spending £4500 on eight channels of power won't be at the top of every stereophile's to-do-list, but Primare's A35.8 is a rare product that straddles the worlds of multichannel and hi-fi with aplomb. Its amp stage delivers scads of umblemished, responsive power, while its bridging ability is there to keep hungry loudspeakers well fed – and all this comes from a box no bigger than some monoblocks...