Primare A35.8 Multichannel Power Amp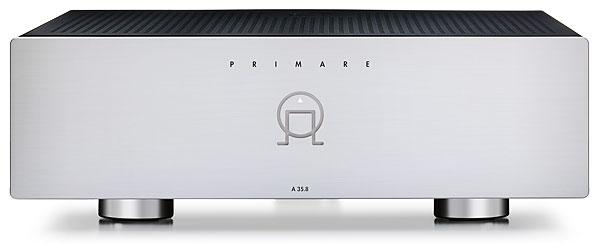 With no fewer than eight channels (bridgeable to four), Primare's most powerful amp to date will service the most ambitious bi-, tri- or quad-amp loudspeaker solutions
It goes without saying that an eight-channel power amplifier is unusual. In the hi-fi world, two channels is the default, and even in multichannel home cinemas the trend is to start with five or seven and then, if you must, add more in pairs. Furthermore, the A35.8, priced £4500, arrives not from a specialist custom install brand, or an audio company with pro studio leanings, but from Primare.
In the last ten years or so this Swedish manufacturer has focused on high-end hi-fi and simplicity of use, embracing streaming technologies and app control in its Prisma series, and moving away from the AV lines that were a key part of its business in the 2000s. Under the 'Philosophy' tab on its website there's even a lengthy description of the concept of 'lagom', a Swedish word meaning, basically, 'just the right amount'. Given all that, possibly the last thing we expected Primare to launch in 2022 was an eight-channel power amp.
Flexible Friend
Yet if the A35.8 appears a little out-of-left-field, it begins to make sense once you drill down into the detail. The channel count reaches eight because, sensibly, Primare has built it around bridgeable pairs, which means none need go to waste in a home cinema environment. Suggested uses are for the left, right and centre channels of a 5.1 AV system to all be bridged, or to bridge the centre channel in a 7.1 set-up. And for the expansive speaker arrays of the custom install market, the A35.8 can join forces with one or more Primare A35.2 stereo power amps [HFN Dec '19]. There's a 16-channel processor in the pipeline too, which will become an obvious partner.
It's this bridging potential (plus, of course, bi-amping) that also gives the A35.8 appeal to music lovers. Yes, no one would buy this amp to run a pair of speakers from just two channels, not least because its A35.2 sibling is available to do that for less money. But consider its ability to deliver a claimed 150W/8ohm from all its channels simultaneously, or the potential to bridge its eight outputs to four pairs, and then use these to bi-amp for a claimed 740W/8ohm per speaker – and owners of loudspeakers that are equipped with split crossovers will be licking their lips.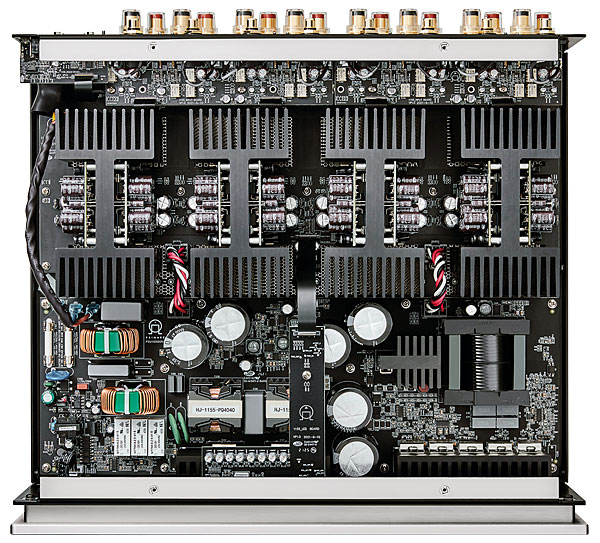 Delivering this grunt are eight Class D Hypex NC500 modules, a change in technology from the UFPD2 devices found in the company's A35.2, but still sufficiently compact and cool-running to allow them to be housed in an easy-to-manage 430mm-wide enclosure.
Short Order
The powerplant for these modules is a newly designed switchmode PSU that employs custom wound transformers and APFC (active power-factor correction) for improved efficiency. The audio circuits, meanwhile, have been configured with a keep-it-short approach, deploying surface-mount components wherever possible across the four-layer boards while the Class D modules are connected directly – solder-free – to the loudspeaker binding posts.
Primare neatly arranges all this engineering within a pressed-steel enclosure, available in either a black or titanium finish, which sports an anodised aluminium faceplate. Like many power amps, styling is best described as minimal, although embellished somewhat by the company logo imprinted on the ventilated top panel and fascia. As on the A35.2, the front logo also hides the standby button, with the amp's status signified by a small, I'd say barely visible, green LED.
Clip On
The boot up process is quick, and is accompanied by red LEDs illuminating within the chassis to show the amp's clipping sensor system is operational. These then dim, but will – apparently – flash if you've managed to force any of the A35.8's modules out of their comfort zone. There's also an auto-sense mode, which wakes the amp from standby when a signal is detected, plus a defeatable auto-standby that kicks in after 20 minutes.
Naturally, the rear panel is busier than that of a conventional power amplifier. RS232, 12V trigger in/out and IEC sockets are squashed into the far right, making space for its forest of inputs and speaker terminals. Each of the eight channels is served by single-ended (RCA) and balanced (XLR) connections, above five-way binding posts (with markings to signify the bridging terminals). Each channel pair (1 & 2, 3 & 4, etc) is accompanied by a switch to flick between RCA or XLR inputs, plus bridged, stereo, or bridged (+6dB) operation.