Pharoah Sanders: Africa (180g vinyl)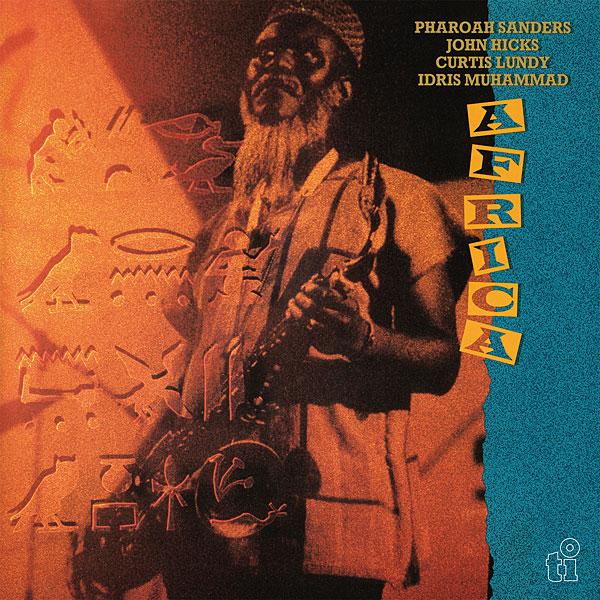 This album from the pioneer of 'spiritual jazz' combines his tenor sax tone and unique technique with a masterful backing band. Steve Sutherland hears the 180g reissue
True story: one recent Sunday afternoon I was hanging out in Just Dropped In, Coventry's finest independent record store, when Alun the owner popped a record on. Within the next 20 minutes or so I counted four customers strolling over to the desk to enquire the genesis of the music we were all enjoying. The four customers were all very different: one was a teenage girl resplendent in Goth array, one was a rockabilly dude, one was a tweedy teacher sort, and one was a gnarly old bloke. Okay, the gnarly old bloke was me.
All That Jazz
Anyway, even more remarkable was the fact that the music playing was kind of ambient, kind of jazzy and seemed to veer from bliss to cacophony and back again at the drop of a hi-hat. It transpired that we were being entranced by Promises, a work released in 2021 credited to Floating Points and the London Symphony Orchestra. Floating Points is the alter ego of Sam Shepherd, a 35-year-old producer, musician and DJ from Manchester. The LSO you will surely all know all about.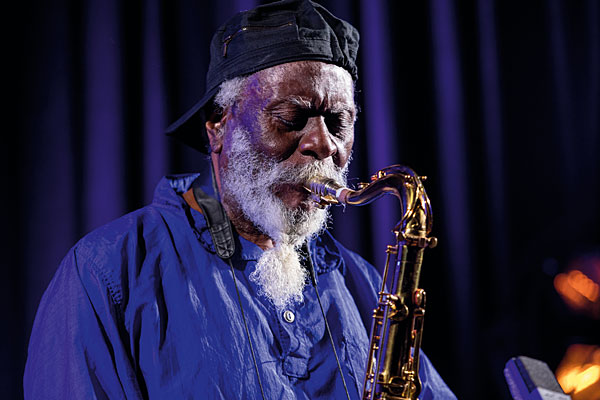 The show-stealer on this marvellous work, however, was a saxophonist called Pharoah Sanders whose playing sounded absolutely on fire. Sanders, by the way, is 81, and Promises was his first recorded work in just over a decade. Just, wow!
For the benefit of those of you who, like me, lack an intimate knowledge of the history of jazz, Sanders is relished by the cognoscenti as the only survivor of a trio of saxophonists who revolutionised music in the 1960s. Pre-eminent amongst the three was John Coltrane. Sanders played alongside him on several groundbreaking sessions, including 1966's Ascension and Meditations, and '67's Expression – their work together represented a near total desertion of traditional jazz concepts, like swing and form and functional harmony, in favour of an unfolding, irregularly structured, organic mixture of sound for sound's sake. It's fair to say they pushed the boundaries further than few musicians have done before or after.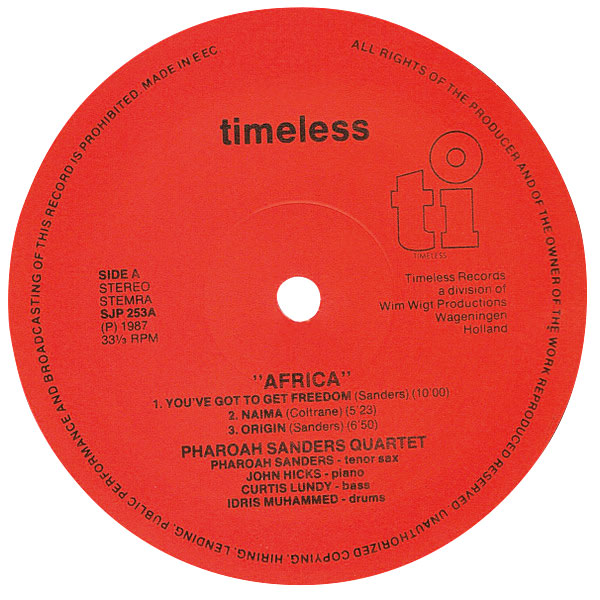 Second of the trio was Albert Ayler, a sax whizz who burned briefly incandescent before his death, aged just 34, in 1970. And then there was Sanders, who'd already completed stints with Sun Ra, the Duke Ellington of 'space jamming' and the man who encouraged the young Farrell Sanders from Little Rock, Arkansas, to change his name to the groovier Pharoah (a misspelling that's been the bane of sub-editors ever since).
Riding The 'Trane
Sanders was and is the sole survivor of a scintillatingly creative sonic era, and he's spent his long career since that time exploring what has come to be known as 'spiritual jazz'. In other words, work that explores dimensions beyond mere musical expertise with designs upon the religious. Or, as Sanders himself puts it: 'Everything you do has to mean something, has to be more than just notes'.
Once Coltrane passed away in 1967, Sanders worked on three wonderful albums with Coltrane's pianist/harpist widow Alice – A Monastic Trio, Ptah, The El Daoud and Journey In Satchidananda – as well as forging forward with his own groups on the exploratory LPs Tauhid and Thembi.
Yet perhaps his most famous work as a band leader has to be 1969's Karma. The astonishing 20-minute opener The Creator Has A Masterplan is every wild note the match of Coltrane's wholly holy A Love Supreme, and which, to put it politely, might be considered to have influenced Carlos Santana when he was making his 1972 album Caravanserai. It's a work of towering grace, showcasing Sanders' trademark technique of 'overblowing' – blasting air from the lungs so that the pitch jumps to a higher register without a fingering change, producing often startling, dissonant 'sheets of sound'.
'When you reach a spiritual level', Sanders once said, 'you become the instrument yourself'. But truth be told, not everyone was hip to Sanders' trip. One critic likened his solos to 'elephant shrieks' and claimed his playing 'appeared to have little in common with music... It's simply sound, and has to be judged as such'. Or as another discombobulated jazz writer put it: 'He plays shrieking overtones as an alibi for his shortage of lyrical passages. He smears the solo as a metaphor for freedom'.
Africa, the album we're here to celebrate, is quite a journey. Sanders' 22nd long-playing release as a band leader, originally issued by Dutch label Timeless in 1987, it's considered something of a tribute to his mentor John Coltrane, mostly because it features a very cool cover of 'Naima', first recorded by Coltrane for his legendary 1960 LP, Giant Steps.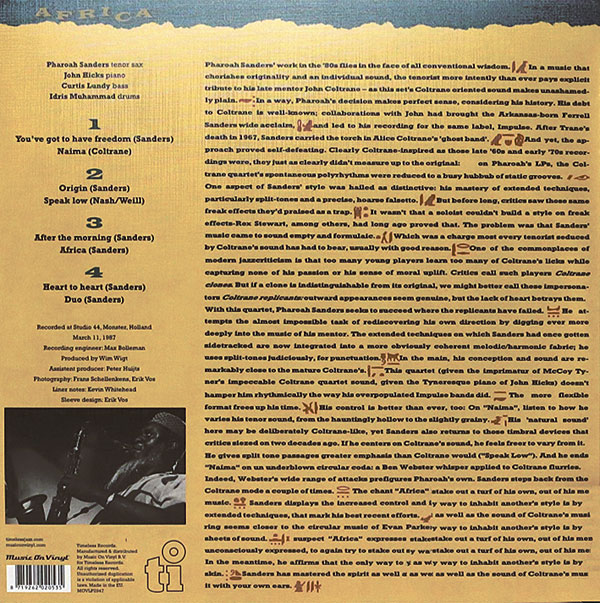 The band is sublime. Alongside Sanders' tenor sax there's John Hicks, a pianist with a resume including stints with Art Blakey's Jazz Messengers, Della Reese, and Branford and Wynton Marsalis – he's every bit as playful here as, say, McCoy Tyner at his peak with the Coltrane Quartet. On bass is Curtis Lundy, who spent many years as part of jazz supremo Betty Carter's band, and on drums there's Idris Muhammad, who has graced recordings by Fats Domino, Curtis Mayfield, Roberta Flack and others.
Gleeful Racket
Pretty much everything that Sanders is revered for can be found on Africa's opening track. You've Got To Have Freedom is ten minutes of devotional free-flow with each member tastefully improvising while Sanders makes a gleeful, rasping racket that sounds a little like a startled pheasant. Kurt Weill and Ogden Nash's widely covered 1943 standard 'Speak Low' is given classy cocktail bar treatment, while the title track weaves its way through a proud, celebratory chant. The closer, 'Duo', is just that, Sanders accompanied only by Muhammad's frisky drumming, with riffs traded in sympathetic rivalry.
A couple of years ago, in a rare interview, Sanders told The New Yorker that he hadn't been listening to records for a while. 'I listen to things that maybe some guys don't', he said. 'I listen to the waves of the water. Train coming down. An airplane taking off.' So he is, let's say, a free spirit – and today he resembles nothing so much as a pharaoh you might see portrayed in a movie, often dressed in colourful robes and sporting a beard of snow white.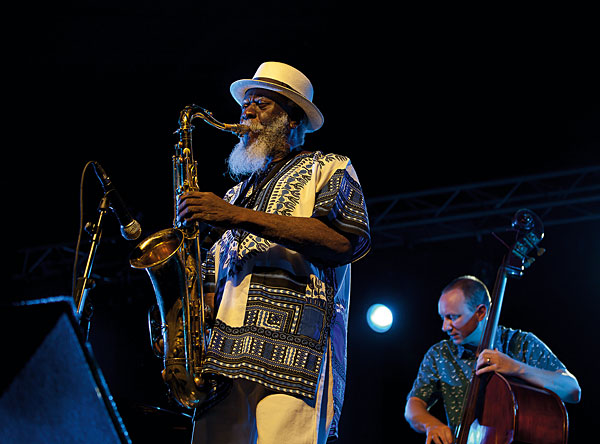 His tone, however, remains one of the most distinctive tenor saxophone sounds around, raw and abrasive or sweet as you like. An anarchic nobility, Sanders is still an absolute force to be reckoned with.
Re-Release Verdict
Released by Music On Vinyl as the first of a range of LPs celebrating the 45th anniversary of the Netherlands' jazz-specialist Timeless label, Africa is presented on double-disc 180g black vinyl [MOVLP2947] with a heavy cardboard/linen laminate sleeve and liner notes from US critic Kevin Whitehead. The original six tracks of Sanders' release, including his cover of John Coltrane's 'Naima', are joined by 'Heart To Heart' and 'Duo', first added to the album's 1988 CD reissue. HFN