A Perfect 10 Also in HFN this month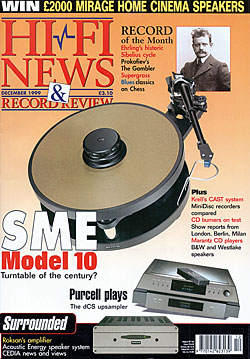 Also in HFN this month in 1999
RADIO DAYS: PART 1
Angus McKenzie brings you the story of FM radio from its early days to the launch of digital.
THREE CD BURNERS
Use your PC to record music. Chris Percival assesses the LaCie 4416, Philips PCA460RW and Yamaha CDRW6416 CD writers.
MARANTZ machines
Basic CD6000 player versus the Ishiwata-tuned CD6000 OSE. Is the 'Special' worth the extra?
B&W 602 S2 SPEAKER
A bonny, bouncing baby! Ken Kessler lends an ear.
dCS PURCELL
Upsampling CDs may still be controversial, but everybody may be doing it soon. Add the dCS Purcell upsampler to the company's Elgar and you should achieve... cleaner sound!
KRELL'S CAST SYSTEM
Martin Colloms appraises the CAST-equipped KSP25sc CD player/controller and the FPB650mc monoblock amps.
MINIDISC RECORDERS
Tony Bolton compares three keenly-priced MD decks in the form of Pioneer's MJ-D508, Sony's MDS JB930 and the new Technics SJ-MD100.