Novafidelity HA500H USB DAC/Headphone Amp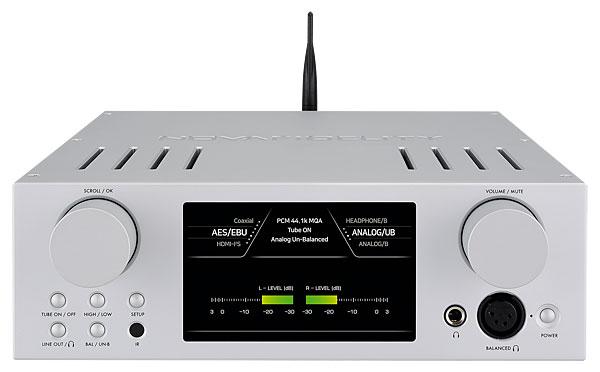 Best known for its music rippers and servers, the Korean company has now entered the personal audio market with a comprehensively-equipped DAC/headphone amp
When it comes to affordable music players with hard disk storage, few companies have the pedigree of Korea-based Novatron. Its range of products, sold under the Cocktail Audio brand worldwide – including here, before a UK-only rebranding to Novafidelity – starts from as little as £650 for the X14 model. In this instance the user is able to decide how much storage capacity to have installed, or even buy the unit 'bare bones' and add their own choice of drive.
Now, having expanded its range into higher-priced, high-end machines such as the £5000 X45Pro streamer/server/DAC [HFN May '19], the company is further stretching its brand with the addition of some associated components beyond its core lineup. The £649 N15D is a network/USB adapter and DAC, but still has a 2.5in HDD/SSD slot for direct music playback, but the £2199 HA500H DAC/headphone amp featured here really breaks the mould for there's no networking, and not a sniff of any provision for onboard storage.
Back To Basics
There's not even a USB Type-A socket to which an external drive can be connected, though in common with other products of this type, the HA500H does have a USB-B socket to connect a computer, as part of its range of digital inputs. As well as its main function as a headphone amplifier, it can be used as a simple DAC/preamp: it has a single set of analogue ins, on both RCAs and balanced XLRs, and a matching complement of analogue outputs, which can be run at fixed or variable level. So you could also use it as a DAC to feed a conventional amplifier or preamp, or take a feed from your existing amp and set it up as a standalone headphone amplifier. Or, indeed, both.
In addition to that USB-B and optical, coaxial and AES/EBU XLR inputs, there's an I2S digital connection made via HDMI, partnering components such as the company's £1799 X50D streaming 'transport', which can support up to DSD256 via its I2S outputs, and its up-specced £3999 X50 Pro variant. The HA500H also has a wireless Bluetooth input for quick and easy streaming from your smartphone, tablet or even a computer. It supports A2DP and AVRCP profiles, and SBC, aptX, AAC and MP3 audio formats.
Novafidelity refers to its HA500H as a 'Hybrid Headphone Amplifier, DAC, Preamplifier and Asynchronous USB DAC' but just in case you thought 'hybrid' referred to those multiple functions, there's more to it than that. The user can select either a solid-state output or one using a pair of ECC82 valves, the company helpfully suggesting that the HA500H 'will let you choose a different sonic signature in reproducing music according to your feelings and music character'.
Splendid Isolation
It's not quite that simple, of course, but it's also worth noting that it employs a pair of ESS Sabre ES9018K2M DACs – one per channel – and completely isolated circuits for the analogue and digital sections right down to using a custom toroidal transformer in the PSU. All analogue inputs are converted via an ADC to digital within the HA500H while the analogue output stages remain fully balanced. This is all about keeping the circuitry as low-noise as possible, while at the same time rejecting interference.
The USB DAC input supports MQA-encoded files, DSD up to DSD256 and PCM to 384kHz/32-bit, and the headphone output is available on both a single-ended jack socket and an XLR balanced feed, with a choice of 'High' or 'Low' impedance settings to suit a wide range of headphones In 'High' mode the HA500H claims up to 1100mW, and 450mW in 'Low', both into 16ohm via the unbalanced headphone output.
Thanks to clear controls and a remote handset, the HA500H is simple to use: I especially like the front panel buttons for basic functions, from turning the 'tube' mode on and off, to choosing high/low impedance and switching between line and headphone output and balanced/unbalanced 'phones. It's so much better to have direct controls rather than having to delve deep into menus to make the most commonly-used changes.
It's all helped by a large, sharp display panel able to show a range of screens, from virtual swing-needle meters – fun for about ten minutes and then very distracting – to bar-type readouts (ditto) and graphic representations of the input in use. Helpful, too, is a display able to show at a glance the state of all the selectable parameters.