Neil Young: After The Gold Rush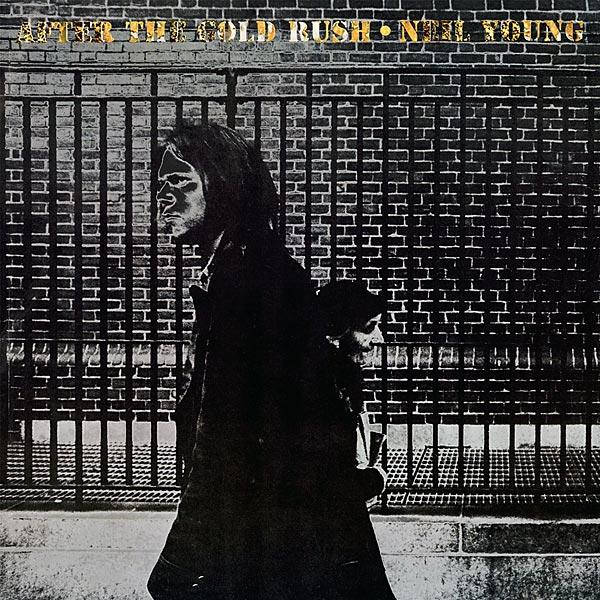 Clutching his personally signed sleeve of this 1970 album, Steve Sutherland nonetheless welcomes the 180g vinyl reissue – it's a work of real genius, he says
'I don't wanna talk about that. I just don't know what to say. I respect the fact he's a guy who did what he did and, y'know, he did what he had to do and I don't wanna get any… I prefer to not be involved at all. I certainly don't wanna take advantage of talking about something like that for the interest of somebody else I've never met, and selling myself in a paper in the process. I'd rather you just left it out – it's just distasteful to me.'
Impossibly Cool
What Neil Young doesn't want to talk about is Kurt Cobain, who, just over a year earlier, had quoted his lyric, 'it's better to burn out than to fade away' from 'Hey Hey, My My (Into The Black)', in his suicide note.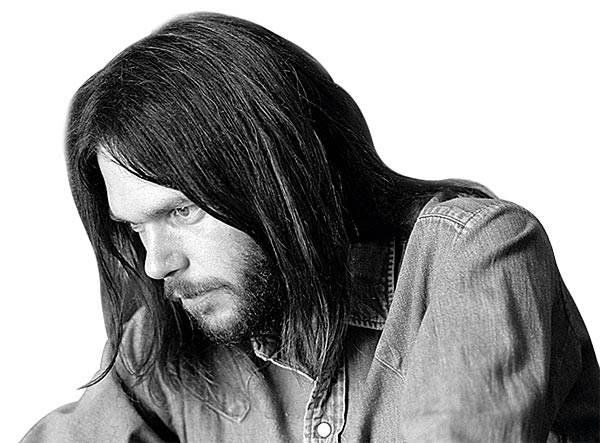 What Young will do, though, is autograph the gatefold sleeve of the copy of After The Gold Rush that I've brought along – a cover that, in my opinion, is the greatest in all of rock history. The front shows Young walking along a street. His image is solarised and out of focus while an old lady passes in the opposite direction in the background in perfect focus. Moving on to the centrefold, this features Young sprawled out backstage, or in some rehearsal room, managing to look simultaneously completely out of it and yet king of the world. In other words, impossibly cool.
Then there's the rear of the sleeve, a picture of the back of Young's jeans, a collection of sewn-on patches holding together worn denim – shabby chic if you will, and an image that visually sums up the odd patchwork of the album residing therein.
After The Gold Rush is Young's third solo LP after the break-up of Buffalo Springfield. His first, Neil Young, a baroque beauty, had been largely ignored on its release in 1968. His second, Everybody Knows This Is Nowhere, is a collaboration with Crazy Horse, an album that sets the template for decades of highly-praised, much-imitated and never-bettered bar band romping.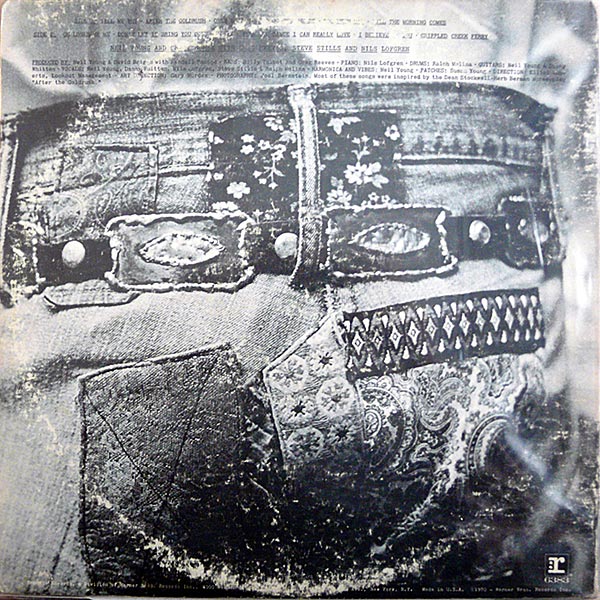 Snapshot Of Time
Which brings us to 1970 and Gold Rush where Young finds himself spoiled for choice. He begins sessions with Crazy Horse, but his guitar jam-buddy Danny Whitten's off the mark, scuppered by a heroin addiction that will kill him after Young has to fire him in a couple of years. So he ropes in Nils Lofgren, ex- of Grin, then Crosby, Stills & Nash, who have recently hauled him into their supergroup for the multi-million seller, Déjà Vu.
Not surprisingly under these circumstances, Gold Rush turns out to be a collection of songs rather than an album per se. It's a snapshot, I guess, of where Young finds himself at this point in his life: part folkie, part rocker, part singer-songwriter, part romantic, part depressive, part protester, and a recently diagnosed epileptic to boot.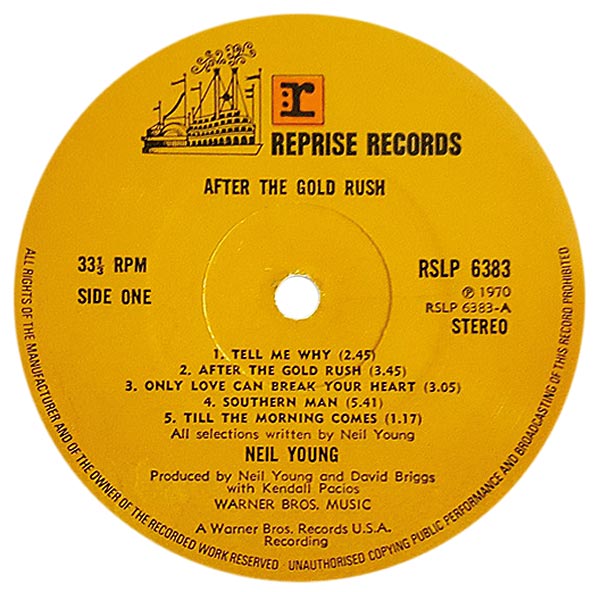 A diary entry of a point in time, After The Gold Rush sets the pattern for all subsequent Young releases which tend to reflect their author endlessly changing as the mood and his perspectives take him. Recording begins in Hollywood's Sunset Sounds but soon relocates, with producer Davis Briggs at the controls, to a makeshift studio thrown together inside Young's home in Topanga Canyon.
Thematically, the record's all over the place. The title track is a sci-fi piano ballad inspired by the screenplay of an un-made movie about the apocalypse coming to California that actor Dean Stockwell had written and for which Young was hopeful of doing the soundtrack. It certainly has an ambitious cinematic sweep, starting out in the Middle Ages with archers splitting trees, bedding down in a contemporary war-torn burned-out basement, and winding up sometime in the near future with a spaceship arriving to rescue survivors from our ravaged planet.
When Dolly Parton, who wants to cover it, calls Young up decades later to ask him what it's all about, he says: 'Hell, I don't know – I just wrote it. It just depends on what I was taking at the time. I guess every verse has something different I'd taken'.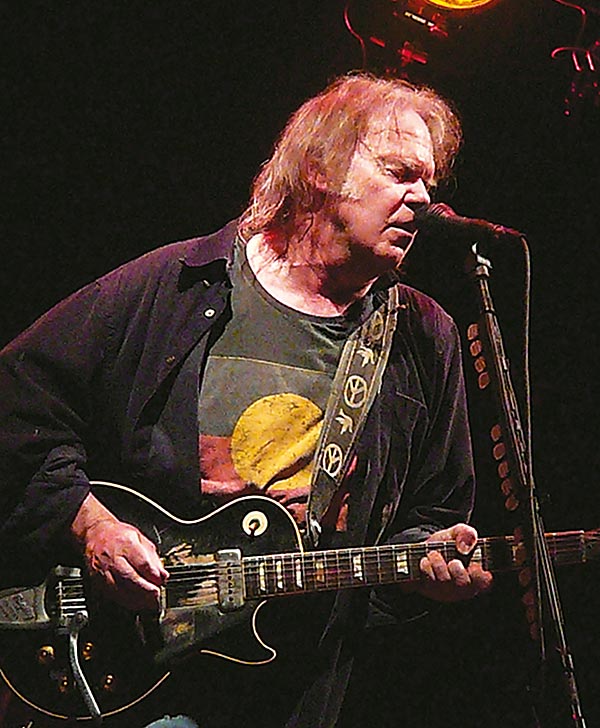 Still, it's obviously an environmentalist anthem of sorts, the line, 'Look at Mother Nature on the run in the 1970s' being updated over the following years in live performance to 'in the 21st century'.
True Greats
The soppiest tracks on the album – the ones that lead to his next, multi-million selling Harvest and from which he will rapidly flee 'back to the ditch' – are led by 'Only Love Can Break Your Heart', written for Graham Nash after Joni Mitchell dumps him, and which gets a very groovy dancy update from Saint Etienne in 1990. Then there's Don Gibson's 1957 weepie 'Oh Lonesome Me', the uncharacteristically straight 'I Believe In You' and the lullabye-ish 'Birds'.
'Cripple Creek Ferry' is an unfathomable throwaway fragment, but 'Don't Let It Bring You Down' and 'Tell Me Why' are true greats. They inhabit that haunting private territory of unsettling, seemingly incomprehensible dreamlike imagery that feeds from the same fevered imagination as previous brain-bogglers such as 'Cowgirl In The Sand' and 'The Last Trip To Tulsa'.
Most famous of all, though, is 'Southern Man', the album's fierce, hard-rockin' condemnation of the racism still prevalent in the former Confederate states of America. Full of screaming, with bull-whips cracking and demands for reparation, it is followed on Harvest by the equally acerbic 'Alabama', the pair duly targeted in one of the most famous 'reply' songs ever written, Lynyrd Skynyrd's 'Sweet Home Alabama' which seeks to bring Mr Young down a peg or two from his lofty, finger-pointing perch. 'Old Neil', apparently, loved the riposte, acknowledged the rebuke and donned a Skynyrd t-shirt in tribute.
Riding High
On its release, After The Gold Rush was afforded a lukewarm reception from the critics who were underwhelmed by the record's surfeit of self-pity. But time has been mighty kind and these days it regularly crops up pretty high in those lists of Greatest Albums Of All Time ('a masterpiece, plain and simple', 'a classic of the singer-songwriter tradition', et al.)
In the 51 years since 1970, Young has put out some 39 studio albums, four soundtracks, eight live LPs and an on-going phalanx of releases from his archives. Not all are works of genius, of course, but a good many – On The Beach, Tonight's The Night, Rust Never Sleeps, Zuma – certainly are. Gold Rush is one of them.
Re-Release Verdict
With production by David Briggs, Kendall Pacios and Neil Young himself, the 11-track album After The Gold Rush came out in the States and UK on the Reprise label in September 1970, in a gatefold sleeve [RS 6383]. At £99, there's the 50th anniversary Warner/Reprise box set with a bonus 7in single, with an alternative 'Wanderin'', to accompany the Chris Bellman remastered LP. But this 180g WB/Rhino reissue with laminated sleeve [517936] is far less expensive. HFN