Musical Fidelity M6x 250.7 Multichannel Power Amp Page 2
A case in point… Iron Maiden's 'Seventh Son Of A Seventh Son' from the concept album of the same name [Parlophone 724349686403], played at Wembley Stadium levels through Perlisten R7t floorstanders [
HFN
Aug '22], shook my listening room but maintained an even balance. Bruce Dickinson's operatic vocals fought through the bass, guitars and keyboard backing, which were presented as a sonic wall that felt both solid and textured. And the tone of the lead electric that heralds the start of the track's break-down section midway through? Fabulous.
Dramatic Arts
A similar sense of thick, churning rhythms was in evidence with Manic Street Preachers' 'Slash N' Burn' [Generation Terrorists; Columbia/Sony Music 88725474512], and AC/DC's 'Shake A Leg' [Back In Black; Epic 510765 2]; songs from albums both mixed to rock as hard as possible – something, it turned out, the M6x 250.7 loves to do. The effect, on the latter track, of guitar and bass guitar riffing in unison, propelled by the straightforward, pounding drumming, almost left me gasping for breath, and I was happy to not dwell long on a slightly bright rendering of some of the distorted guitar parts.
Bass depth, and the natural, subtle tones it unearths, is one of this amp's greatest strengths. 'Little Lights', the closing track from Punch Brothers' The Phosphorescent Blues [Nonesuch Records; 96kHz/24-bit], finds the classical/bluegrass/country five-piece in a languid, low mood, and pacing the track are occasional, long notes from a double bass – one so deep, but given so much presence by the M6x 250.7, that I had to 'rewind' to hear it again. And on this piece, it's the dramatic acoustic lows that act as the canvas for everything else – including banjo, fiddle, and the awe-inspiring massed voices. Having this extension and poise in the lowest frequencies simply made the whole song sound sweeter.
Floating Free
Underworld's 'Motorhome' [Barbara Barbara, We Face A Shining Future, Smith Hyde Productions; 96kHz/24-bit] goes one better – it's all electronic whirrs, digital percussion and a ludicrously overblown bass sound destined to elicit cheers in a nightclub. Here it sounded gloriously bouncy and well-rounded; fit to burst even. What was even better, arguably, was that the track's male vocals floated free, and the amplifier had plenty in reserve to fill out the sound as the keyboard accompaniment grew and grew.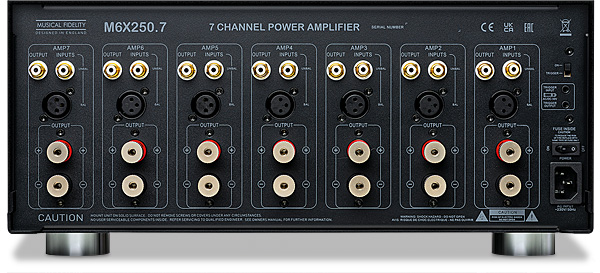 On 'Going To California' and 'The Battle Of Evermore' from Led Zeppelin IV [Atlantic 7567 826382] Robert Plant and Jimmy Page dial down the bombast for two flitty, ethereal-sounding compositions rich in acoustic guitar. Both were given a good showing by the M6x 250.7, the amp letting the delicate rhythms flow, while still leaning in to add a subtle attacking edge to Page's downstrokes. And once again, the vocal presentation was excellent with Plant sounding full of body even on the high notes and Sandy Denny on '…Evermore' being a more airy, recessed presence.
This musical side to the amp ought not surprise, given its provenance, and it was on full display during 'Hetzjagd', a funky, up-tempo jazz interpretation of Russian composer Alexander Scriabin, by Martin Albrecht [The Scriabin Code – Sehen: Hören, Rodenstein Records; 44.1kHz/24-bit]. This medley of sprightly percussion, sustained piano notes and clear, clean clarinet has a staging that's not particularly wide, but the M6x 250.7 marshalled the players well, putting the wind instrument in front and pinning the drumming at the back of the room.
The amp responded well to the shifting dynamics, showcasing a welcome nimbleness that belied its bulky appearance, something it did again with The Rolling Stones' 'Midnight Rambler', recorded live in New York City in 2003 [Licked Live In NYC; Rolling Stones Records MSDD553838]. This gains an intro section that helps drag the tune out to around 13 minutes, the band members improvising bluesy licks, and it thrilled via the M6x 250.7, with rich piano playing off against honking harmonica and astonishingly weighty drum rolls.
When Keith laid down his riff and the song proper began, it was ramshackle and chaotic, but also joyous to listen to. This extended take on the Let It Bleed classic sounds little like the original, but the amp's performance guaranteed I listened in rapt attention to the whole piece. Above all, it sounded live; detailed but gritty, with a sharp edge to Jagger's screams and the gut-punching dynamics.
Hi-Fi News Verdict
MF's heavyweight seven-channel power amp might disappoint by eschewing channel bridging in favour of bi-amping, but there's no denying its appealing performance. Whatever the musical genre, imperious, extended bass can always have an impact, and the M6x 250.7 couples this talent to a dynamic, fluid sound overall. Tot up all the watts on offer too, and it begins to look like great value for money.