Musical Fidelity M6x 250.7 Multichannel Power Amp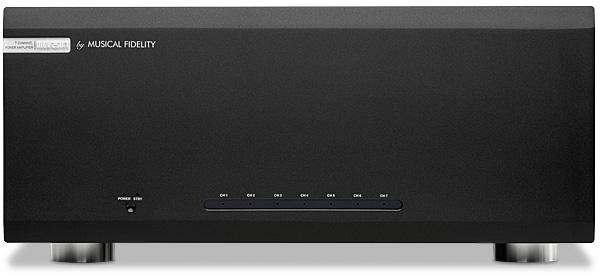 The Austrian brand's first multichannel power amp is designed not just for home theatre systems but also to service bi- or even tri-amped stereo set-ups. Is this a trend?
Musical Fidelity is no stranger to big power amplifiers. Its top-of-the-range monoblock, the £3599 M8s-700m, claims a 700W/8ohm output and weighs in at 35.5kg, and the company sells a stereo model in the M8 series too, the £3999 2x500W/8ohm-rated M8s-500s. But perhaps what few expected from the brand, considering its range also consists of DACs, streaming amps, phono stages and CD players – everything a two-channel audiophile could want, in other words – is a seven-channel amplifier. Which is what we have here, in the shape of the M6x 250.7.
Undercutting those M8 models at £3099, but featuring an even larger chassis, this multichannel offering claims a 7x250W/4ohm output, so you don't need to spend long with pen and paper to work out there's bang-for-your-buck (or watts-per-pound) potential here. Amplification is Class AB, Musical Fidelity's preferred mode across its hardware lineup, with the seven modules all neatly arranged internally with sidemount heatsinks, and fed by a pair of huge 'Super Silent' toroidal transformers. These contribute to the unit's not insignificant 32.5kg heft.
Socket To Me
So, seven channels. What can you do with them? Not as much as you might hope. While we've recently seen the eight-channel A35.8 power amp from Primare that allowed its Class D Hypex modules to be bridged, thus providing four channels of grunt to drive any pair of speakers with split crossovers, the M6x 250.7 doesn't support this.
Whatever the reason, this feels like a missed trick by Musical Fidelity; what is on offer, however, is bi-amping, made possible by the connections on the rear panel. The M6x 250.7's inputs are on both balanced XLR and unbalanced RCA connections, sat above 4mm speaker binding posts in numbered (1-7) sections, and included in each section is a secondary RCA socket, labelled 'output'. Use this into the input socket on the adjacent amp module and – voila – you then arrive at a split channel output to feed your bi-amp capable loudspeakers. Furthermore, any tri-amp-ready loudspeakers can be driven this way too, making use of six of the M6x 250.7's seven channels.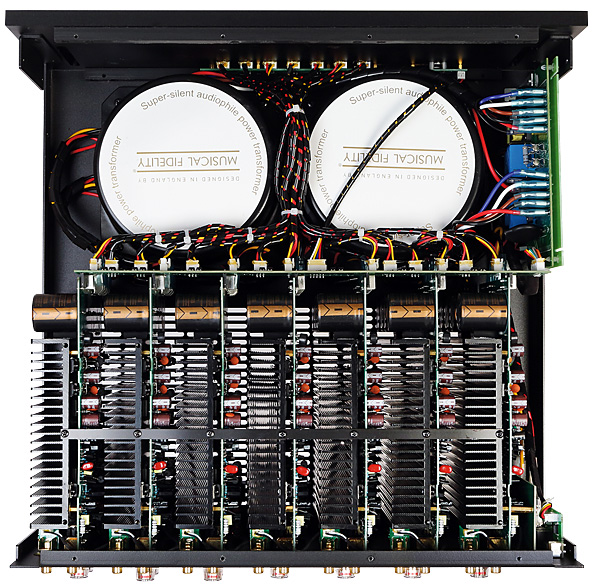 Bi-amping or tri-amping would seem the most likely employment of Musical Fidelity's amp in a two-channel system (its seven-channel design is well-suited to the 7.1 'base layer' in a home cinema set-up). But its 'extra channels' could also be used to power a second set-up elsewhere in the house (albeit with some potentially long runs of speaker cable), or even a second speaker set in a listening room.
Live 'N' Unplugged
Unusually, selection between the M6x 250.7's RCA and XLR inputs is entirely based upon what cable you put in – there's no toggle to switch operation between the two, so those running two sources should unplug. Beyond in/out triggers for automated system operation and a power switch, there's nothing else to report on the back panel. Nor, actually, is there much to say about the view from the front. Along the bottom of the fascia are a power/standby button, and seven labelled LED status lights that glow a faint red when the amp is in standby and light up blue when the amp is switched 'on'. If the unit detects a 'fault condition' – such as overheating or over-current – these LEDs will apparently switch back to a brighter red.
The M6 series is upper-middle in Musical Fidelity's extensive catalogue, below the M8 and NuVista ranges, and above the M5, M3, M2, MX et al. So the balanced M6x Pre preamp is the obvious partner for the M6x 250.7, sporting RCA and XLR analogue inputs plus a USB-B for the onboard DAC. There's a style match here too, though the M6x 250.7 is distinctly 'no-frills' from an aesthetic viewpoint. Almost as deep as it is wide, it will sit broodily on a dedicated stand, or might warrant being tucked away out of sight if you can make sure there's sufficient ventilation. The quality of the build is what I've come to expect from the brand – the all-metal chassis feels robust and the bevelled faceplate (offered in black or silver) is a thick slab of aluminium.
Shake Shifter
Whether you use the M6x 250.7 as a straight stereo amp or for bi-/tri-amping, you're in for a hefty, heavyweight treat. As no-nonsense in sound as it looks, Musical Fidelity's new powerhouse plays deep and loud, and offers an unblemished view of your music. I found it unbothered by genre or style, happy to follow intimate folk with room-shaking rock, but at its best with 'audiophile' recordings where its transparency reaps rewards. As for its speaker-driving ability, 'formidable' springs to mind.