Monitor Audio Silver 500 7G Loudspeaker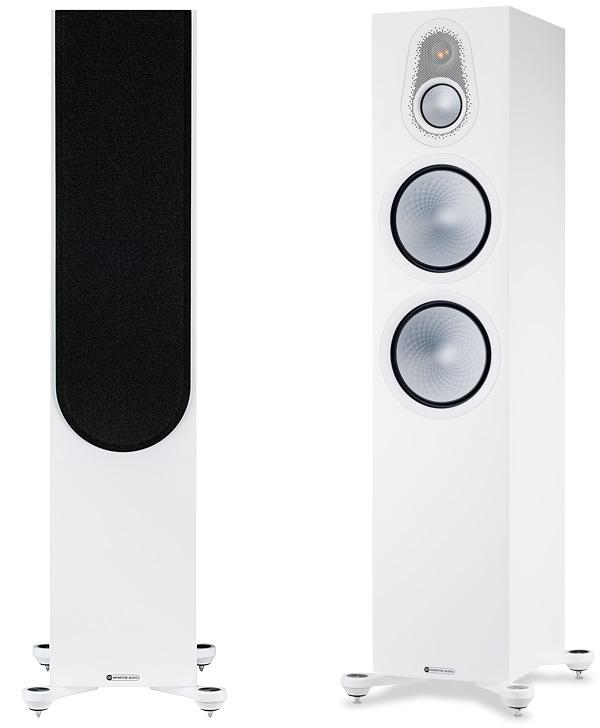 Hot off the production line, this flagship of MA's 7th-gen Silver range marks a significant uplift in performance
By now, there's surely not an audiophile alive who doesn't know that Monitor Audio's Platinum loudspeaker series is its pinnacle, and that as you move down through Gold, Silver and Bronze the prices become friendlier and the technology trickles. Silver – a range that's been rolling for over 20 years – represents the sweet spot in this hierarchy, and, says the UK company, is its most popular series. Judging from the performance, build quality and elegant design of the £1725 Silver 500 7G, I can't imagine this popularity waning.
The '7G' suffix is important, as it denotes this three-way floorstander is from Monitor Audio's fresh-from-the-factory seventh generation lineup that launched in August. The Silver 6G models [HFN Mar '18] are discontinued but the naming conventions have been retained, so the Silver 500 7G is a direct replacement for the Silver 500 6G.
It's the largest and costliest speaker in the series, joined by slimmer floorstanders (the Silver 300 and '200) and standmount/bookshelf models (the Silver 100 and '50). All feature upgrades to drivers, crossover, and cabinet/finish, so while this is another case of evolution not revolution, there's still more going on than meets the eye.
Structural Engineering
The woofers and midrange debut the mkII versions of Monitor Audio's Rigid Surface Technology (RST) drivers. These feature C-CAM using a new aluminium alloy to improve tensile strength, and a hexagonal dimpled profile derived from the RDT (Rigid Driver Technology) units in the company's Gold 5G stable. The RST II units also sport updates to the driver surrounds, plus a switch from ferrite to neodymium on the midrange magnet and a wider diameter voice-coil for the woofers.
Interestingly, while the C-CAM bass drivers are again 200mm (including the surrounds), Monitor Audio has downsized the Silver 500 7G's mid from '4in' to '3in' (actually a 76mm cone with 100mm chassis) in pursuit of improved directivity and better extension/integration with the loudspeaker's gold dome C-CAM tweeter. This high-frequency unit is also a new concoction, benefiting from a ring magnet, rear-vented surround, and patterned grille optimised to work with its second-generation Uniform Dispersion Waveguide.

All of the Silver 500 7G's driver assemblies are mounted to the cabinet via a bolt-through connection, which provides further rigidity to the internally braced, twin rear-ported MDF enclosures.
On Trend
Inside there's also a new crossover, which the brand says was designed concurrently with the Silver 500 7G's drivers, one project informing the other. Ceramic resistors, polypropylene and polyester capacitors, and air-core and steel-core inductors are used across an optimised three-way (800Hz/2.7kHz) network.
For £1725, these floorstanders are rather imposing. If you want a loudspeaker that will fit neatly in a small/mid-sized room, investigate the Silver 200 or 300 models, as these use 156mm woofers and so don't have this cabinet's 23cm girth. The Silver 500 7G enclosure is deep too (33cm), and once Monitor Audio's new – and smart – moulded ABS outriggers are attached you'll have lost a lot of floorspace.
It's useful, then, that the new styling of this seventh generation is right on trend. Monitor Audio describes it as 'crisp-edged', but that sells it short. There are no curved faces, but corners are smooth and the finish of our 'High Gloss Black' and 'Satin White' samples was spectacular. There are three other colourways to choose from: Black Oak, Natural Walnut and Ash variants that dress the cabinet in real wood veneers. The last of those is intended to evoke the 'Scandinavian look', so ABBA fans should hunt it down.
To Boldly Go
My most recent experience with the Monitor Audio 'house sound' was the sixth-generation Bronze 200 floorstander [HFN Jun '21]. Like the fool that I am, I wondered how much similarity I would detect between that loudspeaker and the Silver 500 7G, before realising that there's not just a circa-£1200 price difference, but a huge however-you-measure-it gap in the sound quality.