Monitor Audio Bronze 200 Loudspeaker Page 2
Half-height magnetic grilles are supplied, plus a pair of foam bungs for the twin HiVe II ports. The bungs, says MA, are to be used if the loudspeaker can't be positioned at least 20cm from a rear wall, which to my mind seems unlikely. I expect far more buyers will struggle to adhere to the recommended side-wall clearance of ~90cm.
Bright Spark
With recollections of the stockier Bronze 100, I was interested to hear how this towering sibling sounded. The result – unsurprisingly, given the divergent approaches to bass and midrange – was markedly different in some respects, similar in others. The same wide-open treble was always present, ensuring playback had a sweet, sparkly air which left me with the sense that nothing at the top-end was being carelessly thrown away. There was also energy and excitement, proof that Monitor Audio hasn't just paid lip-service to the 'real crowd pleaser' idea the Bronze series literature espouses. Yet where the standmount model was a compact heavyweight, this floorstander had greater bass subtlety and filled the room better, though perhaps not with quite the same punch.
Let me explain. With the Bronze 100, I found its 200mm bass/mid unit and port-tuning something of a dangerous animal that worked best when kept on a tight leash. Placed close to the rear wall, bass took on a big, boisterous air, and even when moved out into the room it remained enjoyably forceful. Here, the two 140mm units and the two-and-half-way crossover brought more refinement to the low-end – arguably too refined until I moved them nearer that suggested 20cm minimum, and I still couldn't provoke the Bronze 200 into matching its smaller sibling in terms of bass aggression. So the two speakers have different characters, and this model shouldn't just be seen as a bigger alternative to the Bronze 100.

Little And Large
Mental housekeeping over, I settled back to admire what this loudspeaker could do, and that's to deliver a wide, detailed, full-range sound from small cabinets, with little strain on partnering amplification. The rockabilly riff on Bryan Adams' cover of Eddie Cochran's 'C'mon Everybody' [Tracks Of My Tears; 96kHz/24-bit FLAC] enjoyed a solidity and warmth, the vocal had a lovely texture and raspy edge, and the guitar solo sliced through the midrange with ease.
The cabinet height means the Bronze 200 doesn't lean its soundstage over you, but a wide-flung treble and good pair matching created a well-spaced image that easily expanded beyond the cabinets themselves. With The Police's raw-sounding 1979 live performance of 'Can't Stand Losing You' [Live!; 88.2kHz/24-bit FLAC], these floorstanders did a decent job of conveying the scale of the recording and the players on the stage.
Better yet was the swirling, fluid and expansive picture they painted with the title track from Carbon Based Lifeforms' Interloper [Blood Music BLO154]. As this electronic composition ebbed and flowed, the speakers seemed right on song, offering plump bass, crisp percussion and rich synth chords.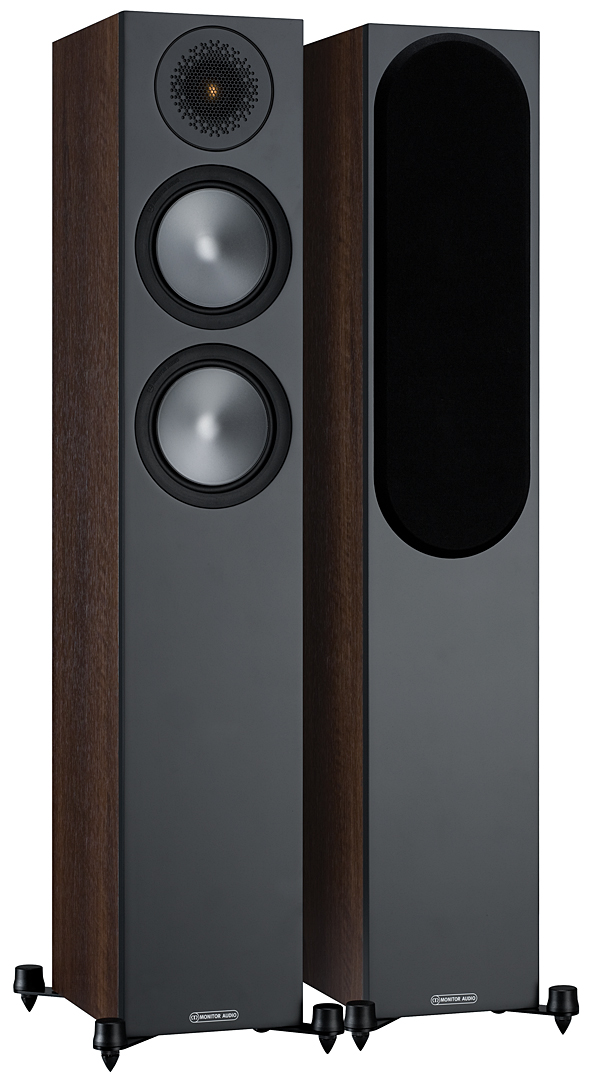 Playing Detective
At this wallet-friendly price, you'd expect me to find something to pick at in sound quality terms, so I went looking. First was Luciano Michelini's exhilarating instrumental soundtrack for 1975 Italian crime thriller Silent Action [La Polizia Accusa…; Tidal 44.1kHz/16-bit], where the Bronze 200 had no centre-stage vocal to frame its performance, but worked well with the staccato strings and low-octave piano notes, attacking them with relish and unearthing timbral subtleties.
Slightly less impressive, perhaps, was its handling of the piano-backed ballad (and Marantz demo favourite) 'The Moon Is A Harsh Mistress' by Radka Toneff and Steve Dobrogosz [Fairy Tales; Tidal Master]. Toneff's astonishing vocal is the star of this show, not just in her expressive delivery but the quality of the recording, and while the speakers gave her space to perform and sounded sweet, I wanted it silkier, smoother and with greater in-the-room presence. But I guess you have to pay a lot more for that.
Hi-Fi News Verdict
Monitor Audio's Bronze 200 may be a 'budget' speaker, but it's not a budget performer – it offers too much scale, clarity and nuance, while being lively and easy to drive. While it's been voiced to please, it's also styled to appeal thanks to a modern aesthetic and super-slim cabinet that should fit in anywhere. The more affordable, bigger driver Bronze 100 two-way provides strong in-house competition, though.