Melco N10/2-S38 Network Audio Library
Computer giant Buffalo's high-end audio brand, Melco, has an updated two-box flagship with enhancements debuted in the limited-edition N10 anniversary edition
There are two distinct Melco families: the conventionally-sized N1 models, 430mm wide, and the half-width, 215mm, N10 series, of which the new N10/2 models, starting from £6999 for the N10/2-H50 and rising to £8999 for the N10/2-S38 flagship we have here, are the latest iteration. Why the two prices? In a word, storage: the N10/2-H50 packs 5TB of conventional HDD, while the -S38 includes 3.84TB of (solid-state) SSD.
As you might expect, given Melco's roots in Japanese computer company Buffalo, the new drives are of a dedicated design, optimised for the kind of 'write once/read many times' working involved in a music library system, and, Melco says, 'hand-picked by the factory to provide exceptional audio performance'. The HDD-equipped N10/2 replaces the original N10 model [HFN Jun '19], while the SSD-based player, reviewed here, takes over from the now-discontinued flagship N1Z/2EX.
In addition to those new drives, the N10/2 series receives a new mainboard, originally developed for the company's 45th anniversary limited edition version of the N10. Details of that new board are sketchy, but in common with past Melco designs, the circuitry is built for 'extremely low-noise, high-precision digital music dataflow', and is custom-built, the company famously saying it swerves conventional standard IT components or PC parts.
Either way, this couldn't stop PM popping the hood to take a peek inside the unit, revealing an architecture built around a powerful Marvell Armada CPU with some 16GB of DDR RAM, while the Melco-branded storage is isolated on a compliant suspension to keep external vibration at bay.
As with previous Melco N10s, the N10/2 is a two-box design, with all the player hardware in one enclosure, and a separate power supply box, designated the PS10, containing the substantial toroidal transformer, storage capacitors and regulation, and feeding the 'head unit' with 12V and 5V power via a 5-pin umbilical cable. As in the past, this cable is relatively short, mandating that the two 'boxes' are either stacked or used side-by-side: the thick aluminium casework is clearly considered sufficient for mutual shielding.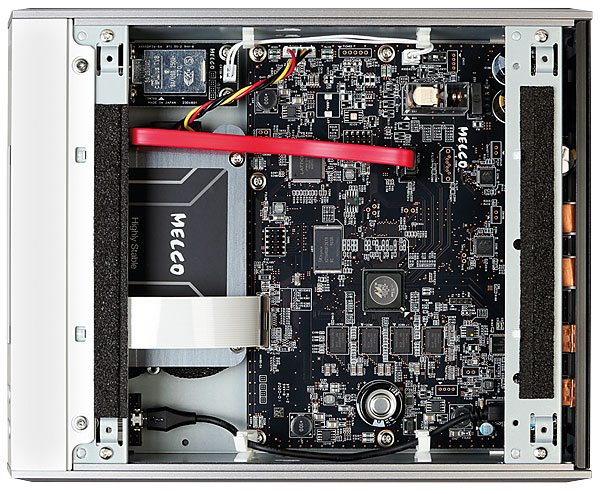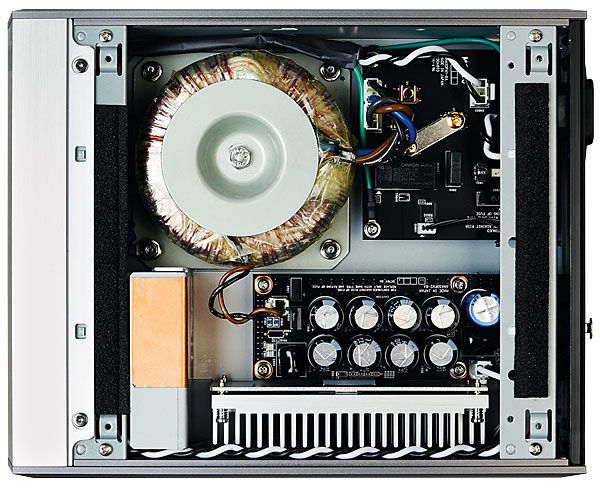 Backup Your Data
Much here will be familiar to existing Melco users, from the separate Ethernet ports for connection to your network – for control, loading music and so on – and direct to a network player, without the need for a switch between the two. There are multiple USB ports too – one on the front, two on the rear – accommodating external storage, a CD ripper to copy discs onto the internal storage, and the connection of external drives to function as backup for the N10/2's internal storage. No-one should commit their entire music library to a single drive...
Meanwhile, one of the rear-panel USB ports is configured for direct connection to a USB DAC – this key provision being added to Melco players a few years back. With a USB DAC connected the N10/2 becomes a standalone player solution, capable of handling music up to 384kHz/32-bit and DSD 512 – provided your DAC can cope with these formats – with no need for a separate network music player. As well as playing music from its own storage and connected devices (either plugged in via USB or elsewhere on the home network), it can also access streaming services including Tidal, Qobuz and vTuner Internet radio via the Melco Music HD app.
Users may also download content direct to its storage with access to the Qobuz and Highresaudio.com online shops, without the need to download purchases to a computer and then transfer them to the player. And, of course, it's also Roon-ready.
Player Potential
What's more, it's even possible to use the N10/2 as a source for a USB DAC without the network connection and control via a third-party UPnP/DLNA app. In the latest version of the company's firmware, Melco libraries can be tasked to play music using the front panel controls and display, 'pushing' digital audio data straight out of its USB port [see boxout, below]. It's a shade laborious compared to the swipe and tap of app control, but it can be done. Alternatively, you can even plug in a little USB Bluetooth 'dongle' and navigate the N10/2 via approved BT remote handsets.
Much of the beauty of the Melco experience is down to the 'behind the scenes' development of the company's Intelligent Music Library suite, which combines MinimServer and SongKong music file management software to give an attractive interface with extensive, logical metadata tagging. All this happens without any user-intervention, making finding and playing music simple and intuitive. Add in the superb quality of the fit and finish of the two enclosures themselves, and a resolutely non-computer-like user-interface, and this is clearly a system designed entirely for listeners, not computer nerds.