Meitner Audio MA3 Network-Attached DAC Page 2
The MA3 is distinguished by its superb rhythmic prowess. This DAC sounds fleet-of-foot and involving; it was a joy with the stout '80s American rock of REM's 'Texarkana' [Out Of Time; Warner Bros WPCP-4195]. To be brutally frank, this recording is of middling quality, yet it came alive with this digital converter. This hi-res Qobuz stream acquired a life and a swagger to it that I normally only hear through top-notch vinyl sources. The sound had a refreshingly natural and carefree nature and there was a sense of all three band members performing along with one another and loving it.
This, in part, comes courtesy of the DAC's lightning-fast transient response – the bass guitar work being rendered in a super crisp and grippy way, yet still supple, fluid and tuneful too. In other words, it sounded unexpectedly natural, and beautifully syncopated with the tight, emphatic percussion work. More than this, the vocal line seemed to function as a rhythmic instrument as well as a melodic one. The phrasing of singer Mike Mills was lovely and dialled-in perfectly with the backing instrumentation – the result was a really rousing rendition.

Taken Aback
This seems largely down to the MA3's ability to dig deep into any recording it's asked to play without sounding unsympathetically analytical in the process. JB Rose and Maximum Style's 'Wake Up' [Keep The Fire; Associated Records AICT 146] is a crisp-sounding slice of early '00s electronic dance. It's a classy production alright, but not something that normally makes me sit up and listen. But, in this instance, I was quite taken aback by what it was doing to the music, allowing me follow every strand of the mix with absolute ease, enjoying the song's spacious synthesiser glides, and then capturing me with the dramatic high tempo rhythmic backing.
Ordinarily, when listening to this song, I tend to focus on the interplay between the hi-hat cymbals and the rim shots, but such was the clarity of the MA3 that I noticed some extra tom-tom drums set back slightly behind the lead rhythm track. As my listening progressed, subtle revelations of this sort would become the norm as it excavated low-level detail with forensic precision. Yet this never distracts from the wider enjoyment of the track; rather it adds to the wider listening experience. So despite being pedantic at retrieving tidbits of detail, everything still gelled together harmoniously.
Power Play
The MA3 is great at tracking the dynamics of a recording, too. The vocals on 'Wake Up' sounded expressive and lucid, with the singer's subtle accents beautifully carried. And via the DAC's USB input from my MacBook Pro, some classic rock from Rush really drove this point home. 'Red Barchetta' from the band's Moving Pictures [Mercury 800 048-2] can sound quite a dirge via lesser digital sources, but this DAC got its teeth right into the densely layered recording.
It conveyed the power of the multitracked lead guitar work, the explosiveness of the drumming and the pulsating bass guitar with heady abandon, producing a captivating result that was real edge-of-the-seat stuff. All that detail, grip and dynamic articulation was a powerful cocktail – and such a long way from the bad old days of digital, not long after this album was released in 1981.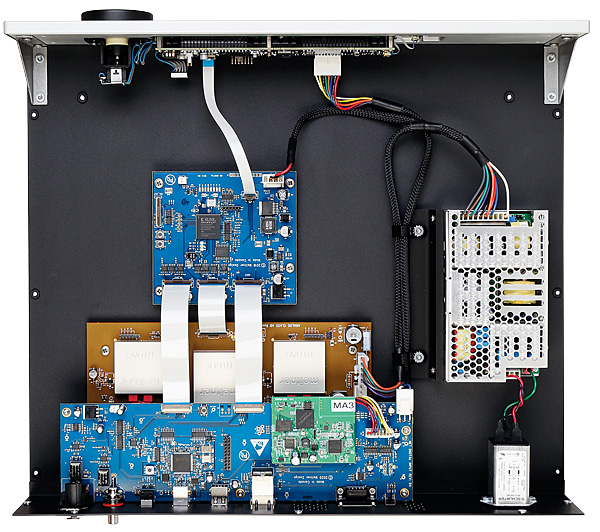 The MA3 is not just a basher-out of big techno tunes and stadium rock, though. The same ingredients that make these aforementioned genres such fun, worked wonders with prim and proper classical programme material. At the risk of being a contrarian, I often find classical music is less enjoyable via digital audio. The clicks and pops may be gone, but all too often so is the natural scale of the music. Again this DAC proved hard to fault, with Beethoven's Piano Concerto No 3 [Linn CKD 336], soloist Artur Pizarro singing like a bird.
This particular recording, by the Scottish Chamber Orchestra, can sound a little closed-in at times – but not here. There was a tangible sense of the concert hall, with more atmosphere than is often heard. The piano, for example, was located so solidly it might as well have been nailed to my listening room wall.
This improved further when using this DAC's balanced outputs, as did the bass which was weightier overall. In a nutshell, the Meitner MA3 excelled in reproducing both the technical aspects of the recording, and – more importantly in my view – the emotion behind the musical performance.
Hi-Fi News Verdict
A highly impressive performer, the Meitner MA3 is one of the finest streaming DACs at or near its price. It offers a taste of the best high-end designs in a slightly more affordable, practical and flexible package. I'd have liked a slightly more opulent finish but still it makes a great case for itself – and also the breed as a whole. Most examples are way behind this, but at least they have something to aim for!