Meitner Audio MA3 Network-Attached DAC
If there's one man synonymous with the 'custom DAC' it's Ed Meitner, who has crafted his own digital tech for 30 years. His latest outboard DAC is a chip off the digital block
Twenty years or so ago, standalone DACs were fast becoming an endangered species. The breed had a brief moment in the sun in the early '90s, with almost all CD player brands fitting digital outputs, but until the advent of USB audio, the add-on digital box was on the wane. Now, with the rise of digital streaming, network-attached DACs are the gift that keeps on giving, for hi-fi brands and buyers alike.
Streaming DACs have become digital sources in themselves, able to play music collections kept remotely on network attached storage – and that's before you count legacy CD and DVD playback, plus computer connectivity via USB. Just as we have an elite breed of 'superdeck' turntables in the wake of the vinyl revival, so too do we have 'superDACs' including the £9750 Meitner MA3 featured here.
One For All
This is a deceptively sophisticated high-end source that claims – by virtue of its company's founder's provenance – serious audiophile kudos. Yet it's no niche product, designed for a few tweaky purists. Its 'lossless' volume control makes it a digital preamplifier, and there's streaming functionality and a choice of front panel, remote control or app operability.
As well as PCM with support for MQA, it caters for DSD128 and DXD conversion over USB and network streaming. And the latter enables connection to high-resolution streaming services such as Tidal and Qobuz, plus support for popular music services like Spotify, Deezer and vTuner, provided you've signed up. The MA3 is also Roon Ready. In addition to the multiple digital inputs and connectors, there are both balanced and single-ended analogue outputs via XLRs and RCAs, respectively.

Bespoke is the operative word here, defining where the MA3 stands out from the crowd. It sports brand founder and CEO Ed Meitner's fully discrete single-bit MDAC2 converters, driven via custom upsampling/digital filter code running on the MDAT2 DSP. Ed Meitner headed up the engineering team for the MA3 project – an evolution of Meitner's proven technologies now benefiting from enhanced processing power – working alongside Mariusz Pawlicki who was in charge of the adaptive MDAT2 filter code.
It's worth noting the MA3 is a long way from being the company's top product, sitting between the MA-1 V2 and the EMM Labs DAC2X V2. Apparently it took two years to fully develop – remember, there are no 'flavour of the month' DAC solutions from TI, ESS or AKM, etc, in here but bespoke DAC and digital filtering code executed via an FPGA, à la dCS, Chord Electronics, MSB and other progressives.
Meanwhile, a Nexel chip was bought-in for network music playing duties, though, as you might expect, its implementation has been carefully fettled to suit. Ed Meitner says that the company's own MFAST2 asynchronous 'jitter avoidance' technology, and custom-built MCLK2 clock, play an important role in getting the best out of the streaming platform as well as the discrete DAC elements themselves. Furthermore, a custom-designed switching power supply was chosen in order to further reduce noise across all digital sources.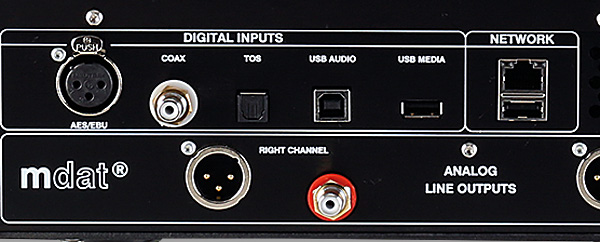 Well Connected
In day-to-day use, the MA3 isn't especially different to any of a number of streaming DACs from dCS, Auralic, et al, although rather than having its own app, it uses the generic mConnect Control. This is nice enough to work with, being fast and stable in use and a cinch to hook up to the Meitner DAC. Indeed, it barely took seconds to add my Qobuz account to it, although many will simply use Roon.
Operationally, the unit's large volume control, allied to an excellent, informative and crisp display made it a pleasure to handle – although I am less convinced about the touch controls for the source switching which add little to the user experience. In this respect, the similarly-priced dCS Bartok [HFN May '19] is arguably more enjoyable to operate, and certainly appears more robust in build. While the MA3's casing and fascia appear somewhat less exotic than the technology inside, the package is at least partially redeemed by the lovely aluminium-cased remote control handset.
Let It Flow
But, of course, sound is where it really counts, and here the MA3 is undoubtedly a top-tier performer. It displays Meitner's characteristically enjoyable presentation, which means a spacious soundstage, natural tone and a terrier-like grip of rhythms and dynamics. This digital source never sounds processed or contrived, but rather lets the music flow just as it should. It makes listening fun, without ever appearing fussy, stylised or contrived. Indeed, one might even say that it possesses that most rare of attributes in a DAC – charm.