Mark Levinson No523/No534 pre/power amplifier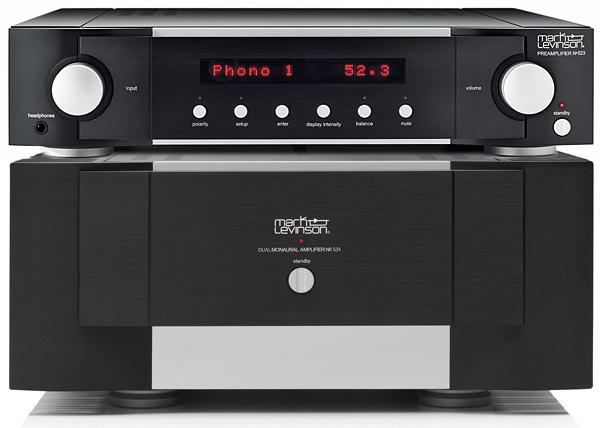 They may typify Stateside heavy-metal hi-fi, but this pre/power amplifier from one of the high-end's best-known names is really all about simplicity and directness
Depending on your point of view, what you see before you are either objects of absolute hi-fi aspiration or a symbol of everything that's wrong with high-end audio in the 21st century. Along with compatriot Krell, Mark Levinson is one of those names that's likely to be known even by those with only a passing interest in hi-fi and – though the marque has undergone several twists and turns in its near-50-year history – it remains one of the best-known in the audio business.
Big, heavy and undeniably purposeful-looking they may be, but the £16k No523 preamp and £21k No534 power amplifier are far from the priciest examples of their kind in the company's range. What's more, anyone expecting those still very appreciable price-tags to bring plenty of complexity in features and facilities is going to be disappointed: what your money gets you is a combination of solid audio engineering and 'less is more' thinking.
The Pure Path
And that plays into the hands of those who'd have you believe that hi-fi these days should be all about simple computer components and high-efficiency amplification wrapped in compact boxes that you can hide away in the most bijou of rooms. Although these are up-to-the-minute designs from the company's dedicated development unit in Shelton, Connecticut, they are resolutely old-school in their thinking, even to the extent of the No523 being an all-analogue design, with not a sniff of a DAC board or streaming module in sight.

It's not that Mark Levinson doesn't do digital, even if one of its more notable launches of late has been the No515 turntable [HFN Oct '17], developed in association with VPI and rolled out last year to celebrate the company's 45th anniversary. But it also has the No519 CD/network player/DAC [HFN Jul '17], while the No526 preamplifier [HFN Dec '16] has the company's 'Precision Link' DAC built-in and 'computer audio' capability, as do the No585 [HFN Apr '15] and very new 585.5 (with phono) integrated amplifiers.
However, what the No523 aims for is the simplicity of the mighty two-box No52 preamp [HFN May '14] – yours for £31,500 – but at around half the price. It's a preamplifier dedicated to analogue audio sources, with both three sets of RCA and two pairs of XLR inputs, plus a built-in phono stage. Like the rest of the preamp, this phono section – which offers user-selectable gain, loading settings and an infrasonic filter, is built on the company's Pure Path principle, which adopts discrete components throughout its direct-coupled, fully balanced, dual-monaural signal path.
On With The Gloves
The volume control here is of a resistor-ladder design, digitally controlled but fully analogue in its implementation, and while the amplifier does have both USB and Ethernet connectivity, these are for firmware updates and third-party control, not for audio use. On the output side there's the usual choice of balanced XLRs and single-ended RCA phonos, the positioning of the left and right channel sockets at opposite ends of the rear panel emphasising that dual-mono layout. The outputs can be independently set as full-range or with a high-pass filter – so you could connect a power amp via the XLRs and use the RCAs to connect a subwoofer.
The partnering No534 power amp is in essence a stereo version of the No536 [HFN Sep '16], and represents a healthy saving over the price of a pair of these monoblocks – £21k vs. £32k – but with no shortage of ability when it comes to driving and controlling even the most recalcitrant of speakers [see PM's Lab Report]. Its 56kg mass and rather sharp heatsink fins are sufficient to have you heeding the warnings in the manual that this is emphatically a two-person lift, and 'Knit gloves with special gripping surfaces on the palms and fingers' are included with the amplifier. 'Wear these gloves when lifting' says the booklet. The provision of a strap under the amp to aid taking it from its box is also appreciated.