Marantz Model 40n Streaming Amplifier
While Marantz's new 40 series shares its industrial design with the Class D Model 30, its core networking and Class A/B amp technology borrows from an earlier generation
By all accounts stylish, network-attached amps, including Cambridge Audio's Evo 150 [HFN Nov '21] or the compact NAD M10 and C 700 [HFN Jun '19 & Feb '22], are carving themselves a successful niche. So it's not surprising that Sound United, parent of Marantz, is making its own pitch. Marantz traditionalists needn't fret, however, for while the new £2199 Model 40n includes high-res wired/wireless streaming, USB and HDMI ARC inputs, the chassis is properly hi-fi-sized and the aesthetics are pure 'Marantz'.
The Model 40n is the second component sporting the refreshed Marantz design introduced with the EISA Award-winning Model 30 and SACD 30n [HFN Jan '21]. The new look and the Model moniker hark back to famed past products and is meant to reposition Marantz as a luxury brand. Marketing spiel aside, the Model 40n marks a new direction for the company, being a super-integrated amplifier that ticks every box.
Lookalike...
At first glance it's hard to distinguish the Model 40n from its slightly costlier Model 30 sibling. Available in black or gold-silver, it features the same split-level fascia design, with characteristic porthole display and six larger retro-styled knobs set into a bold frontispiece. This allows integrated side lighting – and, yes, you can turn it off – to play on the carbon fibre-like pattern. It looks very attractive from a distance, with an air of subdued luxury, but up-close you may notice dust quickly builds up on what turns out to be a high-grade plastic panel.
The exterior of the Model 40n might look virtually identical to the Model 30, but under the hood they couldn't be more different. While the £2899 Model 30 is a purely analogue (input) design, powered by Class D Hypex Ncore modules, the more affordable Model 40n is based on the Class A/B design of older Marantz amps. Improvements have been made to the discrete HDAM modules, the power supply and power amp, improving its ability to drive low impedance loads.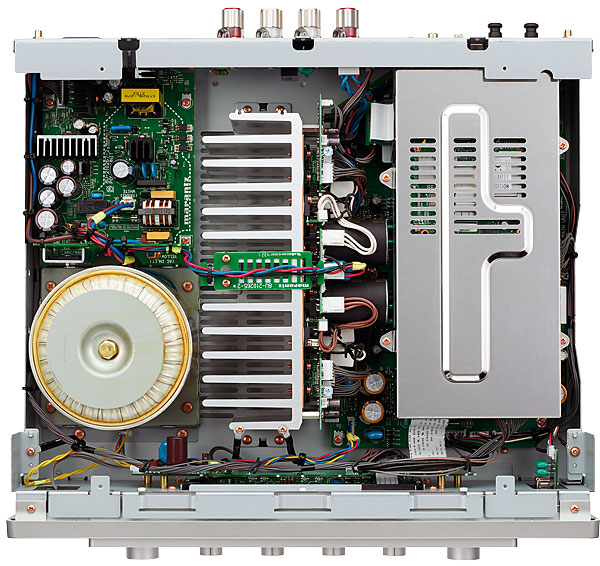 Of course, being a feature-rich device, the interior of the case is packed to gills with digital connectivity, including HDMI and network streaming, all alongside a comprehensive MM phono stage. If you're wondering why it weighs so much (nearly 17kg), blame it on the toroidal transformer, the internal heatsinking and the necessary shielding between the DAC and phono components.
I have always enjoyed the fluidity of Marantz's proprietary MMM-DAC solution, as found in the SA-KI Ruby [HFN Jan '19] or SACD 30n, but that solution apparently is too costly for the Model 40n. Instead, the manufacturer has opted for a tried-and-tested ESS DAC with the choice of two digital filters. Filter 1, allegedly being closest to the authentic brand sound, is a very slow roll-off linear phase type while Filter 2 is a hybrid type offering a better rejection of digital spuriae.
Network Building
The Model 40n might be intended as the one and only box in the room, but as a result it possesses a busy array of inputs. Old-school optical and coaxial digital inputs are located above three line-level inputs (on RCAs), and there's that dedicated MM input positioned separately. Missing in action: USB-B, for a direct connection to a PC or specialised player, all of which suggests that Marantz is attempting to entice a slightly different audience.
Note also that the Model 40n does possess HDMI-ARC, but it isn't meant as some sort of two-channel AV receiver. There's no HDMI switching capability on-board, so if you're hoping for a way to hook up some extra video sources to your TV you'll have to look elsewhere.
Well-heeled enthusiasts interested in an all-in-one unit instead of separates, for a second zone system perhaps, will also probably prefer discrete bookshelf or standmount loudspeakers. So, it's positive that Marantz provides a sub-out (on RCA) to complement small speaker set-ups with a subwoofer for a better low-end performance. Unusually, you can even set the crossover frequency.
Sound Of Tradition
Under the guidance of 'Sound Master' Yoshinori Ogata and other Marantz luminaries, the company strives to deliver a familiar 'house' sound, and this character, which stresses vocal performance and a wide soundstage coupled with a touch of midrange warmth, is in evidence through the Model 40n. Across its various inputs – HEOS streaming module, phono stage, even HDMI ARC – this integrated amp offers an impressively musical performance. It's cohesive and inviting, with more of a focus on conveying rhythm and feel than nth-degree accuracy, while there's plenty of drive and dynamic punch from that uprated amplification.