Madonna: True Blue Page 2
'To me it's a celebration of life. It says, "I love you, father, and I love this man and this child that is growing inside me". Of course, who knows how it will end? But at least it starts off positive.' The song itself, by the way, is a thing of delicate beauty, like Naomi Watts' audition scene in David Lynch's Mulholland Drive: you know it's artifice and yet, such is the purity of the performance, you are seduced into believing it's true.
Explosive Product
We've already touched lightly on MTV but actually in 1983 the channel was in its absolute pomp, introducing acts to a global public becoming at least as addicted to pop visuals as pop sounds. But whereas most settled for strutting their manicured stuff in front of the camera, a few viewed it as a vital artistic component beyond mere marketing. Chief among them was Madonna. The imagery and scenarios in her videos, when linked to tracks with even the faintest whiff of attitude, served to create an explosive product.
Take 'Open Your Heart'. Like many of the tracks on True Blue, it wasn't written by Madonna. It was originally meant for, and rejected by, Cyndi Lauper – nothing too shabby but nothing remarkable until Madonna picked it, related to something personal in it, altered it beyond belief, inhabited it, then made it her own little drama by aligning it to a video in which she plays a stripper performing in a peep show to an audience of pathetic, slavering men.
When she waltzes out at the end, hand in hand with a small kid who's been sneaking into her shows, all manner of questions are raised (and characteristically left hanging) about sexual power and freedom of expression. Her method on the album was brilliantly simple: she took the scripts and acted them.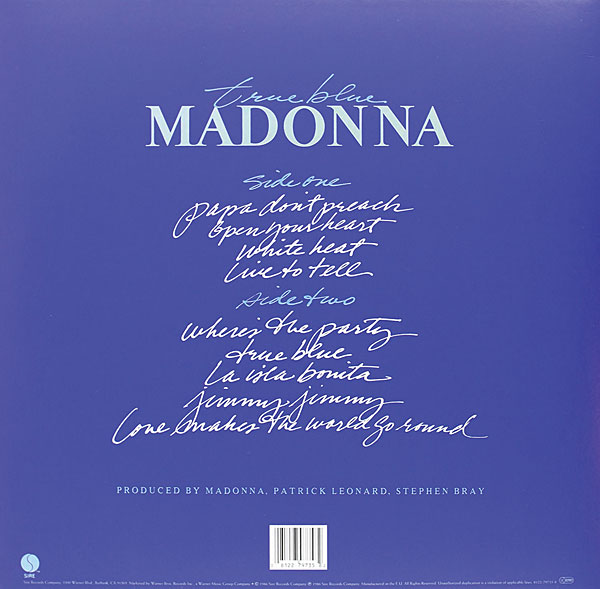 And when there wasn't any controversy to be milked from a lyric, Madonna went full-on populist. For the '50s retro title track (dedicated to future short-term hubby, actor Sean Penn) she staged a competition on MTV which screened, for a full day, viewers' own homemade videos to go with the song, Madonna herself presenting the winner with a handsome cheque on air.
And then there were the ones that gained notoriety as time went on. 'Live To Tell', for instance. It began life on the album as the silent partner to 'Papa Don't Preach', the one that expressed all the teen emotions that weren't released in adolescence. Said Madonna, 'I thought about my relationship with my parents and the lying that went on. The song is about being strong, and questioning whether you can be that strong but survive'.
Cross Words
But in 2006 it grew teeth, Madonna performing it on her Confessions tour strapped to a mirrored cross and wearing a crown of thorns. The Vatican and just about every other religious organisation in the world went ape, and, once all the noise had sold the tickets she deigned to explain: 'There is a segment in my show where three of my dancers "confess" or share harrowing experiences from their childhood that they ultimately overcame.
'My "confession" follows and takes place on a crucifix that I ultimately come down from. This is not a mocking of the church. My performance is neither anti-Christian, sacrilegious or blasphemous. Rather, it is my plea to the audience to encourage mankind to help one another and to see the world as a unified whole. I believe in my heart that if Jesus were alive today he would be doing the same thing.' Right. OK.
Before we go, let's not forget the lovely 'La Isla Bonita', a song celebrating Latino culture, the video stuffed, of course, with Catholic symbolism and a free-spirited girl seemingly liberated from it.
True Blue went on to reach No 1 in the charts in 28 countries. She wasn't deaf, she wasn't dumb, she wasn't blind and, take it from me, she didn't play a mean pinball. Back then, though, she was utterly fabulous, wasn't she?
Re-Release Verdict
Produced at Channel Recording Studios, Los Angeles, in spring 1986, Madonna's album True Blue first appeared in the States that June, issued on the Sire LP label, a part of Warner Music Group [LP: 1-25442], with a dedication to then-husband Sean Penn. There were also US CD and 8-track transfers in 1986. The cover shot was by Herb Ritts. Our Juno Records 180g reissue LP [Warner 060349 7849321] is pressed in clear vinyl and comes with a poster. HFN