Lehmannaudio Linear USB II USB/DAC Headphone Amp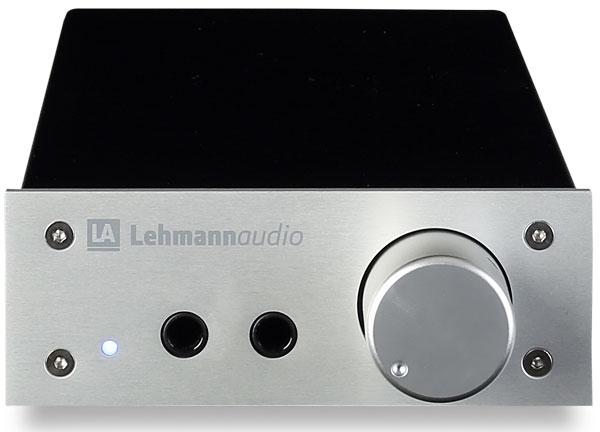 In a world where every other product seems to have streaming this or network that, this compact box from the German brand is about as direct – or linear – as it can get
Writing in his Welcome page last month, editor Paul Miller explained how shifting hugely heavy equipment about is all part and parcel of the HFN reviewing 'experience'. Perhaps he was eyeing a recent speaker launch proudly declaring that its new products weigh over 450kg apiece. Add on their external crossover with its power supply, and a quartet of high-quality amps to drive them, and you could well end up wondering whether your floor will support a tonne and a half of hi-fi.
Add to that all the complexity built into so much equipment these days, and it comes as something of relief to get acquainted with a high-end component you could take home on the bus in a carrier bag, and which is both simple and direct in its purpose. That undoubtedly describes the Lehmannaudio – yes, it is one word – Linear USB II, a £1700 DAC/headphone amp just 110mm wide and 44mm tall, weighing a mere 1.5kg, and available in a choice of silver, black or chrome faceplate finishes.
Preamp Too
And if all that wasn't inconspicuous enough, the Cologne-based company will even sell you a pair of mounting brackets, available to special order at £45, so your desktop audio solution can be installed under the table, thus freeing up valuable desktop space. That's novel – and logical – thinking. And that clarity of thought is apparent throughout the Linear USB II, for while it's very simple it is also built with great attention to detail, from the quality of the casework to the inputs and outputs and smooth volume control. As a piece, it exudes an air of craftsmanship and precision.
Despite the compact dimensions, the Linear USB II packs a toroidal transformer at the rear of the case, just in front of the IEC mains inlet – there's no messing around with offboard PSUs here – while the dual mono layout uses discrete transistors to power its Class A headphone output stage. There are also separate boards for the digital and analogue sections.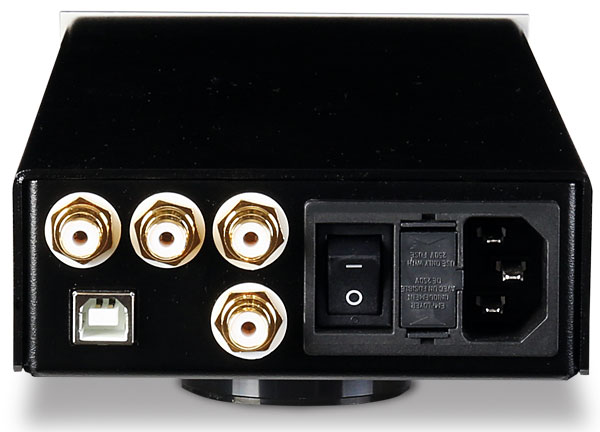 While this is principally a 'USB in/headphones out' unit, as the product designation suggests, it has a couple of extra strings to its bow. Specifically, above the USB-B port is a pair of analogue audio inputs to which the Linear USB II defaults in the absence of a USB signal. There's also a pair of analogue outputs, allowing this little unit to also operate as a simple preamp, straight into power amps or active speakers. And, as we'll discover, it's pretty impressive in this secondary role.
Double Dip
There's no labelling on the rear panel to indicate which of the RCAs does what, beyond the red and white channel indication collars on the sockets themselves. The explanation is actually given on a label on the underside of the unit, but it's pretty easy to remember that the two sockets arranged horizontally are for analogue input, and the two stacked vertically are for output.
Meanwhile, the digital section uses the near-ubiquitous ESS ES9018 Sabre DAC, allowing audio streams at up to 384kHz/32-bit to be accepted, along with DSD files via DoP. This USB II version is also distinguished by Lehmannaudio's latest 'Low-Z Copper' circuitboard.
As with the chunky input connectors to the rear, the 6.35mm front panel headphone sockets are of high quality, being sourced from Neutrik. The two are connected in parallel, and can be used together: there's no switching, so you can choose to listen to one pair of headphones or share your personal listening experience with a friend using another pair.
By the way, if you also take a connection out to a power amplifier or a pair of active loudspeakers, then that's taken care of too. This is because plugging a pair of headphones into the left 6.35mm socket will mute the unit's preamplifier outputs.
On the subject of using different headphones, the final feature of the amplifier section is hidden underneath the Linear USB II, along with the trio of isolating feet. Four little DIP switches, two for each channel, are provided, and depending on their position the gain can be increased from unity (0dB) to +10, +18 or +20dB.
This layout emphasises the dual-mono nature of the unit, while Lehmannaudio suggests a choice of settings for 'loud' and 'very loud' with a range of headphones from AKG, Beyerdynamic, Grado and Sennheiser.
In more general terms, the company counsels that you should 'Only switch to a higher gain setting if you get to the right-hand stop of the [volume] control quite often without achieving your desired maximum volume level'. For headphones beyond that limited list of examples provided by the manufacturer it's trial and error. There's no 'correct' setting, and the switch positions you choose have a lot to do with how much adjustment you want in the volume control, and how loud you like to play your music.