This Koetsu's for keeps... Also In HFN This Month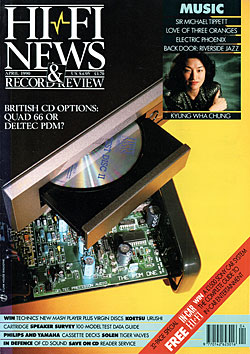 Also In HFN This Month In 1990
DIGITAL DISCOURSE
Malcolm Hawksford deals with amplitude quantisation and the application of dither.

MARKING THE BOUNDARY
Roy Allison explains how room boundaries affect speakers, and what can be done about it.

CD SOUND
lan Shaw suggests that CD's diehard detractors should be blaming factors other than the medium itself.

QUAD CD66 CD PLAYER
Martin Colloms tests a production-model Quad CD66 while three HFN/RR staffers add their subjective impressions.

DELTEC'S BOLT-ON BITSTREAM
The company's PDM One offers Bit Stream for the enthusiast.

SENIOR MONITORS
The US Allison CD9 speaker reviewed by Martin Colloms alongside the British B&W Matrix 1 S2 and Harbeth HL5.

TIGER BURNING BRIGHT
Ken Kessler reviews the Solen Tiger line-level valve amplifier.

HEAD TO HEAD
Yamaha KX-630 and Philips FC870 three-head cassette decks are tested by Chris Bryant.