Klipsch Heresy IV Loudspeaker Page 2
There's a distinctive sound here to go with the distinctive aesthetic, but it won't be to everyone's taste. Critics of horn-loaded drivers sometimes deride them as 'shouty', more megaphonic than stereophonic. The Heresy IV isn't as uncouth as that, but its energetic and forceful nature does leave less room for sweetness and light. Eager to please, it has a tendency to make 'an event' out of everything you play through it.
The changing dynamics of the piano accompaniment in Simon and Garfunkel's 'Bridge Over Troubled Water' [Columbia 495084 2] were well presented, as were the tonal variations of the duet, but lovers of this emotional ballad may prefer a speaker with a more laid-back approach, and a smoother feel to high frequencies.
The soundstage created with the speakers on their base risers was a little different to the norm, too. As perhaps expected, the imaging felt lower than it should, although this was more or less apparent from one track to the next. Yo-Yo Ma's performance of Bach's Cello Suite No 1 found the instrument rooted to the floor, whereas Stevie Ray Vaughan's 'Tin Pan Alley' [Tidal, 44.1kHz/16-bit] saw blues guitar licks and snare drum rimshots lifted higher within the soundstage.
Totally In Tune
It may by now seem as if I didn't enjoy listening to the Heresy IV. Nothing could be further from the truth. Once I'd reconfigured my expectations of what a £3500 speaker should sound like, I became rather addicted to the way this model threw itself into the music.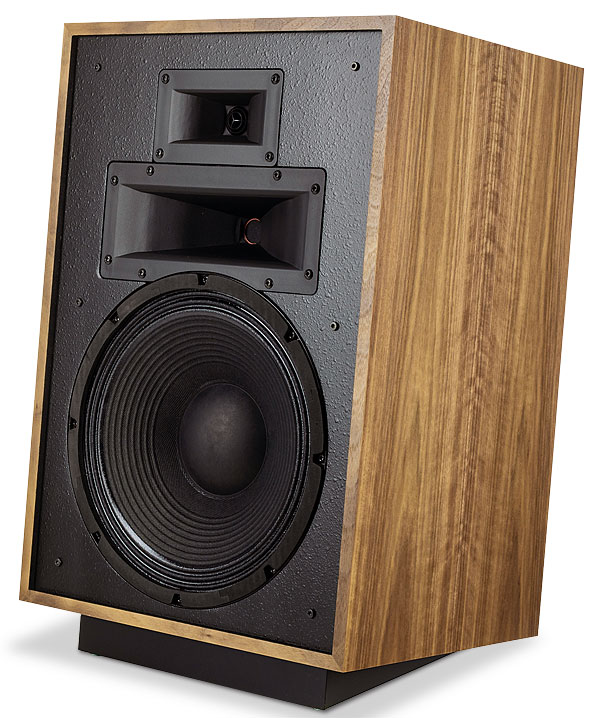 There were many moments when it seemed to be totally in tune with my listening. Paul van Dyk's seminal trance track 'For An Angel' [Tidal, 44.1kHz/16-bit] allowed the Heresy IVs to do a more than passable impression of a nightclub sound system – and that shouldn't be taken in any way as a criticism. The soundstage was reasonably wide and packed with detail, and the bass drums that pound out the track's rhythm felt as if they were beating directly against my chest. Forget foot-tapping, this was fist-pumping.
The Rolling Stones' 'Start Me Up' [Tattoo You; Virgin 7243-8-39521-2-0] was equally infectious. The opening guitar riff was rich and resonant, the drum track enjoyed an enormous reverb, and Mick Jagger's vocal idiosyncrasies flourished. This studio track almost acquired the instancy of a live recording. Above all, it sounded… fun.
Shine a Light
Of the Heresy IV's trio of drivers, the 300mm fibre composite woofer is the least remarkable. Yet its presence is always felt. It's easy to imagine a driver of this size sounding a bit ponderous, especially when paired with a horn-loaded mid and high but, due to its stiff lightweight cone and steep roll-off, it avoids bloat and keeps up the pace. Bass has texture and definition, and there was always enough depth to not leave me feeling undersold. At times, such as in Dire Straits' 'So Far Away' [Brothers In Arms; Vertigo 824 499-2], fluid basslines became a little bumpy, but the dynamic ability displayed elsewhere on this track was ample restitution.
And this speaker isn't all about club anthems and upbeat rock 'n' roll. With Kate Bush's 'Wuthering Heights' and then Sting and Melody Gardot's Latin-infused duet 'Little Something' [Tidal Masters], I began to appreciate the Heresy IV's expressive nature a little better. Bush's famous soprano sliced cleanly through the sparkly instrumentation, avoiding sibilance, while Gardot's breathier vocal had an intimate feel to match the delicate rhythms and guitar.
Most remarkably, throughout my time with the Heresy IV I felt I was hearing familiar tracks in a new light. I wouldn't say its delivery is transparent, but it combines pleasing detail with an uncanny directness, leaving just you and the music and nothing in between.
Hi-Fi News Verdict
In a market dominated by tower speakers and bookshelf models, Klipsch's low-slung Heresy IV stands out, even though it barely stands up at all. Simple to accommodate, and impressively easy to drive, this three-way will bolt on to any amp and make you sit up and listen. It brings music to life in a style that many rivals don't, and while it looks ol' fashioned, it sounds thoroughly modern… and totally Klipsch.