Klipsch Heresy IV Loudspeaker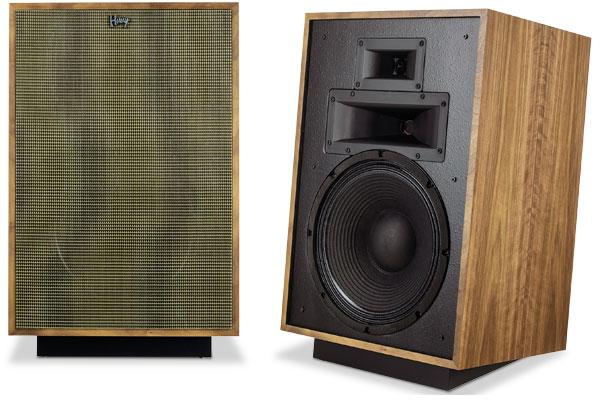 With a heritage that can be traced back over 60 years, and still now only in its fourth generation, the Heresy is manna from heaven for the nonconformist audiophile
American loudspeaker marque Klipsch has a longer history than many, something emphasised by its new 'p***ing off the neighbours since 1946' slogan. And its Heresy model itself dates back to 1957, when company founder Paul W Klipsch first developed a compact three-way floorstander to act as a centre speaker within a stereo installation. It has remained part of the Klipsch stable ever since, undergoing revisions first in 1985 and then 2006. Now it has been relaunched as the Heresy IV, priced £3500 per pair and forming the entry point to the Klipsch Heritage range.
Loudspeaker styling has come a long way since the days of Elvis Presley and Pat Boone, but you wouldn't really know it to look at the Heresy IV. Indeed, those who cherish the tall, slender, curved floorstanders of today may view this squat, 63cm-tall model with suspicion. Yet while the form factor takes some getting used to, the overall aesthetic is rather charming.
Tractrix Tactics
The Heresy IV lives up to its Heritage billing by not venturing far away from the look of its progenitor, with squared edges and a book-matched wood veneer finish available in American Walnut, Natural Cherry, Distressed Oak or Satin Black Ash. Underneath are MDF cabinets, crafted at Klipsch's Hope, Arkansas plant. The magnetic grille – also revamped for this generation – adds to the retro vibe, and with drivers black and their fixings exposed underneath, I quickly found I much preferred the grille left on.
At 40cm deep and 33cm wide, the Heresy IV pushes the concept of a 'compact' speaker to the limit, but it's reasonably easy to manoeuvre around during set-up, thanks to a moderate 21kg weight. It's supplied with its base already attached; a slanted matte black riser that causes the front baffle to angle slightly upwards, a method of – hopefully – focusing the speaker's driver output to ear height. The base can be removed if a cabinet installation, or placement on (large) stands, is preferred.
The basic engineering principle of the Heresy IV can also be traced back to its 1950s forebear. It's a three-way model, using a 305mm woofer with horn-loaded midrange and high frequency compression drivers. Yet this update introduces several new features over the 2006 Heresy III [HFN Mar '10]. Chief among these is a rear port, the first ever on a Heresy model, which enables the loudspeaker to claim improved sensitivity and bass extension.
This new addition borrows from the Klipsch loudspeaker playbook, using its familiar Tractrix horn geometry; its ports, says the company, have 'the most efficient, fastest air transfer in their class', while internal flares work to reduce both air turbulence and port noise.
The Heresy IV's HF compression driver is an evolution of the Heresy III's, mounting a K-107-TI 1in titanium diaphragm within a Tractrix horn. Klipsch has made changes here, too, fitting a new phase plug to improve dispersion.
Complex Crossover
Underneath the tweeter horn sits the loudspeaker's most up-to-date driver, a 44.5mm midrange compression unit (the polyimide K-702), again horn-loaded. Joining the Heresy IV's refreshed drivers and bass reflex design is a similarly complex crossover based on the 'steep slope' model of the company's La Scala [HFN Jun '19], Cornwall and Klipschorn models. The bass/mid crossover is set at an optimistically high 850Hz, while the tweeter patrols from 4.5kHz upwards. An aluminium input panel on the speaker's rear offers dual binding posts for bi-wire/bi-amp scenarios, feeding into internal cabling sourced from AudioQuest.
The spec sheet implies a very sensitive speaker that's equally easy to drive. There's also a claim of placement flexibility although the new rear ports necessitate at least 30cm from the rear wall, while positioning further into the room is recommended if bass energy becomes too uncontrolled. I settled on a classic equilateral triangle layout, with the enclosures approximately seven feet apart.
Live And Direct
Speakers that don't require significant amplification to put on a show will always have appeal, not least from the 300B triode fan club, and from the perspective of driving ability alone the Heresy IV is really quite special. I'm struggling to recall a speaker that has as much get-up-and-go as this vintage wannabe. It plays loud with minimal effort, an attribute that inevitably informs its overall presentation. There's impressive dynamic ability, a direct nature to its mids and highs, and grippy bass.