John Martyn: Solid Air Page 2
What happened between Weather and Solid Air was akin to Martyn undergoing some sort of epiphany, lowering the timbre of his voice, realising it was as much an instrument as his guitar, and that his guitar, hooked up to the delays and loops allowed by an Echoplex, could come and go anywhere he wanted. And where he ended up was a place no-one had been before and very few have arrived at since: an organic melange of folk, blues, jazz and rock, unforced, wholly natural and unique.
Velvet Moan
The title track kicks it all off and it's wonderously somnambulant, written for his friend Nick Drake who was gradually disappearing from view into a deep depression that would see him fatally OD a few months later. Martyn may be the navigator but Danny Thompson is the driver, his loping double-bass a work of art. 'The Man In The Station' is cut from the same glacier, a long velvet moan, while 'Dreams By The Sea' is a more aggressive track, a picaresque growl.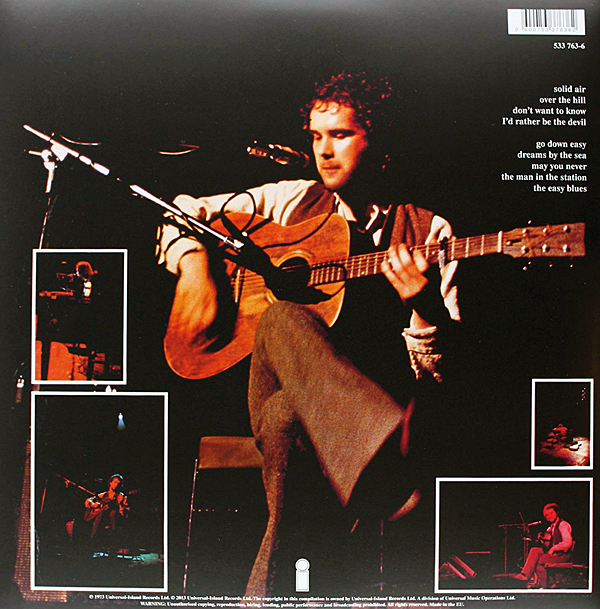 Sympathetically co-produced by in-house maestro John Wood (the man who coaxed Pink Moon from Nick Drake in a few midnight sessions) 'Go Down Easy' and 'The Easy Blues' are gorgeously heavy-lidded and narcotic, while Martyn's reworking of delta bluesman Skip James' 'Devil Got My Woman' into 'I'd Rather Be The Devil' is an adventure into future sonics.
The album's most famous song and, indeed, Martyn's abiding anthem, is 'May You Never'. It's actually one of his most straightforward numbers musically but lyrically and vocally it captures his essence in all its macho romantic pomp. A hymn to masculinity, when you break it down it's nowhere near as cosy as it sounds.
For Martyn, it's a Man's Man's Man's Man's world wherein all women are Madonnas or whores. Or, preferably, a bit of both. 'May you never lose your temper/ If you get in a bar-room fight/ May you never lose your woman overnight.' There are so-called comrades holding blades to his back, his notion of true friendship is being backed to the hilt, no matter what he says or does or gets up to. It's a lot lovely and a tad leery, and it captures perfectly Martyn's characteristic blend of beauty and violence.
'Over The Hill' is another typical Martyn scenario. He's been a bad boy, a wastrel led astray, but now he's about to mend his ways and return to domesticity and responsibility. He's had enough of Mary Jane and sweet cocaine, he's returning to the straight and narrow. The song sounds fresh, pure and optimistic, jauntily driven along by Richard Thompson's mandolin. and, seduced as we are, we don't believe a word of it. His spirit is incorrigible.
A few months later, still in 1973, he releases Inside Out, a more free-form, untethered foray into the unknown. It's ambitious and great but it lacks the melody and humanity of its predecessor. He got softer: Sunday's Child. He got bleaker: Grace And Danger. He got groovier: One World. And latterly he got more electric, more jazzy and even trip-hop-y. But he'll never quite rediscover the chemistry of Solid Air again. Nor would Martyn himself ever be the same.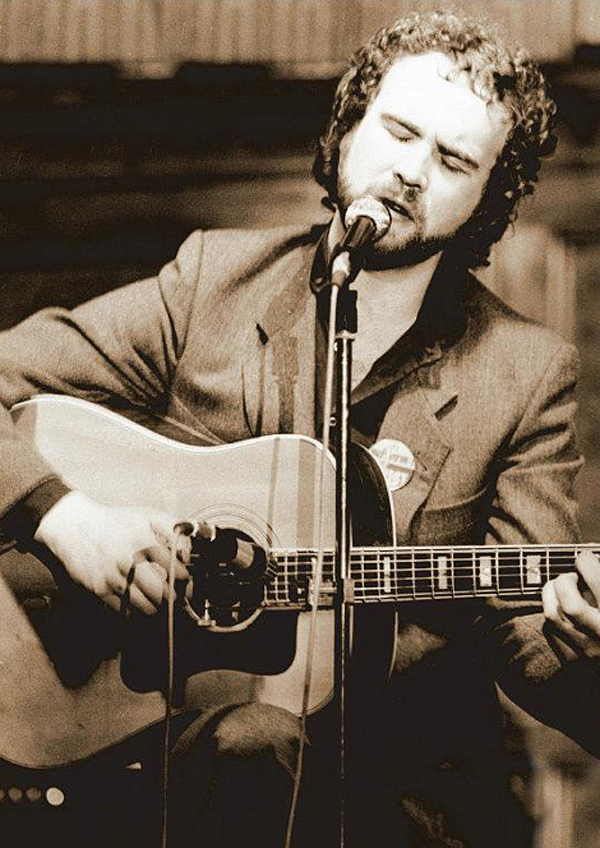 As age and abuse did their dreadful stuff, he grew obese, lost an infected leg and finally succumbed to the inevitable in 2009, aged 60, his lungs giving up the ghost. He may be gone but Solid Air lives on. 'Timeless,' is the word that crops up the most in its recent appraisals. We wouldn't care to argue with that.
Re-Release Verdict
Recorded in London's Basing Street studio, John Martyn's Solid Air was issued in the UK, the States, Canada and other European countries on the Island Records label [ILPS 9226], the CD not arriving for a further 14 years. For last year's National Album Day a translucent blue limited number LP reissue was made, but the 180g vinyl disc here is part of UMC's Back To Black series. It comes in a gatefold sleeve with an MP3 download voucher and our pressing sounded faultless. HFN