High Caliper Also This Month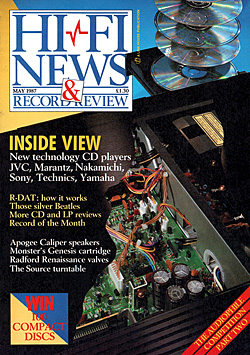 Also In HFN This Month In 1987
THE DESIGNER SERIES
We interview maverick Australian Max Townshend.
THE COMPLEAT RECORDIST
Producer Tony Faulkner looks at the recording industry's attitudes to 'hi-fi' sound quality.
HP ON CD
Harry Pearson, editor of The Absolute Sound, assesses the high-end prospects for CD.
SIX HIGH GRADES
The latest 'new tech' CD players tested: the Marantz CD94, JVC XL-V1100BK, Nakamichi OMS-4E, Sony CDP-502ES II, the Yamaha CD-X700 and Technics SL-P720.
SOURCES FOR COURSES
Paul Miller hears a superbly built Scottish turntable: the Source.
RADFORD RE-BORN
Ken Kessler on the reincarnated STA-25 valve amplifier.
MONSTER'S ALPHA BEATER
We assess the company's new pick-up, the Alpha Genesis 100.
POT POURRI
Short reviews from Ken Kessler, Martin Colloms and Christopher Breunig of the RAM CD10 loudspeaker, Target stands, Nagaoka MP11 Gold cartridge and Sicomin support platform.