HiFi Rose RS150 Network-Attached DAC Page 2
Under that very solid lid, the RS150 runs a customised Android 7.1-based system using the company's own Rose OS. This interfaces with the proprietary Rose Connect app running on either Android or iOS tablets or smartphones, and offers both day-to-day operation and some elements of set-up, though for detailed settings you'll have to use the multiple layers of menu on the front-panel touchscreen. Digital conversion, meanwhile, is in the hands of Asahi Kasei's Verita AK4499EQ, which can handle LPCM up to 768kHz/32-bit, as well as native DSD64, 128, 256 and 512. Whether video or audio, this unit will stream and play a huge range of file formats.
On The Level
I'd like to report that the RS150 was simple to set up and use, and that I had music and video streaming within moments of plugging it in – except it wasn't, and I didn't. Hampered by the lack of a full instruction manual, the English version of which was still being prepared, and a somewhat thin 'Simple Manual' in the box, I have to admit to struggling a bit. And the unit took an age to index my admittedly huge NAS-based music library, find artwork and so on. In fact, in order to get on with some listening I had to resort to copying files to a USB stick and play them from that while the server scanning was going on, so keen was I to hear what this fine-looking machine was capable of.

At the same time, I also listened to the various digital inputs, including the 'computer' USB connection, albeit with a slight feeling that using the RS150 purely as a DAC was only scratching the surface of its capabilities. We got there in the end…
It's worth noting that this unit delivers some serious level at full volume – 4.5V via the unbalanced outputs, 9V on the XLRs – so it's worth going into the menu and fixing it at a more comfortable level if you're using the RS150 into an integrated amp or preamp, rather than straight into a power amp. That done, and with all the configuration/housekeeping finally navigated, this remarkably flexible player revealed itself to be an entertaining and inherently very enjoyable listen.
Big Deal
In practice, the RS150 delivers a sound that's certainly big and bold. It's also one that comes packed with detail, even with a simple recording such as Javier Laso's set of Schubert and Schumann sonatas [Eudora EUDDR2103], a pure DSD256 recording played at its native resolution.
If there's a criticism of the sound, it's merely one of a slight lack of space and atmosphere but that aside there's a close focus on the solo piano, and excellent weight to the instrument, along with fine impact in the playing allied to a real sense of the delicate touch of the pianist.
That same sense of a powerful sound, if not one as absolutely resolved as could be possible, underpins the presentation of the LSO/Pappano recordings of Vaughan Williams's 4th and 6th symphonies [LSO Live LSO0867; DSD256]. Here there's no denying the scale and detail of the overall effect, even if a little of the 'liveness' is lost in the slight bloom to the way the RS150 delivers the music.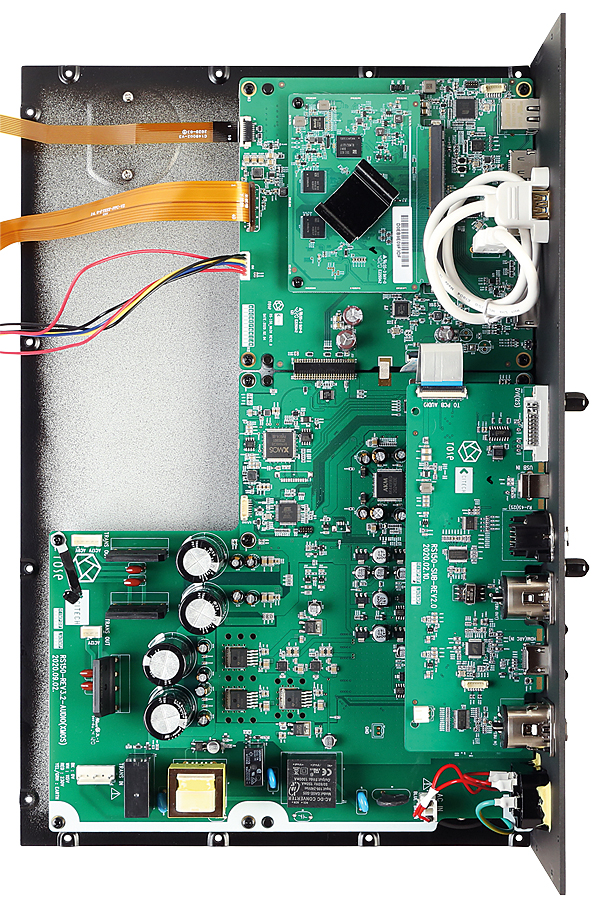 Pleased As Punch
For all that, the RS150 can sound thrilling with the orchestra at full speed, for example in the Scherzo of No 4, qualities that also translate well to hard-driving pop – in this case Tame Impala's Lonerism set [Fiction/Caroline/Arvato 570022-7], right from the thumping percussion of the opening 'Be Above It'. Freed from the need to deliver a credible acoustic soundstage, the RS150 just lets the music surge out, with excellent thump and punch, and carving persuasive instrumental textures without overly deconstructing the wash of sound.
And it really doesn't matter too much whether you play it via the network or digital inputs, or indeed employ the internal streaming or use it as a rather expensive Roon endpoint, for the 'sound' is very broadly maintained. It's rich, dynamic and consistently rewarding, with only that slightly soft soundstage focus, really only in evidence with very 'atmospheric' recordings, as a slight blot in the copybook here. It can make church-recorded choral music sound a little dry, and is also apparent with simply-miked jazz in reverberant studio acoustics, but that aside the RS150 gets it right with its focus on the musicians and what they're playing.
That said, the sound here does respond well to high-quality recordings such as Taylor Swift's re-imagining of her Fearless set [Republic 00602435845098]. As she brings real substance to the up to date reworkings, her exuberant voice is reproduced with not a little class and vivacity, along with the intricacies of the instrumentation.
Whether with the tunes familiar from the decade-old original or those unheard offerings Swift has unearthed from her 'vault', this sounds like a vibrant, mature set – characteristics the RS150 displays in spades. The slight sins of omission here are easily overlooked when music is being played this well.
Hi-Fi News Verdict
Initial impressions of the RS150 are created by the visuals, from its build quality to that eye-popping full-width touchscreen, but it soon becomes clear there's more to it than meets the eye. This is an accomplished player/DAC, and its slight softness – very content-dependent – is easily overlooked given the richness and levels of detail on offer. This is a decidedly impressive debut for the Korean brand.