Hegel Reference H590 amplifier/network DAC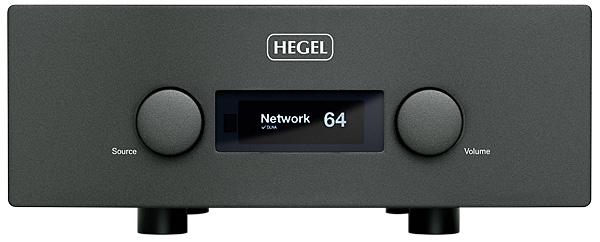 The Norwegian brand's latest amp is not just its most powerful integrated, but comes complete with network audio capability. Is this the ultimate one-box amp solution?
Obviously not afraid of a spot of (Russell?) crowing, Oslo-based Hegel describes its new Reference H590 integrated amp, just going on sale at £9000, as 'Master and Commander'. Apparently it's 'A master at musicality' and 'The commander of any set of speakers'. Mind you, you might be tempted to forgive the company for its exuberance – after all, the new arrival is something of a monster, standing an AV-receiver-challenging 17.1cm tall, tipping the scales at 22kg and delivering over 300W per channel. Well, 301W a side actually, according to Hegel, making it at least 50% more powerful than its previous top integrated, the H360.
Special Sauce
OK, so the price is a bit of a jaw-dropper, given that the company built its reputation for highly competitive tickets thanks to its policy of distributing direct from Norway. Also, to say the front panel is an exercise in understatement is something of an understatement in itself, but it doesn't take long with this big amp to realise there's some very special stuff going on here.
Yes, it has built-in digital-to-analogue conversion, not to mention both a USB input for your computer and Ethernet capability to receive and play music over a home network, but then that's par for the Hegel course. The company may produce products with minimalist good looks – alright, total simplicity when it comes to its 'two controls, a display and go hunt for the power switch' front panels – but that doesn't stop it aiming for engineering designed to deliver not only on sonic grounds, but also with the kind of convenience modern users demand.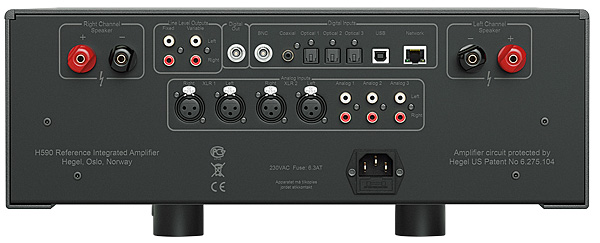 In fact, Hegel is bullish about what it has achieved in the H590, with company founder Bent Holter saying the DAC here is 'the best we have ever designed', and that the amp features 'massive upgrades all over the digital domain'. And the designers clearly weren't done with the H590 yet, despite a specification running to MQA decoding and rendering, Spotify Connect and a Hegel-customised spin on Apple AirPlay, not to mention DSD256 capability via a computer connected to that USB port. The amp has been designed to be Internet-upgradable in the future, bringing added functionality.
That, in itself, is encouraging. After all, if you're going to drop £9000 on an amp, you're going to want to be sure it won't go out of date – or need some kludgy add-on box – at the first sign of some 'flavour of the month' new audio format or service. The H590 may not be meanly equipped out of the box, but given the company's track record to date, you can be pretty sure there's more to come.
The amp is even designed with home and custom installation in mind, with Control4 built-in and two-way network control for other systems, meaning this is a very long way from the familiar concept of hairshirt amplification, not that it hasn't got itself covered when it comes to high-end audio credibility.
Digital Diva
Hegel's streaming and DAC section is a new in-house design, handling an extended format range – including quad-DSD and MQA decoding and rendering – while maintaining all file formats in their native form for optimal sound quality. In addition to its network and USB inputs, there are also three optical and two coaxial digital ins, while the analogue inputs run to two sets of balanced line-ins and three on RCAs.
Fixed and variable RCA outs sit alongside the single set of speaker terminals, and features extend to a lockable maximum output level, to avoid amp damage or neighbourhood destruction should someone get carried away, and a unity gain option allowing the amp to be used with a home theatre receiver or processor.
Setting this is slightly fiddly, but the unity gain pass-through can be applied to any of the analogue inputs if required. Or, as Hegel points out, to use the H590 with the likes of Sonos or Bluesound and their amplifier connection devices: lock out the volume on the amp, and you can control the level via the relevant multiroom app.
Roots Of Power
Under the expansive bonnet, Hegel's 'SoundEngine2' amplifier technology employs an adaptive feedforward error correction to reduce distortion. The preamplifier section uses hand-matched transistor pairs and a custom-designed volume attenuator, while the power amp uses a dozen high-speed output transistors for each channel, plus separately regulated power supplies for input, voltage gain and current gain stages.